Bike Sharing at Durham Tech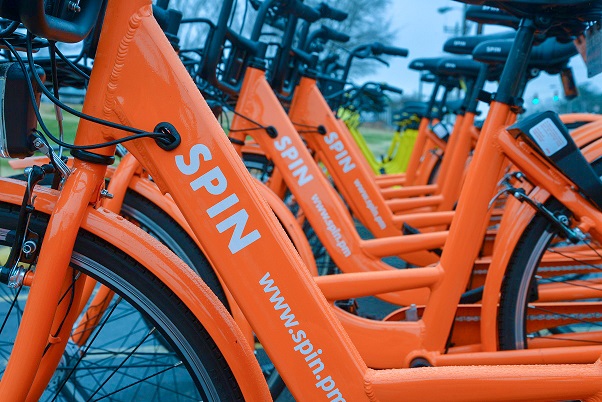 Bike-sharing services are available at Durham Technical Community College. The services are provided to riders on the College's Main Campus by three dockless, public bike-sharing services - LimeBike, Ofo, and Spin - as part of the companies' Durham operations.  
The services are powered by technology integrated into the smart bikes, which are operated via a smartphone app. Since there are no kiosk-docking stations, the bikes can be ridden anywhere and parked at any bike rack or designated bike-parking area on Main Campus.
Durham Tech currently provides three designated bike-parking areas throughout Main Campus:
On East Lawson Street in front of the Educational Resources Center (Building 5);
At the bike rack on the northside of the Phail Wynn, Jr. Student Services Center (Building 10);
At the bike rack on the plaza-side, western entrance between the Nathaniel B. White Building (Building 1) and the Harold K. Collins Building (Building 2).
Pricing 
Lime bikes: A 30-minute ride is 50 cents for Durham Tech students and employees. Semester pricing is $29 and yearly pricing is $49.
Spin bikes: A 30-minute ride is 50 cents for Durham Tech students and employees by using .edu email accounts. Standard rate is $1 for everyone else – open to the general public. 
Ofo: A 60-minute ride is $1 for all. College email accounts are not discounted. Ofo is offering free rides to users during the month of January 2018.
Frequently Asked Questions
How do I create a Lime, Ofo, or Spin account?
Download either app to your smart phone from the Apple App Store or Google Play Store. Sign up by using your ConnectMail email (if you use another method, you will miss out on the Durham Tech discount). Put in your contact information, your credit card information, and you are ready to ride.
How do I find a bike near me?
Simply download either app on your smart phone, view bikes on the map, walk to the nearest bike, then use the app to unlock the bike to ride.
How do I pay for my ride? 
You can deposit credits to your Lime, Ofo, or Spin account for future rides using the credit card information provided on your account. You can deposit as little as $5 to get started, or more to earn free rides. Deposits are refundable if you decide not to ride.
How do I end my ride?
Please make sure you are at a proper bike parking location. Free-floating bike systems work well when we all take responsibility to park bikes in places that do not block traffic, impede pedestrian access, or use private property.
Please park only at bike racks and areas designated specifically for bike parking. Then, simply push down the lever on the rear wheel to lock the bike. As soon as you lock the bike, the app will end the ride and provide you with a trip summary.
Who operates the system?
Ofo and Spin hire, train, and deploy operations teams to manage the bikes.
Who do I contact if I need support?
Issues also may be reported through the Lime, Ofo, or Spin smart phone apps.