Cloud Computing Lab Project History
The Cloud Computing Lab project's initial implementation was available at the end of April 2013. The CCL projects metamorphosis is largely dependent on the management and developing skills of those involved with the NET/SEC 289 course. Each semester, a new team has the opportunity to leave their mark on the future of this collaborative project. The Cloud Computing Lab will continue to develop and expand as future NET/SEC teams sponsor its development.
Thank you to past Durham Tech NET/SEC 289 students for all your hard work in creating and improving the CCL NetLab. To view the team contributions of NET/SEC 289 teams, please select one of the below yearly options.
While individual team were responsible for specific solutions and development tasks, each team's successes were dependent on their resources, tech skills, management skills, and project scopes.
Resources
Part-time workers
Durham Tech network/security infrastructure
Durham Tech partnership with Cisco
Durham Tech partnership with VMware
Durham Techcontract with ND (Netlab)

Budget
Minimal to no capital
Equipment already present on campus
Student time available for dedication to the project

Risk Assessment/Proposed Solution
Project completion will not occur before the end of the semester / Setting deadlines and milestones will keep personnel aware of need for progress
The system could create security holes in the network / Resources are being dedicated to analyze and recommend solutions for security and continuity concerns
The system could destabilize the existing network / Resources are being dedicated to analyze and recommend alterations to ensure that this does not occur
The project may not meet end-user standards or expectations / Through testing we can gauge areas for improvement and implement during project build

Deliverables
Lab workstations configured to work with the system
Functioning back-end (server, vCSA, storage)
Successful remote scheduling solutions
Reliable network communication/configuration
Integration with Netlab
Completed, usable finished product that is ready to be made available to instructors for use
Full, thorough, and presentable documentation

Success Factors
On-time completion of project
Fully automated lab machine transitions
Reliably working finished back-end that is ready for use
Concise documentation

Project Desciptions
2009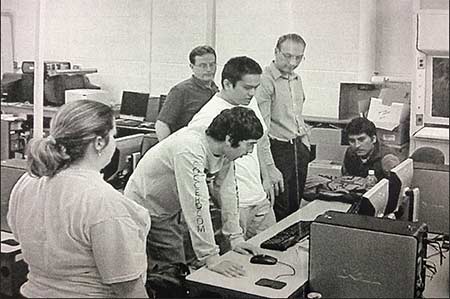 A growing demand for online education and a shortfall in the state budget created a need for a secure remote access hands-on lab environment that is cost effective and user friendly. In order to perform coursework students and instructors have to obtain physical access to lab equipment on campus. Outside of class hours, Durham Tech has numerous underutilized computers at its disposal. Through remote virtualization, students and instructors could have access to idle lab resources. The goal is to develop a prototype of a server that manages a cluster of computers that will run virtual machines. This prototype will lay the foundation for a low-cost, reliable method of remote access to a variety of virtual environments for use by Durham Tech students and instructors.
2010
The purpose of the 2010 virtualization project is to develop a virtualized classroom for distance learning. The goal is to prove that hosting a farm of virtual machines using unoccupied classroom computers is viable, reliable and cost effective. The team will develop a system that will allow students to access virtual machines via the internet. This will be accomplished by a server group running Microsoft Windows Server 2008.
2011
This CCL NetLab project design focused on allowing students whose home computers do not have the power to run VM-Ware to work on labs remotely. Students would be able to log into the VPN, then access the authentication server. The authentication server would grant them access to their VMs and data that is stored on the NetLab file server. Students would be able to work on their projects remotely, then recover their work for use in-class or submit their assignments through drop-box.
2012
The goal is to provide a system that can be administratively managed with ease, highly available, and secure. Students desire a user friendly system. We installed OpenQRM Server with test appliances and images. First KVM VMs were built, deployed and tested to lab host nodes. File server setup, network security and documentation development were our main focus. We implement VMWare and Nagios for system monitoring. Work to be done for the development of our system's file server will be handled by students at Craven Community College.
2013
Creating an operational Cloud Computing Lab.
Setting up servers to store virtualized PCs for student use.
Developing an automated system using PXE booting.
Utilizing VMware ESXi 5.1 hypervisor to call stored VMs for hosting on the lab's physical computers.
Implementing a scheduling interface through NetLab that will control remote access hours.
Enabling students to securely connect to the lab environment to use their personal virtual machines.
2014
NetLab vs VCL – which is more reliable and cost effective?
Created test environment using AutoDeploy
Documented current test environment setup and security items to evaluate
Able to PXE boot ESXi 5.1 onto stateless/diskless host server
Set up OpenFiler on ESXI 5.1 physical server
Share NFS permanent storage with stateless host servers
Boot host servers from off using Magic Packet (WOL)
Initial polling configured for network bandwidth testing and performance tracking for physical server
ESXi installed on Mac Mini (8 VM's hosted)
2015
Completed, functioning small-scale test environment
Lab workstations configured to work with the system
Functioning back-end (server, vCSA, storage)
Successful remote scheduling solutions
Reliable network communication/configuration
Integration with Netlab
Completed, usable finished product that is ready to be made available to instructors for use
Full, thorough, and presentable documentation
2016
Completed, functioning small-scale test environment
Lab workstations configured to work with the system
Functioning back-end (server, vCSA, storage)
Successful remote scheduling solutions
Reliable network communication/configuration