Program
Overview
Culinary Arts Career Training Program Continuing Education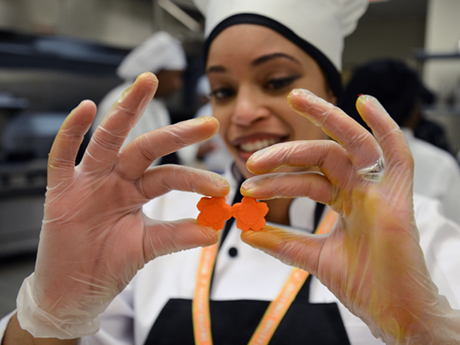 With more than 700 restaurants – including many national and international award winners – Durham's food scene has turned up the heat in recent years. The Durham Tech Culinary Arts Career Training program offers students opportunities to bring their own spice to the kitchen. The program provides opportunities for culinary training, travel to local culinary establishments, network with food service professionals, and participate in seminars on entrepreneurship. Students may become certified in two industry relevant certifications from the National Restaurant Associations. 238 hours. $595

The program exposes students to culinary techniques, ingredients, and theories. It provides opportunities to experiment and test students' creativity with food. Certifications include:
ServSafe for Managers – Food service establishments must have a certified food safety manager in the facility when food is being prepared and served. The person in charge must have received a passing grade on the food safety manager exam. Students will learn about foodborne illness and how to prevent it, as well as take their nationally accredited food safety certification from the National Restaurant Association.
ServSafe Alcohol – The ServSafe Alcohol® training program is developed by the National Restaurant Association and experts who have experience with the risks involved in serving alcohol.
ServSafe certification means students have passed an examination covering food safety administered by the National Restaurant Association Educational Foundation. Gaining ServSafe certification can create opportunities for advancement in the food service industry and provides national recognition that students understand proper food safety regulations and methods for any establishment serving food. The certification remains valid for five years.
For the first day of class, students are required to have a basic white student chef's coat; white student chef's hat or beanie; white chef apron; rubber-bottomed, closed-toe work shoes; 8" chef's knife, and the textbook: Essentials of Professional Cooking, 2nd edition (with Access Code) ISBN: 978-1-119-29113-8. The ServSafe textbook will be handed out during class.
This program qualifies for Financial Assistance. The grant deadline is January 8.
$595
Estimated Tuition & Fees
Number of Eligible Certifications