The Steps for PXE Booting
Pre-Boot Execution Environment (PXE):
Derived from DHCP
Implemented in the NIC and BIOS
Used to load Operating System images onto a target computer
Requires NIC capable of PXE (e.g. Intel® 82574L Gigabit Ethernet Controller)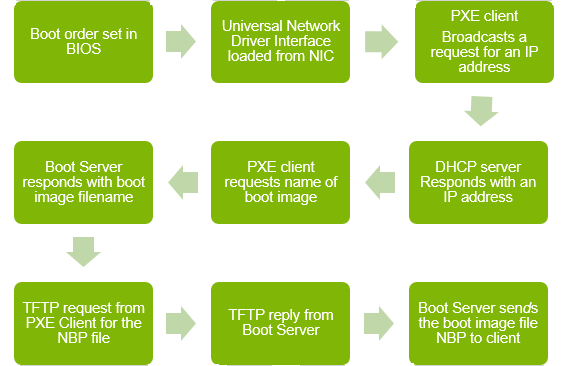 Image Description
Boot order set in BIOS
Universal Network Driver Interface loaded from NIC
PXE client broadcasts a request for an IP address
DHCP server responds with an IP address
PXE client requests name of boot image
Boot server responds with boot image filename
TFTP request from PXE client for the NBP file
TFTP reply from Boot Server
Boot Server sends the boot image file NBP to client
 
Hardware Required for PXE
We needed NICs to support PXE booting and Wake on LAN
Ordered Intel® 82574L Gigabit Ethernet Controller (qty 3)
Cost ~$40-50 each
Installed NICs and current Intel driver
 
Features and Benefits of the Intel® 82574L Gigabit Ethernet Controller:
Compatible with Fast Ethernet and Ethernet
10/100/1000 Mbps auto-negotiation
Support for most network operating systems
Advanced configuration and power interface (ACPI)
Wake on LAN* (WoL); Preboot Execution Environment (PXE)
Allows low-power consumption, remote wake, and remote booting
Remote management support
Intel® PROSet Utility for Microsoft* Device Manager
Advanced cable diagnostics
Intel backing
Optimized queues: 2 Transmit (Tx) and 2 Receive (Rx)
MSI-X support
 
PXE Setup and Diskless Hosts
In our environment, the host systems, or lab desktop workstations, must be prepared in advance for a virtual state:
To do this, the systems are set up to PXE boot:
The boot order is set in BIOS
Devices are set to Wake on LAN
Systems will be diskless (local hard drive not accessed)
Systems will boot ESXi 5.5 into RAM from TFTP server

Diskless hosts:
No local disk needed
Requires PXE bootable system
Loads OS into RAM from network
Install and post-install configuration not persistent
Persistent storage required to save changes

Wake on LAN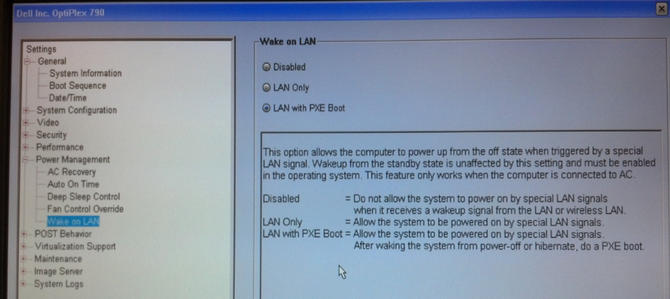 The above image displays the BIOS settings required for the NIC in order to Wake on LAN. 
NOTE: Machines must be shut off in order for ESXI to boot on wake-up. If the machine is asleep it will boot to the installed OS.
To Setup Wake on LAN for the NIC:
Open Network and Sharing Center
Select Local Area Connection
This opens a "Local Area Connection Status" window
Select Properties
Select the Configure button
This opens the "Intel Gigabit CT Desktop Adapter Properties" window
Select the Power Management Tab
Configure Wake on LAN settings as displayed here
 
Configure the PXE Service Point
In order to share the lab equipment between a virtualized lab designed for remote users and a classroom setting for DTCC students physically on campus, we had to determine how to get systems to move from one working state to another and automate the process (i.e. power on/off, Windows 7 on local drive to ESXi 5.5 running in memory). There are several scenarios outlined below of a possible workstation state and items to consider regarding changing the state and security.
Requirements
PCs boot in the morning with BIOS
PC restarts/boots with ESXi in the evening
PC shuts down ESXi at night.
 
PC States
Off
Running lab OS (Windows 7)
Running ESXi 5.5
 
There are three possible outcomes:
PC boots in morning from OFF to lab OS (Windows 7)

Done in BIOS through auto power on settings
Local HDD is accessed
BIOS can be locked with password for added security

PC boots in evening from OFF to ESXi

PCs will need to be manually shut down at the end of the last class each day
Using Wake on Lan magic packet
PC is woken at specified time in the evening (ex. 6 pm)
PXE boot request is fulfilled
ESXi image is pushed out to PC

Shutdown PC at night from ESXi

Set up script using PowerCLI to shutdown PC from vCenter Server
VMs are shutdown then the host
Clean shutdown requires that VMs have VMware Tools installed
Configuring Scheduling:
Configuring lab computers for PXE booting and Wake on LAN
Onboard: Set BIOS to enable PXE booting and Wake on LAN, and also enable PXE booting and Wake on LAN in internal NIC settings in the BIOS
NIC Card: Set BIOS to enable PXE booting and Wake on LAN; next configure the NIC card in Windows Device Manager settings, under Power Management set Wake on Magic Packet, Wake on Pattern Match, and Wake on Magic Packet from power off state