Faculty Challenge Coin
The Durham Tech Academics and Guided Career Pathways Faculty Challenge Coin recognizes faculty members who go above and beyond for their students and make a significant impact at the College.
Faculty members must make a significant impact in one or more of the following areas to qualify: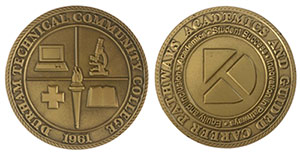 Academics
Student Success
Innovations in Pathways
Equity and Inclusion
 
For more information about the Faculty Challenge Coin, please contact Tracy Johnson, Executive Assistant, Academics and Guided Career Pathways. 
Spring 2022 Recipients
Jayme Dyer, PhD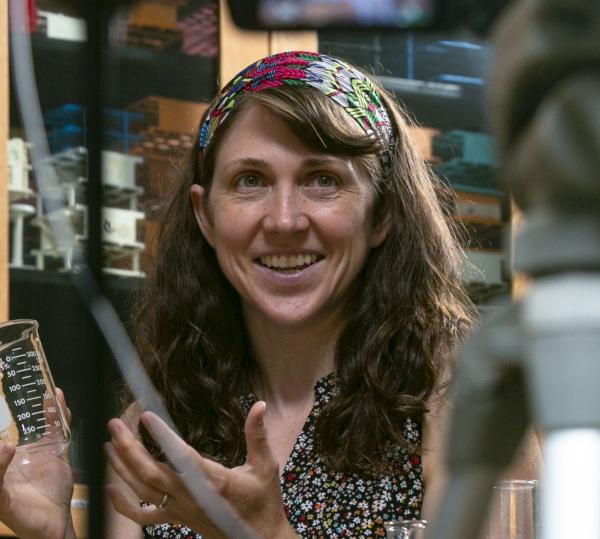 Dyer started teaching Biology at Durham Tech in 2018.
"What I love most about teaching is making a difference in students' lives. I feel this in the relationships I build with them, in their 'aha' moments in class, and in the trajectories they take after their time in my classes," she said. "I want to impact my students. I want them to learn that science is as much a process as it is a collection of facts, and I want them to develop the habit of asking, 'how do we know that?' I want them to experience wonder and awe as we explore Biology together."

Dyer was nominated by Dr. David Long, Dean of Creative and Liberal Arts at Durham Tech.

"Jayme is well integrated into the campus community, serving on the Equity and Inclusion Council, and recently piloted a flexible grading system that has since been adopted by the entire Math faculty. She also developed many instructional videos that have been used as models by organizations like NCNET," Long said.
Kris Weberg
Weberg started teaching English at Durham Tech in 2016.

"What I most love about teaching is the sense of collaborating with students, working with them as they make intellectual connections, build on their passions, and identify how to join in conversations about issues that matter most to them. I love helping students practice and expand their writing skills and explore their agency as communicators," he said. "The impact I hope to have is, first and foremost, that I am a supportive and useful point of contact. I want to make sure that my students feel supported and valued as people and that they have what they need to challenge themselves and become change agents, first in their own lives and careers, but also in their communities."

Weberg was nominated by Dr. David Long, Dean of Creative and Liberal Arts at Durham Tech.

"Kris went above and beyond with respect to COVID adjustments last Fall semester. He is also the creator of the 'Help with Life Stuff' radio button in Sakai that gives students an array of resources, including for personal crisis, food assistance, counseling, emergency financial assistance, technology, support for student parents, and financial counseling. This model was also adopted by faculty in other departments," Long said.
Griselle Guzman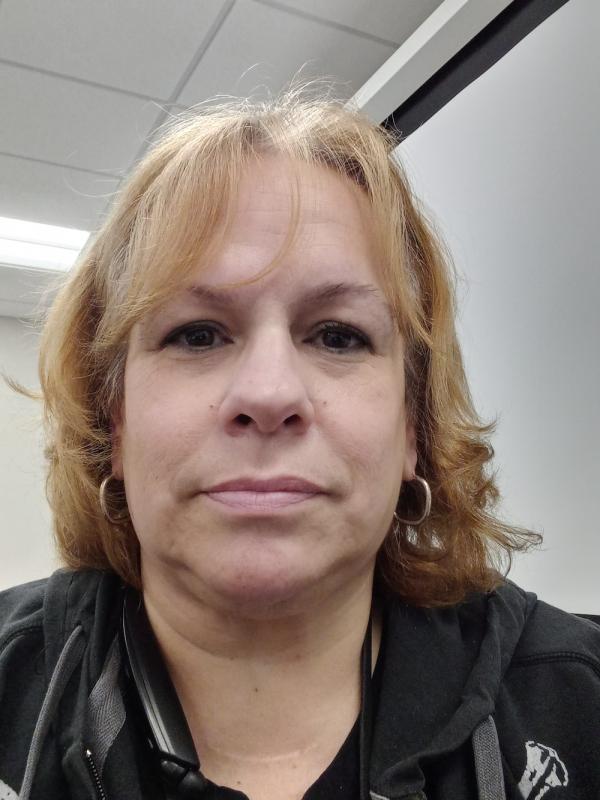 Guzman started teaching EKG/Cardiovascular Tech courses in 2017. "I love when I see students learn something new and get all involved in it and want to have as much knowledge about a heart disease/disorder, a certain blood test, tissue typing or learning about an advanced arrhythmias, and how to identify it on a 12 lead EKG," she said. "I want to help all of my students achieve their dreams."

Guzman was nominated by Dr. Jean Brown, Director and Clinical Coordinator in Allied Health.

"Griselle is dedicated to her students and goes above and beyond by providing tutoring sessions when she sees a student needs individualized assistance. She is a team player and assists other instructors when necessary," she said. "Griselle is an asset to our team."
 
Spring 2021 Recipient: Dr. Jason Moldoff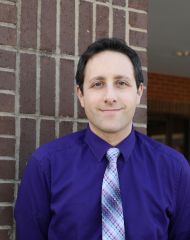 The second Challenge Coin was presented on February 8, 2021 to Dr. Jason Moldoff for his work and collaboration in this year's Humanities Unbounded Teaching Fellows Program, an ongoing Durham Tech-Duke collaboration funded by the Mellon Foundation. It partners seasoned Durham Tech Humanities faculty and Duke graduate students who share instructional interests.   
Moldoff and Duke University Ph.D. candidate Caiomhe Harlock, teamed up to teach COM 231 Public Speaking. The course was seated but had to quickly pivot to online due to COVID-19. This was Moldoff's first time teaching COM 231 online. Read about their process in Harlock's article Bringing Allyship and Activism into the Community College Classroom.   
The coin is given for excellence in one of the areas - Academics, Student Success, Innovation in Pathways, and Equity and Inclusion – in this case, Moldoff's work touched all four of these areas. 
 
Fall 2020 Recipient: Dr. Greg Nash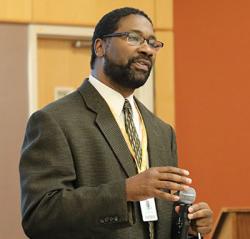 The first recipient, Dr. Greg Nash, Instructor of Business Administration, was presented with the coin during a virtual meeting on November 4.
"Greg Nash's evaluations speak to his work building the confidence of his students to continue on their path, applying business principles to real life experiences; superior teaching and willingness to be innovative even when the outcome cannot be guaranteed, and to keep trying. He has also made an impact in our equity work," Paris said.