Excellence in Teaching Award
The Excellence in Teaching award recognizes faculty who demonstrate exemplary leadership and dedication to serving the College community while performing their duties in alignment with the College's mission, vision, core values, and strategic goals and priorities. 
The award recipients will be faculty members who consistently demonstrate excellence in teaching and exemplary dedication to the College and their discipline. The recipients will be student-centered educators who engage with students in a manner that focuses on their development as whole persons and strives to eliminate any barriers to successful completion of course, program, and College requirements. The recipients will be innovative lifelong learners who provide leadership beyond the classroom.
2022 Excellence in Teaching Award
Excellence in Teaching (Full Time)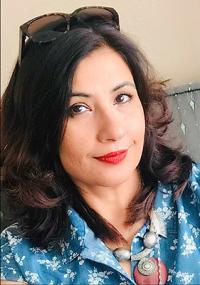 Dr. Farwa Shah, Coordinator of English Language Pathways in the Center for the Global Learner, is the recipient of the 2022 Excellence in Teaching Award. Farwa is described as one who values the College's strategic goals and their benefits to students. She examines data received as it relates to student success within the curriculum programs and works to improve materials on units such as test-taking strategies for multiple-choice tests in a variety of disciplines. She also designed two modules about the 21st Century Workplace to help students with their English skills but also with a content focus on critical thinking, creativity, and productivity in the workplace to help our students achieve an 80 percent job placement and to expand their earnings.
One of her students said, "More teachers like her are required. She is an excellent teacher and consultant who showed me that everything is possible regardless of language barriers." 
Excellence in Teaching (Part Time/Adjunct)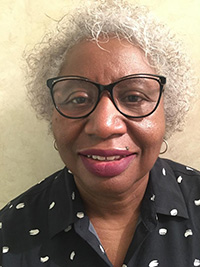 Ruthene Bellamy has been named the recipient of the part-time Excellence in Teaching Award. She is an adjunct instructor in the Nurse Aide program and has been actively teaching and changing lives since she started. She is methodical in her teaching of nurse aide skills so students can be successful. She also offers her own time to ensure new instructors feel comfortable and welcome; taking them under her wing, and patiently explaining policies and procedures of the multifaceted Nurse Aide program. Ruthene meets students where they are and avoid generalizations of the entire class – often meeting with students individually to guide them on their own path.
2021 Excellence in Teaching Award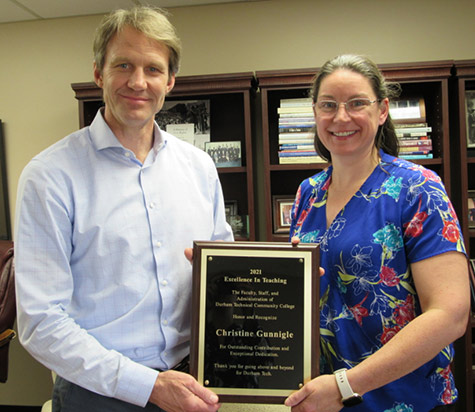 Christine Gunnigle, Program Director of the Occupational Therapy Assistant (OTA) program, is the recipient of the 2021 Excellence in Teach Award. She creates a classroom that facilitates professional growth while allowing students to make mistakes and learn from them.
While navigating online teaching due to COVID-19, she also functioned as Clinical Coordinator for four months while the search committee worked to find a replacement. In March of 2020, the 23 OTA students were pulled from their clinical placements due to the pandemic. Christine demonstrated fortitude in moving seamlessly into online teaching, while coordinating alternate clinical placements for the students throughout the spring, summer, and fall terms. She was dedicated to making sure that all of the students who could not graduate on time in May, continue in their clinical placements, with the last students graduating in the fall of 2020.
Christine creates a warm, inviting atmosphere in the OTA classroom, where each student feels successful. One of the valuable assignments she has implemented in a professional skills course involves engaging Masters level OT students from UNC-CH with our OTA students. They work together on structuring a teaching experience so that each group can learn about the other's role and creates a solid foundation for the OT/OTA supervision model. Each fall when the OT students come to the Durham Tech campus, the OTA students leave that teaching experience with pride in what they have imparted to their future colleagues.
Christine exemplifies 'equity in action' in the classroom and continues to make an intentional commitment to her personal and professional growth by participating in racial equity and social justice training. As the first instructor to officially bring courageous conversations to the classroom, Christine not only provided a brave space for students to self-reflect collectively, but she established an expectation that has caused her students to request additional opportunities to develop a deeper understanding of racial equity and social justice.
Since engaging with the NC Occupational Therapy Association Diversity, Equity, and Inclusion Committee, as well as many training sessions at Durham Tech, Christine has continued to learn more about how to be an anti-racist and how to use her power as a white woman to bring about transformative change in the classroom and at the College. Four students from Christine's Occupational Therapy program had the opportunity to present at the "Justice, Equity, Diversity & Inclusion: Learning Activities NCOTA Spring Conference 2021". The intent of the conference was to advance efforts of educational and practice settings to offer multiple types of opportunities for students, educators, and practitioners to think about and address issues of race, racism, diversity of all kinds, equity, justice, and inclusion (NCOTA, 2021).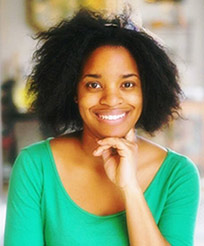 Shaquana Suggs, an Adjunct English instructor, has been selected as the recipient of the 2021 Adjunct Excellence in Teaching Award (part time). She is described as having a commitment to equity and inclusion in the classroom, actively involved in professional development, and has formed collaborations with several colleagues. She encourages students to help one another adjust to diversity an open-minded and judgment-free setting. Prior to teaching, she was a tutor in the Center for Academic Excellence where students described her as caring and helpful.
2020 Excellence in Teaching Award
Janemarie Baker, Director and Instructor of the Respiratory Therapy program, is the recipient of the 2020 Excellence in Teach Award. Janemarie was nominated due to her fostering an environment of encouragement and support while meeting high standards of clinical skills and professionalism.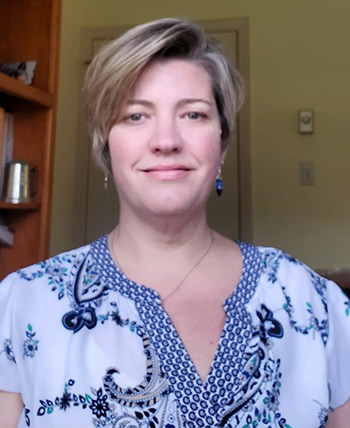 Janemarie believes that fostering interaction with the clinical affiliate as well as the recipients helps to forge a bond between the students, the clinical affiliate and those who the affiliate serves. Her students worked with one of the clinical affiliates to provide for veterans in need, collecting and delivering blankets to disabled veterans who were identified as at risk.
She participated in a FIG work group to develop techniques to motivate and retain students. Prior to COVID-19, she used simulation preparation for certification exam prep and hands on simulation for demonstration in the labs and active learning. Janemarie was forced to quickly adapt to a COVID-19 environment by moving to a ventilator simulation platform to reproduce the lab experience. As soon as it was deemed safe to return to campus in respect to COVID-19, she continuing clinical training so her students could continue to progress towards their degree.
Janemarie has developed leadership skills as a mentor to her colleagues and as chairperson for the North Carolina Association of Respiratory Care Educators for the past three years. She was recognized by them as the Educator of the Year for 2018.
While she has been the program director and the instructor for the simulation course, her students had a 100% pass rate for the simulation exam wih a result of the program being awarded the CoARC Distinguished Award for Registry Credentialing Success.

2019 Excellence in Teaching Award
Deidre Yancey, Chair and Instructor of the First Year Experience, is the recipient of the 2019 Excellence in Teaching Award. Deidre was nominated due to her initiative and efforts to create an inclusive and encouraging learning environment.
She aims to build a bond of trust with her students. "Facilitating the development of my students as whole persons begins with interactions that are warm, personal, and genuine," she explains. Deidre's "What, So What, Now What?" assignment gets her students to think critically and see how what they are learning applies to life outside the classroom. She also regularly reflects on how she herself is doing as an instructor and on how effective her coursework is and will adjust and update when needed.
She also helped lay out plans of study for the nursing program to make the requirements clearer to faculty and students and updated the ACA 122 course to better align it with Quality Enhancement Plan, or QEP, objectives, putting a focus on coursework for student career exploration and development.
Deidre has been involved with Faculty Partners Offering Wisdom (FPOW) and the TLC Teaching-Learning Academy at Durham Tech, Achieving the Dream conference, Regional ACA Workshop as a featured speaker, and with a number of educational projects with the Durham Public Schools and North Carolina State University.
Part-time Recipients: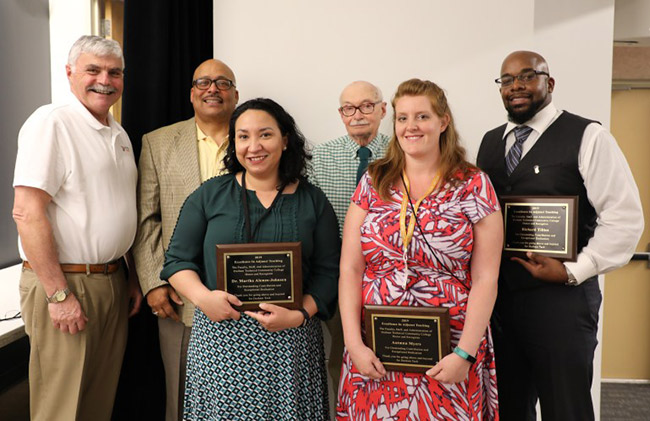 Dr. Ingram, President with award recipients:
Dr. Martha Alonzo-Johnsen, Instructor, Anatomy and Physiology
Autmnn Myers, Instructor, Practical Nursing and Nurse Assistant
Dr. Benjamin Dunnington, Instructor, Chemistry
Van Miles, Instructor, Business and Entrepreneurship
Dillon Wilson, Tutor, Reading and Writing
Richard Tillies, Instructor, Information Technologies
Sarah Donovan, Instructor, English for Academic Purposes

2018 Excellence in Teaching Award: Marina DelVecchio
Marina DelVecchio, Instructor of English and Women's Studies, has been selected as the 2018 Excellence in Teaching Award recipient. Her portfolio speaks to her deep commitment to Durham Technical Community College and its students and thoroughly demonstrates why she deserves this honor.

Marina expresses her teaching philosophy in her portfolio by writing, "The success of literature and humanities courses depends upon the connection students learn to make between the material we are learning and the human experiences we are combatting outside of the classroom." In her classes, the instructor guides her students to approach the material in a more personal way by drawing connections between the course material and the students' lives. Marina takes an innovative approach to teaching ENG 112 by centering the course around the theme of censorship. Students are encouraged to share opinions while Marina works to create an atmosphere of mutual respect that recognizes each individual's voice.

Aside from her success as an instructor, the committee was struck by the instructor's breadth of devotion to student learning at Durham Tech. Most notably, Marina has directed the Honors Program since 2013 and is responsible for its growth. Thanks to her tireless devotion, the program has grown from eight honors students to approximately 25 students per semester. Marina also organizes an Honors Symposium each semester to showcase the students' work, and, for the past several years, students have been annually invited to participate in the UNC Greensboro Undergraduate Honors Symposium where they have been recognized for the quality of their projects.

As if teaching and carrying the weight of the Honors Program isn't enough, Marina has also completed a Scholarship of Teaching and Learning, or SoTL, project to inform her teaching related to feminism, has served on numerous committees and task forces for various campus initiatives, and has continued to pursue her own educational goals by earning a MFA in Creative Writing. Marina is a mentor, a leader, and a true educator.
Part-time Recipients:

Left to right:
Dr. Ingram, President; Caroline Sloan, Instructor, Chemistry; Gina Perryman, Advisor, International Students; Betty Redwood-Brown, Instructor, Culinary Arts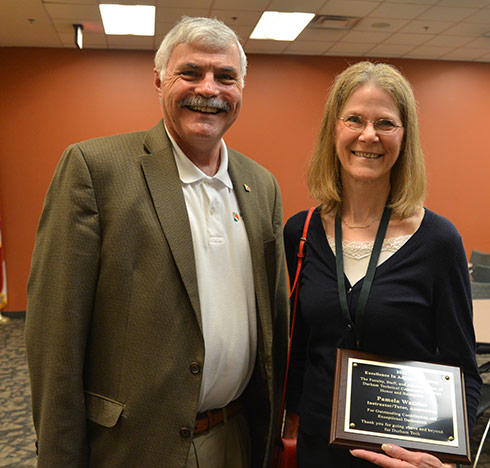 Left to right:
Dr. Ingram, President; Pamela Watkins, Instructor/Tutor, Accounting
Not pictured:
Barbara Rowley, Tutor, Chemistry
Allison Anderson, Instructor, English as a Second Language
Benjamin Lock, Instructor, Welding and Carpentry
2017 Excellence in Teaching Award
Dr. Jim DePalma, Instructor of History, is the 2017 Excellence in Teaching Award recipient. Jim's teaching portfolio submission and classroom observation demonstrates why he is a deserving recipient.

In both the portfolio statements and the classroom observation, a theme emerged: one of Jim's strongest qualities as an instructor is his deep connection to students. This connection ignites motivation in students to learn both historical content and critical thinking skills in his courses. He showed the committee how deeply he connects with students in his portfolio statements, noting that he has an open door well beyond the limits of office hours for students to discuss course content—or simply life. In various unsolicited student emails, students sang his praises, writing back to thank him for his classes even after graduation. One student, in fact, wrote to express regret that his classes at his current university weren't as good as the ones he had with Jim.
While recognizing that dates have importance, Jim tends to have his students focus more on the overall order of events, emerging patterns, and consequences in history, pushing students beyond rote memorization to higher-level analytical thinking. During the classroom observation, Jim put students into the role of the U.S. during World War II: if you were the U.S., what would you have done and why? For this task, students had to first understand the historical events to answer this question and then apply their knowledge to defend hypothetical actions they would have taken. The level of exchange around this question alone proved to the observer that Jim had promoted learning well beyond the surface facts of history. A significant portion of the students engaged in the discussion without prompting. At one delicate point, two students were on the cusp of a heated exchange after one made an off-hand generalization about Japanese people. Jim managed to acknowledge the historical context of the initial comment and take into consideration the other student's modern day concerns, de-escalating a potentially negative situation and using it as a learning opportunity. Being able to manage a classroom discussion with such finesse underscores why Jim is deserving of this award. Throughout the observation, it was evident that Jim made history connect to students' lives, making history real and fostering intellectual and life skills that would apply well beyond a history exam.
Jim's teaching portfolio not only showed that he is an excellent instructor, but it also demonstrated his involvement in larger campus initiatives. For example, Jim participated in the ACA instructor training in order to better advise and relate to his students. He also served on Faculty Council in various leadership roles, and then on Faculty Association as the interim chair when the college was transitioning between council and committee structures. In the Arts, Sciences, and University Transfer Department, Jim has been involved in leading the Humanities and Social Sciences lecture series in addition to working on other long-term projects, such as evaluating the outcomes of the previous "cornerstone courses" for A.A. and A.S. programs. Furthermore, each semester he usually ends up mentoring the largest number of Honors Projects. This is a testament to his willingness to help students as well as the connection students make with him.
Part-time Recipients: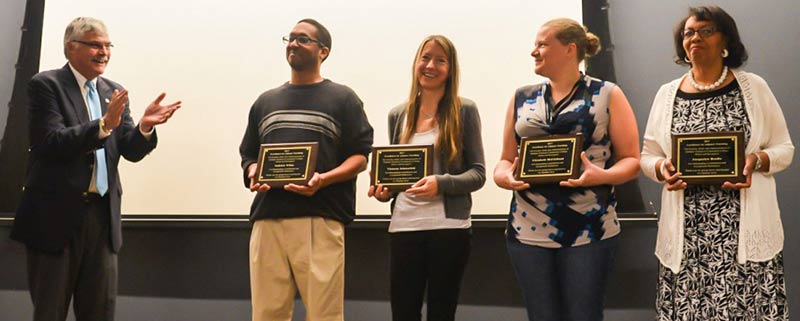 Left to right:
Dr. Ingram; Sedrick White, Instructor, Information Technologies; Victoria Schoenfeld, Instructor, Psychology; Elizabeth McClelland, Instructor, English as a Second Language Program; and Jacquelyn Brodie, Instructor, Medical Office and Office Administration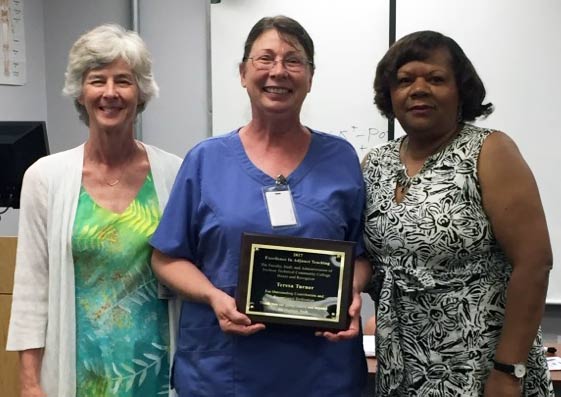 Left to right:
Pamela Krakow, Director (left) and Sandra Young, Coordinator (right) of the Nursing Assistant program present award recipient Teresa Turner, Instructor (center)
2016 Excellence in Teaching Award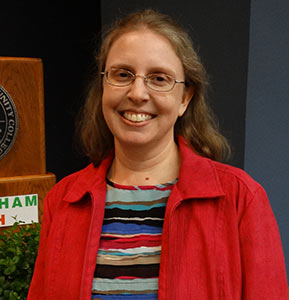 Shannon Hahn, Instructor of Spanish and Chair for Foreign Languages, is the 2016 Excellence in Teaching Award recipient. Shannon's portfolio was an excellent demonstration of how she goes above and beyond the requirements of her position to make sure that our students are receiving the best possible education. As a foreign language instructor, Shannon realizes the unique opportunity that she has to connect with her students since the basis of language learning is getting students to talk about themselves. She requires them to use the language to write personal goal portfolios and tell their stories. This connection is continued in her involvement with Arts, Sciences, and University Transfer (ASUT) leadership, advising, and her work with the University Transfer blog.

Shannon's willingness to always be on the front lines of technology at Durham Tech is also impressive. She was an early adopter of online sign-up for advising appointments using the YouCanBook.Me website to manage her Outlook calendar effectively. Students in Shannon's Spanish classes create websites about Spanish language writers, artists, and others. Her interest in creating accessible materials for a hearing-impaired language student gave her the opportunity to create higher quality materials that serve all students better. Her skills in delivering material online have even earned her national recognition in the form of the 2014 Teaching with Sakai Innovation Award.
Furthermore, Shannon's incorporation of Integrated Performance Assessment (IPA) has helped her focus on how her classroom and out-of-class activities help her meet not only the student learning outcomes of her classes but also the World-Readiness Standards of the American Council on the Teaching of Foreign Languages.
Finally, professional development is clearly critical to Shannon's career. She takes as many opportunities to improve her teaching skills, but she also puts her skills to use in service to the college community. Shannon's involvement in helping to redesign the college's infrastructure has been crucial, and she continues to champion the new structure as it has been rolled out this year. Shannon also works hard to advocate for students in her work with the Transfer Center to create a University Transfer College and Major Interest Form in order to provide targeted information to University Transfer students.
Part-time Recipients: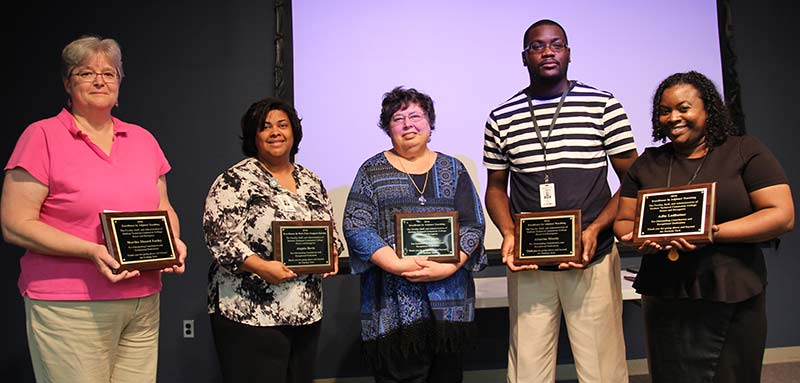 Left to right: Martha Sheard Farley, Mathematics Instructor; Angela Davis, Resource Specialist and Career Navigator; Margie Dietz, Information Systems Technology Instructor; Altarius Moody, Hospitality Careers Instructor; Adia Ledbetter, Music Instructor
Not Pictured:
Dr. Jenny Kerschner, Biology Instructor
William Jackson, Respiratory Therapy Instructor
2015 Excellence in Teaching Award
John Lance Lee, Instructor of Spanish and Coordinator of Faculty Development, is the recipient of the 2015 Excellence in Teaching Award. Lance's teaching portfolio stood out because it demonstrates such careful thought and deliberate attention to the cycle of curriculum development. Lance does not simply teach Spanish to his students; he creates a learning environment that allows students to engage with language learning through real-world, authentic tasks. Lance has been instrumental in the development of Integrated Performance Assessments (IPA) in the Foreign Languages department. These assessments require students to demonstrate language competency in very real and meaningful ways, ways that may prove useful outside of the college classroom. In fact, one student wrote, "I was able to translate for a cashier at Wal-Mart. It felt great to be able to speak and understand the language, but even better being able to help someone."
Lance's all-encompassing, research-based teaching philosophy is designed to cultivate students as whole persons. This is evident in his interactions with students and colleagues around the world through social media as well as through his belief that happiness and success come from a state of mind and a choice. Students must learn to choose the perspective from which they will look at their life; they must choose for themselves to be happy and successful, smart and capable.
Finally, Lance is a staunch advocate of community colleges and the students they serve, calling them an "often overlooked gem in education." His involvement with campus committees and initiatives like PRESS for Completion and Achieving the Dream coupled with his firm belief that good instruction starts with collaboration further emphasize his representation of the excellence Durham Tech exemplifies.
Part-time Recipients:
Left to right: Helen Coleman, Instructor of GED; Pat Neems, Instructor of English as a Second Language; Maria Steel, Program Assistant, Esthetics Technology; Kathy Beres, Instructor of Nursing; Kamara Carpenter, Instructor, Esthetics Technology

Not Pictured:
Timothy Postell, Instructor of Art
Robert Ballard, Instructor, Automotive Technology
2014 Excellence in Teaching Award
Kerry Cantwell is the recipient of the 2014 Excellence in Teaching Award. Kerry, instructor of College Success, exemplifies the characteristics of excellence in every role she plays at the College, and she was chosen as this year's recipient based on her unwavering dedication to student success, overwhelming commitment to the Durham Tech community, and outstanding approach to creative leadership.

From her work in the ACA classroom to her work with Study Abroad in the Dominican Republic, it is clear that Kerry's commitment to students is informed by a deep understanding of their needs and a strong obligation to provide avenues for their successes at every possible turn. Kerry's teaching philosophy is infused with a desire to see students develop as whole individuals and to be an advocate of and facilitator for that development. She states that "Students don't change simply because of what we teach them; they change through their own discoveries. My job is to facilitate these discoveries."  This philosophy is evident to even her students. One student writes in an instructor evaluation, "My ACA instructor has a positive view on life, and she has helped me understand that I am on the right path of doing what is good for myself that will enable me to become a successful person. She has guided me this far and every time I attend class, I feel more con
Outside of the classroom and her direct work with students, Kerry demonstrates an admirable commitment to the development of this institution and her colleagues. She has served on numerous committees and teams and is often the organizer of (either officially or unofficially) or deeply involved in  many campus shenanigans, including the Durham Tech Community Circle (which brings us such campus favorites as Harvest Feast and Just Desserts) and the 2013 Campus Fund Drive Committee which brought us the hugely successful promotional video "Mission Possible." When she is not organizing or getting deeply involved, Kerry is often the loudest cheerleader in attendance, and her distinctive laugh has been known to brighten a room.
Kerry will represent Durham Tech as its nominee for the 2014-2015 state-wide Excellence in Teaching award sponsored by the System Office.
Part-time Recipients:
Anne Pugmire, tutor in the Center for Academic Excellence
Anne Recker, instructor of English as a Second Language
Saundra Peterson, instructor of History and Humanities
Amy Pine, instructor of Developmental Reading and English
Mike Komives, instructor of Human Resources and Workforce Development
Danielle Johnson, instructor of Early Childhood Education