Pathways to Opportunity: Durham Tech Affordable Housing Initiative
Durham Technical Community College has announced an Affordable Housing Initiative that will provide a transformative impact for our students and Durham community.
This initiative unites the College's long-term work to improve housing security for our student community with our new Strategic Plan and pledge to advance our community through bold, effective, and equity-minded leadership.
Our Commitment
The need is clear: a 2019 survey of more than 700 current students showed more than 50 percent had experienced some form of housing insecurity in the past 12 months, and nearly 20 percent reported being homeless for at least some portion of that timeframe, data that are largely consistent with national statistics.
Durham Tech plans to develop a 124-unit affordable housing community at 902 South Briggs Avenue where Durham Tech students would have priority consideration. The College is partnering with experienced affordable housing developers and together they are actively seeking financing for the project.
This initiative is anticipated to be a multi-year effort. Subscribe to receive updates about Durham Tech's affordable housing initiative.
Development Updates
Durham Tech and development partners will post regular project updates here. The team also invites ongoing input, questions and feedback. Share your comment or questions. 
Report from Community Engagement Series
Durham Tech collaborated with the Partnership for Southern Equity to develop and host six community engagement sessions during 2022 to gather input on housing design, amenities, and other priorities to ensure the development meets the needs and aspirations of prospective residents and the surrounding community. We are grateful for the time, input, and ideas of over 150 students, employees, partners, and neighbors who participated in these sessions, and the ways in which this community engagement process will continue to shape plans for this development. Read the full report for a brief review of the proposed development and a summary of the outcomes of this community engagement process. 
Prospective Project Plan
Site plans and survey analysis demonstrate the site could accommodate approximately 124 units along with a clubhouse, recreation areas, and a playground. In a series of discussions and voting exercises, community members shared their site layout and building design preferences. Pictured below is the conceptual site plan, still in draft form, that best aligned with community preferences.
Key Project Details:
Site: Durham Tech has committed to building affordable housing at 902 S. Briggs Avenue, located just .25 miles from Main Campus. The site is owned by Durham Tech, and will be ground leased for long-term affordability.
Units: Surveys, analysis, and concept site plans indicate that the site could accommodate approximately 124 units, with a mix of 1, 2 and 3-bedroom units (Majority 2- and 3-bedroom units)
Serving students and community: The development is intended to serve both eligible students at Durham Tech and members of the broader Durham community. Durham Tech students will receive a preference in the Tenant Selection Plan. 
Affordability: All 124 units will serve households with incomes less than 60% of Area Median Income (AMI) upon move-in, with at least 20% serving households with incomes less than 30% of AMI upon move-in. Residents whose income increases during their tenancy can remain residents, if they choose, until their household income exceeds 140% of the income limitation for that unit.
Development team: Durham Tech, Mosaic and Banc of America CDC will work in partnership to develop the site as high-quality affordable housing. After the property is built and fully leased, Mosaic and Durham Tech will continue to oversee the ongoing operations of the property long-term. 
Financing: The development team is currently working to pursue financing and raise resources for this proposed development. Developers plan to apply for financing through Low Income Housing Tax Credits and other affordable housing funding and subsidy sources.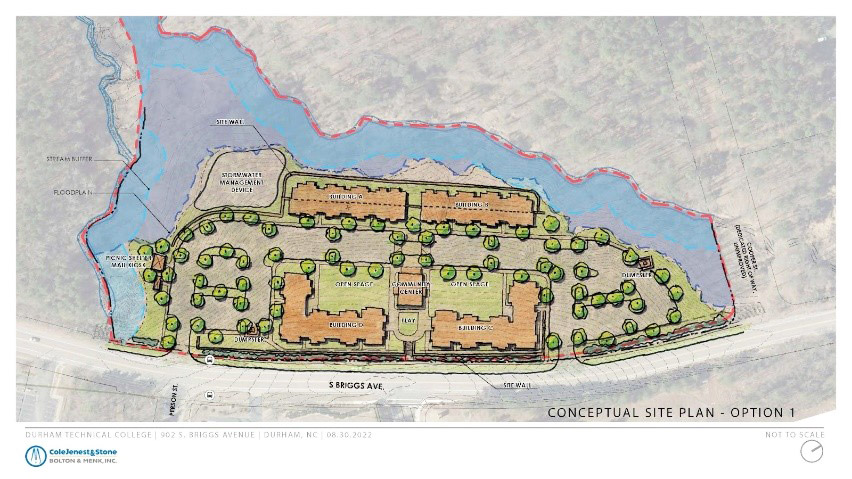 Development Partners

Durham Tech Properties, LLC has partnered with Mosaic Development Group and Banc of America Community Development Company to create a multi-family development on Briggs Avenue in Durham.

Durham Tech Properties, LLC is organized and operated exclusively for charitable, religious, educational, or scientific purposes, including but not limited to, acquire, hold, develop, and manage real property through Durham Technical Community College Foundation, Inc.
---
Durham Tech Properties, LLC Board of Directors
| | | | |
| --- | --- | --- | --- |
| Jenna Bryant | J.B. Buxton | Robb Cadwallader | Anita Holt |
| Sam Nichols | Jonathan Peterson | Camryn Smith | Lucy Stokes |