60 for 60: Durham Tech kicked off 60th anniversary celebration with William. G. Ingram Center dedication, Night at the Bulls

In celebration of Durham Technical Community College's 60th anniversary, the College is publishing 60 for 60 – a storytelling campaign that highlights the people, places, and events that have progressed and shaped the College's six decades of impact. The following story has been republished in its entirety. To view more 60 for 60 stories, visit www.durhamtech.edu/60for60. 

The Durham Technical Community College campus community celebrated the dedication of the new William G. Ingram Center for Applied Learning and Technology on Thursday, September 9, the first of the College's 60th anniversary celebrations.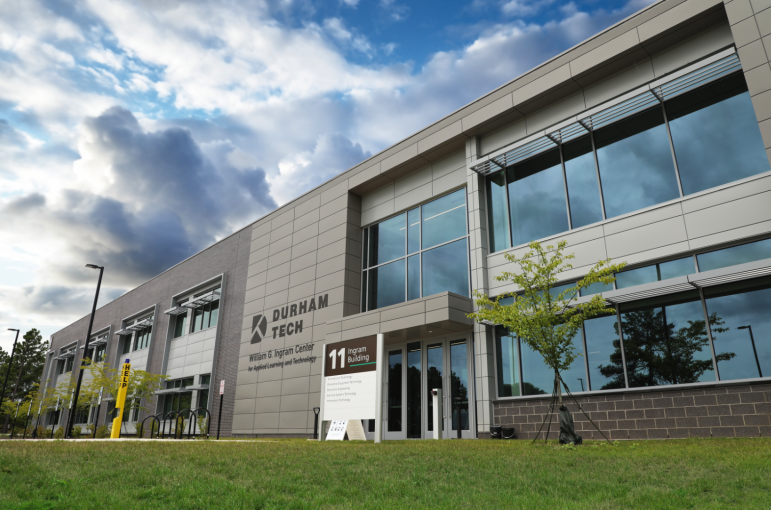 More than 100 campus community members, including local and regional elected officials, current and former Board of Trustee members, College partners, alumni, retirees, employees and students gathered for an outdoor ceremony to celebrate the dedication of the Ingram Center. The Center is the first new academic building on Main Campus in 15 years.
Former President Ingram was the College's fourth leader and served in a variety of leadership roles at Durham Tech over four decades.
"This is a day of gratitude, a day of good thanks, and the people we need to all thank are our students," Ingram said. "We need to thank them because coming here gives this building meaning, it gives this place meaning, it gives the work that we do value and meaning."
Some of those who joined Ingram in providing remarks included current President J.B. Buxton, Durham County Board of Commissioners Chair Brenda Howerton, Durham Tech Board of Trustee Chair John F. Burness, former Nash Community College President Dr. Bill Carver and Board of Trustees Member Walter Newton.
"The names on our buildings speak the values of our institution. Today we have an opportunity to dedicate another name, another name that tells our story," said President Buxton. "This name says so much more than the fourth president of this institution -- it speaks to the values and commitment that has marked this institution from the beginning."
During Ingram's 12 years as president, he established Forge Great Futures: The Campaign for Durham Tech which raised $5 million, the creation of the Center for the Global Learner, Center for College and Community Service, the Office of Equity and Inclusion and expanded the College with several new locations to make learning more accessible.
The William G. Ingram Center for Applied Learning and Technology houses the Architectural, Biomedical Equipment, Electronics Engineering, Electrical Systems, and Information Technology programs.
"The Ingram building is a state-of-the-art facility that epitomizes innovation and learning and stimulates creativity for effective partnerships with industry providing pathways for learners to achieve economic mobility. This building provides opportunities for growth and advancement within the College while leveraging the College's resources to meet the needs of high-demand jobs within Durham and Orange counties," said Lancelot Gooden, Dean of Building, Engineering and Skilled Trades.
An architectural student at Durham Tech, Equasia Ivey gave remarks during the program about moments in her life that helped to guide her decision of entering the architectural field and how she loves the new facility.
"While the old building was where I had my first class in the Architectural Technology program, I am beyond excited that I will continue to learn and grow in this new building," said Ivey. "The natural flowing light makes it more inviting and exciting to come to school. It means I won't feel like I'm in just another classroom that I have been in for the past 13-14 years of my life. It's even better because we can use the building to help in our discussions in class. 
The program was capped off with a "ribbon" cutting ceremony using network cables to symbolize the unique technical programs housed in the building.
Following the ceremony, groups toured the modern-styled building, filled with glass windows, sleek clean lines, and innovative technology features.
With more than 40,000 square feet, the building has two floors, 11 labs, five classrooms, study rooms, storage rooms, and a multipurpose room.
Celebrating 60 Years of Impact
The event also served as the kick off for a year long celebration of the College's 60th year of service.
Durham Industrial Education Center opened its doors on September 5, 1961 which eventually transitioned to Durham Technical Community College. When the College first opened, its student body and Board of Trustees were integrated, the first class served 34 individuals. Today the College serves more than 18,000.
Walter L. Newton, current trustee and son of one of the College's founding trustees, spoke about the 60 years of impact and provided insight of people, facilities, and programs that impacted the College. 
The celebration continued Thursday night at the Night at the Bulls event at Durham Bulls Athletic Park with President Buxton throwing out the first pitch. More than 250 campus community members and friends attended the event, which was coordinated by the Durham Tech Student Engagement department.
PHOTOS: View Ingram Center Dedication photographs. 
For more information, contact Desiree Towson, M.S., Communications and Public Relations Coordinator, at allisontowsond@durhamtech.edu.