60 for 60: Newton Makerspace unveils STEM-centered collaboration space for students

In celebration of Durham Technical Community College's 60th anniversary, the College is publishing 60 for 60 – a storytelling campaign that highlights the people, places, and events that have progressed and shaped the College's six decades of impact. To view more 60 for 60 stories, visit www.durhamtech.edu/60for60.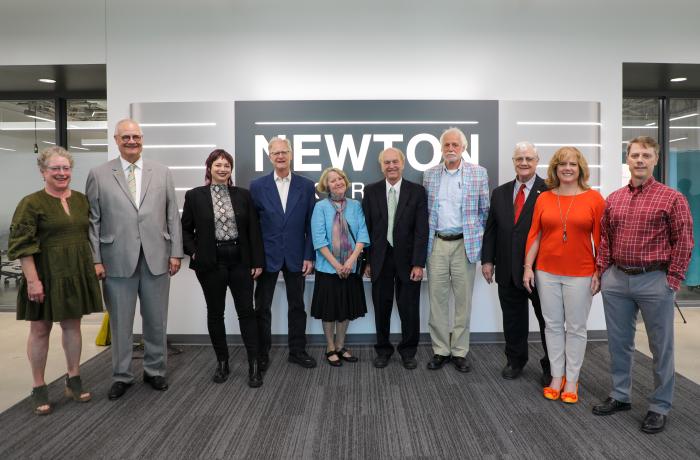 At an unveiling event last week, Durham Tech donors, community leaders, and the family of George W. Newton celebrated the official opening of the Newton Makerspace, a renovated centerpiece of the Newton Industrial and Engineering Technologies Center.
The Makerspace provides a collaborative, project-based learning environment that mirrors the workplace through hands-on learning technology and innovative spaces. The space supports students in engineering, skilled trades, construction, art, welding, and design.

The space was made possible by Newton Instrument Company and the Newton family, and the 2016 Durham County Bond Referendum.
"This Makerspace is a place where the campus community can come together, learn, collaborate, and create. It is an intersection for all students — not only those in the skilled trades, but in any program that thrives on the practice and development of hands-on collaborative problem solving skills," said Walter Newton, a Durham Tech Board of Trustee member, longtime champion of the College, and son of George Newton.
The space includes:

Shop, West End: 1,200 sq. ft.  
This area houses the 5' x 10' ShopBot Computer Numerical Control (CNC) machine. Woodworking and metal working equipment, including hand and power tools are available to work on projects made on the ShopBot or for makers to fabricate other parts to accompany any projects incorporating metal, wood, plastics, or foam.  
Open Workspace, Center: 2,500 sq. ft. 

This collaborative space is open to students and staff as a gathering place – outfitted with large worktables and electricity – that invites community members to bring projects into a larger space. This area is also adjacent to the Art, Engineering, and Machining labs, allowing classes to utilize this additional space to work on projects.   
Technology Lab, East End: 2,000 sq. ft. 

This lab is dedicated to 3-D printers, laser cutters, a matte cutter, industrial sewing machines, computers, and more. This space is a great open workspace with plenty of room for group work and a lecture space in the center.