60 for 60: U.S. Vice President Kamala Harris spoke at Durham Tech on importance of pathways to careers, tours apprenticeship program

In celebration of Durham Technical Community College's 60th anniversary, the College is publishing 60 for 60 – a storytelling campaign that highlights the people, places, and events that have progressed and shaped the College's six decades of impact. The following story has been republished in its entirety. To view more 60 for 60 stories, visit www.durhamtech.edu/60for60. 

Harris joined by Labor Sec. Walsh, Gov. Cooper, Congressmen Butterfield and Price, Durham Mayor O'Neal 
Vice President of the United States Kamala Harris and U.S. Secretary of Labor Marty Walsh spoke about the importance of apprenticeships, pathways to careers, and economic mobility at Durham Technical Community College on Wednesday.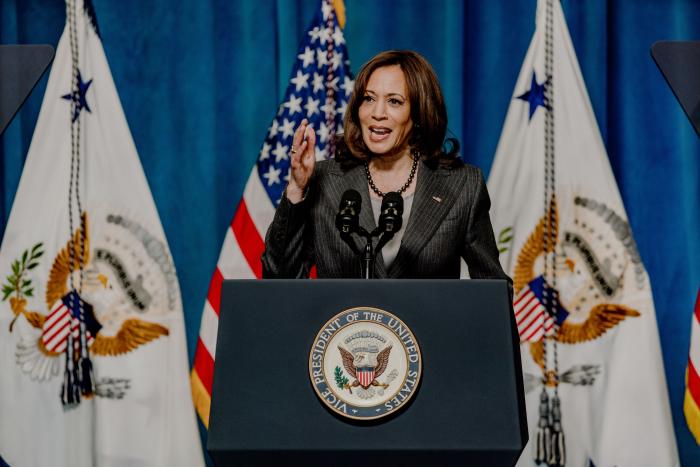 The speech followed a tour of the William G. Ingram Center for Learning and Applied Technology with demonstrations from an electrical apprenticeship partnership with the Raleigh-Durham Electrical Joint Apprenticeship and Training Committee (JATC). 
"... We see the potential for growth in terms of the diversity, in terms of the inclusion, in terms of America's workforce and our future. I met some of those great stars and leaders today." Vice President Harris told a crowd that included state and local elected officials, community partners, students, and instructors inside the Phail Wynn Jr. Student Services Center. She continued, "Every person in our nation, no matter where they start, deserves an opportunity to succeed, that is the future we are fighting for." 
Harris spoke on the importance of creating pathways to success through opportunities like apprenticeships. Durham Tech offers a number of apprenticeship and pre-apprenticeship opportunities with employers such as Duke Energy, Piedmont Electric, KBI BioPharma, Novo Nordisk, Corning, International Union of Elevator Constructors, the City of Apex, Durham Association of General Contractors, Carrboro Plumbing, Brown Brothers, and CT Wilson Construction, among others. The College is also working as part of a Summer Careers Academy registered youth apprenticeship program in collaboration with the Chamber for a Greater Chapel Hill-Carrboro. 
The Durham Tech and JATC partnership began in 2017 to offer a registered apprenticeship program for individuals seeking electrical careers with the International Brotherhood of Electrical Workers (IBEW) and participating employers.  
During the four-year apprenticeship, apprentices work 40 hours each week and receive pay that increases yearly with full healthcare and pension benefits throughout the program. The program has a 100 percent job placement rate and graduates receive nationally recognized Journey-level certificates from ApprenticeshipNC, the JATC, and the IBEW. 
"You are role models -- each one of you -- of the work that can happen," Vice President Harris told a group of apprenticeship students on the tour. "It's about tapping into the big brains and skills of folks and to help develop it and to train those skills to do such important work. It's about growing our country and strengthening our country. We all came to visit you so we can see it firsthand and then go out and talk to folks about it." 
Secretary Walsh said diverse talent pipelines are critical for economic mobility and workforce development. 
"What is really exciting is walking into the classrooms and seeing diversity. Seeing men, women, people of color in the classroom learning the skills in jobs that support families and support communities," Walsh said. 
Durham Tech President J.B. Buxton delivered the welcome remarks and noted that "with tens of thousands of new jobs and new industry sectors calling Durham and the Research Triangle home, Durham Tech is committed to be a gateway to great universities and a pathway to opportunity in areas like health care and the life sciences, information technology and the skilled trades."  
Quotes from the visit 
Buxton was followed in remarks by North Carolina Governor Roy Cooper, Congressmen David Price and G.K. Butterfield, and Durham Mayor Elaine O'Neal. 
Mayor Elaine O'Neal said, "For years Durham Tech has played a major role in preparing our residents some young and some not so young for good, stable, and well-paying jobs. It is also one of the key reasons that the local job market is so hot leading Durham and the Triangle to be ranked last year as the second-best place to live in the United States."  
Congressman David Price, said, "Here in our state, and in the 4th district, which includes the Research Triangle Park, federal support for workplace development and training could not be more essential. We hope in Congress soon to pass an Omnibus funding bill which will include a community project funding request for a workplace development partnership between Durham Technical Community College and Wake Technical Community College which will be dedicated to biotechnology career development." 
"It's a great day to be at Durham Tech, one of the best of North Carolina's 58 community colleges that are powering our economy and opening doors for people every single day," said North Carolina Gov. Roy Cooper. "We need to make big investments in education, from cradle to career, investments in community colleges like Durham Tech, that provide training and education that people need to get a better career."