Around the world in 18 days, Japanese students turn to Durham Tech for English immersion experience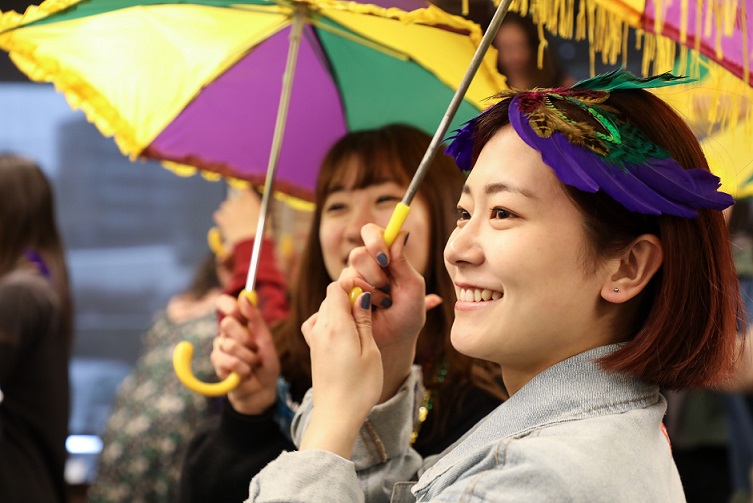 Downtown Durham was quiet, cold, and rainy last Friday morning, but inside the brick walls of The Chesterfield building was the warm presence of 19 Japanese college students clapping their hands and singing along to "This Little Light of Mine."

Durham's Bulltown Strutters, a New Orleans-style parade band, helped students celebrate the Mardi Gras-themed day as part of their three-week immersion experience in the English language and all things American.

For the seventh consecutive year, Durham Technical Community College has partnered with Sister Cities of Durham to host students from the Sister City of Toyama, Japan – nearly 200 miles northwest of Tokyo – for an English immersion program, which is housed at the Durham Tech Small Business and Corporate Education Center.

"This has been such a great partnership," said Connie Gomez-Joines, Assistant Vice President and Executive Director of the Center for the Global Learner at Durham Tech. "We provide the students with the instructional, language, and cultural element of the experience, and Sister Cities of Durham coordinates the host families."

Theresa Rinehart, English as a Second Language instructor at Durham Tech, has been teaching students from Toyama for three years.
"This is probably the most exciting thing that has ever happened to them in their young lives, and it feels good to be a part of it," Rinehart said. "The program is so intense, and for some of them it doesn't end at the two-and-a-half weeks. This experience has a lasting impact."
Rinehart said she loves seeing the personal transformation in students from their first to last day.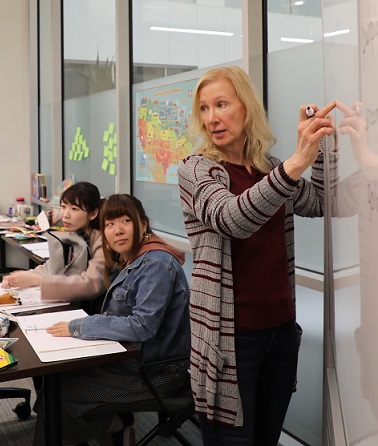 "These kids come here with one goal in mind. They're all in, and they want to learn to speak English," Rinehart said. "You see them arrive as teenagers, and they leave as young adults. It's magic."

Students receive nearly 50 hours of English instruction at Durham Tech.

"I want to progress my English skills," said Sachie Miyata, student from Toyama. "I have no chance to speak English with others in Japan, so it's nice to come here and have so many opportunities to practice my English."

When students are not in the classroom, they participate in activities on campus like visiting the Esthetician Technology program for facials and taking a Zumba class. On the weekends, students explore the Triangle with their host families and take trips to visit U.S. landmarks such as Washington, D.C.

The last day of the program is March 12, and a new cohort of students will arrive in spring 2020.

For more information about this program, contact Barbara Pinter with the Center for the Global Learner at Durham Tech, at 919-536-7200 x3224 or pinterb@durhamtech.edu.