Clinical Trials Research Associate program's 20-year history marked with innovation, growth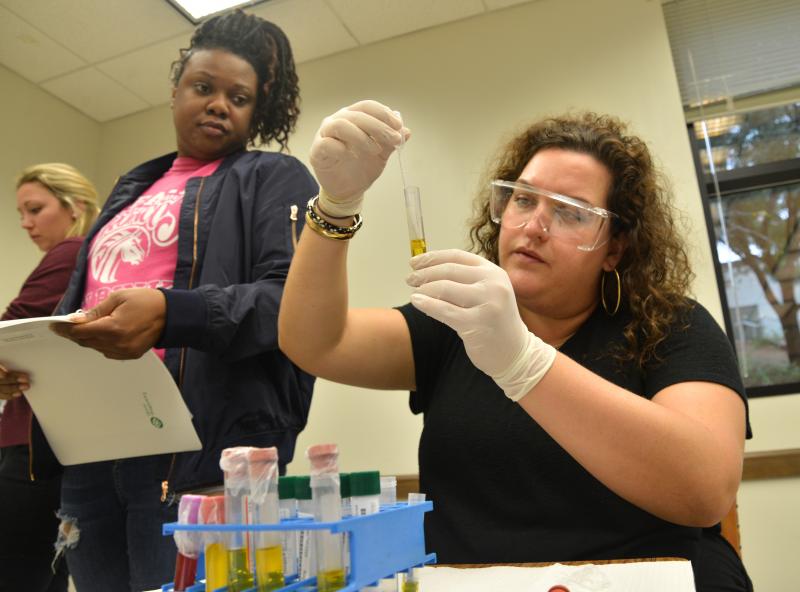 The Clinical Trials Research Associate program at Durham Technical Community College held its first class more than 20 years ago. At the time, such a program was a rare find, according to Melissa Oakley Ockert, Dean of Health and Wellness.
Since then, the program has not only thrived, but it has continued to regularly adapt to the ever-evolving clinical research field.
On July 23, Durham Tech and Campbell University entered into North Carolina's first curriculum-based Transfer Opportunity Program agreement in clinical research. The partnership allows students to transfer from the Durham Tech Clinical Trials Research or the Pharmacy Technology associate's degree programs to Campbell's Clinical Research bachelor's program. For more, click here.
The Durham Tech program celebrated its 20th anniversary at an all-student meeting in March. Dr. William Gluck, Director and Instructor of Clinical Trials Research Associate and Medical Product Safety Programs, presented Ockert with a certificate of appreciation at the event to recognize her involvement with the program since its start.
"The program remains the only program of its kind in North Carolina and has evolved to meet the constant changes of the advances in technology and the needs of the industry and our students," Gluck said.
Getting started
The Durham Tech program began in 1998 as a way to fill the expanding workforce gap in the local pharmaceutical industry, Gluck said.
"The Research Triangle Park area provided a rich, research-oriented environment for pharmaceutical companies and a new growing segment of the industry called contract research organizations," he said.
The Durham Tech program was one of the first in the country, which meant there was no textbook and no fieldwork sites, Ockert said.
"There was no guidebook for how to do this work, and there was great hesitation that an academic program could adequately prepare students to work in clinical research," she said.
Duke Hospital, having a focus on academic clinical research, was integral in developing the Durham Tech program, Ockert said.
"Our clinical partners took bold chances and accepted our students into fieldwork rotations and into jobs," she said.
Since those earlier days, the Durham Tech program has added to its technology, increased its offerings, restructured its classes, and strengthened its community relations.
Changes with curriculum, technology
One way the program has demonstrated its growth is by expanding its offerings.
Today's students can also choose to earn an associate's degree and a certificate in Medical Product Safety and Pharmacovigilance and certificates in Data Management, Advanced Topics, and Core Competencies.
The way the classes are delivered has been updated, going from solely daytime classes to including online and hybrid classes.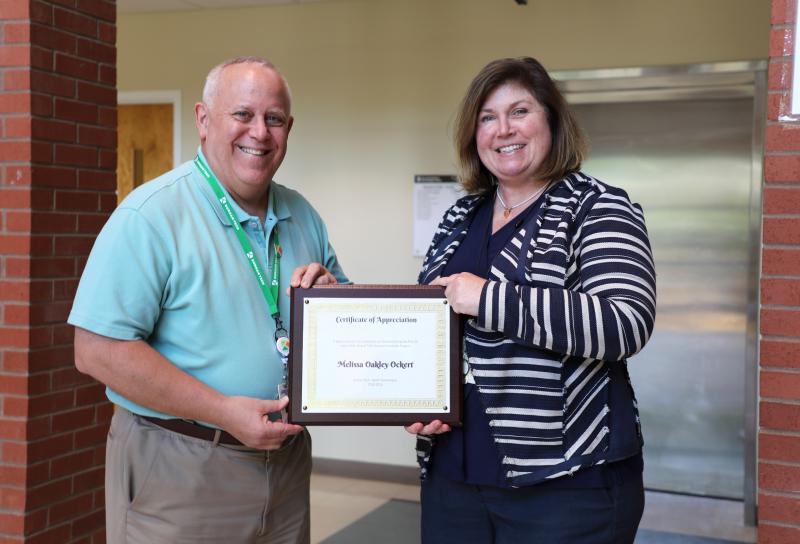 "Students in the program are typically non-traditional," Gluck said. "The program also has taken the lead in trying new teaching techniques such as a 'virtual' hybrid class that allows students to be online while also providing them the opportunity to also have the classroom experience but virtually."
Changes in technology haven't only impacted the way classes are being delivered but have also impacted the classes themselves.
One of the program's partners, DATATRAK, Inc., is a software developer that specializes in electronic data collection applications. Implementing the software into the classroom has allowed students to learn how to collect and process clinical trial data electronically, moving away from doing the task with paper forms, according to Gluck.
Students are also using software applications they may encounter while working in the field.
"The growth of scope that the program has demonstrates our ability to listen and react to the changing needs within the local pharmaceutical development community," Gluck said.
This provides a win for our students and graduates in that it opens additional employment opportunities but also a win for the employers who partner with us because they know the graduates from the program are well-trained and have an education in the recognized core competencies of the industry."
Changes in community relations
The program's advisory committee comprises representatives from local industry. Through these connections, Durham Tech has gained insight into the field's current needs as well as access to fieldwork and internships for the students.
Beth Maynard, a committee member, graduated from the Durham Tech program with her Clinical Trials Research Associate Degree in 2001. She works in regulatory and compliance at the Duke Cancer Network with the Duke University Health System.
"I could not be prouder of the work that Melissa and all the instructors and leaders have done over the last two decades," Maynard said. "(As a committee member), I really enjoy the updates and current focus the program continues to have for its students and the clinical research community."
The College is perceived throughout the nation and industry as a "thought leader" due to its active role in the Consortium of Academic Programs in Clinical Research, Gluck said. Gluck oversees the organization as its president, a position Ockert also served in 2008.
"Durham Tech has developed an excellent rapport and reputation with the various professional organizations and associations within the industry," Gluck said. "These strong ties have benefited both the students and the program in that our students have not only gotten hired in positions within the industry but have also continued their respective education beyond the associate's degree."
Lasting impact, bright future
Being one of the nation's first programs allowed Durham Tech to serve as a roadmap for subsequent programs.
"Our program was a pioneer for academic programs that followed, and many used our program as a model for how to structure their own," Ockert said. "I feel that we laid a foundation for those succeeding academic programs."
She also believes the College's curriculum has had its own ripple effect upon the industry.
"We have taught so many students the correct way to conduct research in accordance with federal regulations," she said. "I like to think that we have made an impact on bringing safe and effective medical products to market that ultimately help patients."
Gluck said the foreseeable future of the industry is bright with the annual job growth rate being about 12 to 15 percent. The Durham Tech program, on average, has about 150 active students during the fall and spring semesters, numbers that have been consistent throughout the last decade.
"The program continues to attract students in the absence of widespread awareness of clinical research as a professional option," Gluck said.
He also said that he and his faculty members are working to advertise the program and its career options to area high schoolers and through professional associations and organizations such as the NC Biotechnology Center.
The heart of the program 
Maynard had recently started working in clinical research at Duke and was out on maternity leave when she learned of the Durham Tech program.
"I had no background or education in the field and wanted to further my studies," she said.
Maynard recalled Durham Tech as being an intimate, challenging environment where the instructors knew her name and wanted to help her and her classmates be amply prepared for the field.
"My whole experience in the program set the foundation for my career," she said.
John Rochel was an EMS when he discovered the program. He had just moved to Durham and was searching for a career change.
"This matched up with my interests and education," he said. After a successful phone conversation with Gluck, Rochel enrolled in 2016 and finished in 2017 with two certificates. He is continuing his studies by working towards a master's degree.
"The program provided me a solid understanding of the industry and its regulations as well as the communication skills necessary to network properly," Rochel said.
Gluck said hearing positive feedback from students like Maynard and Rochel reminds him of the outcomes of a strong program.
"We are proudest of those small, seemingly insignificant notes, calls, emails we receive from excited students that have gotten hired or have been accepted into other colleges and universities," he said. "Hearing that they feel confident and well-prepared for the challenges of a new position or are succeeding in a four-year or advanced degree program makes our hard work all worthwhile."
---
Contact Stephanie Turner, Marketing and Media Relations Coordinator, at turners@durhamtech.edu.