Durham Tech alumnus lands Portland acting apprenticeship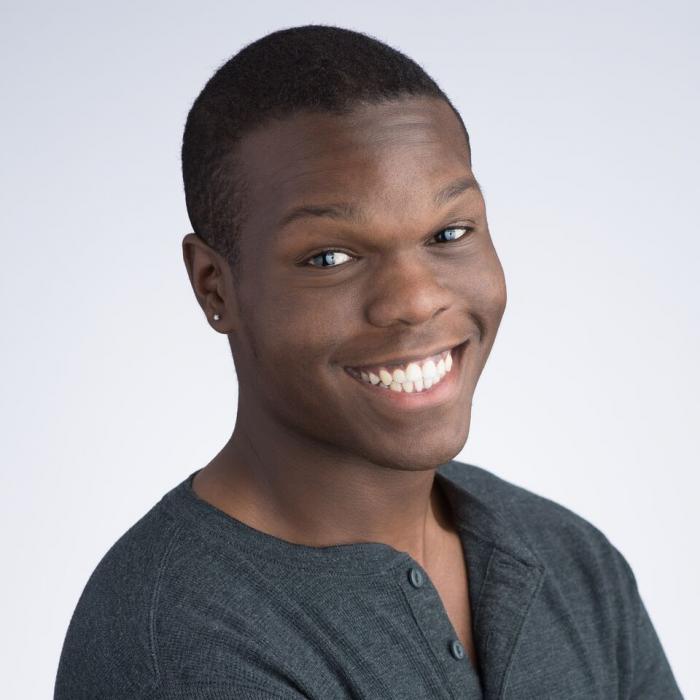 Auntais Faulkner graduated from College's Gateway program, later earned associate's degree.
When Durham Tech graduate and aspiring professional actor Auntais Faulkner saw that a Portland, Oregon, theater was accepting applications for its acting apprenticeship program, he knew he had to apply.
So, he did. And, he got in.
Faulkner starts his 10-month apprenticeship with the Portland Playhouse in August.
"I believe that this was the right thing for me," he said. "I've been wanting to travel and be a part of something big, and this was my opportunity. … What a fantastic opportunity."
Faulkner's path to Durham Tech
A Durham native, Faulkner graduated Durham Tech in 2016. He started with the Gateway to College Adult High School Diploma Program and stayed to earn his Associate in Arts degree. He has since earned a bachelor's degree from the University of North Carolina at Greensboro.
"He is truly a son of Durham in that he embodies the drive, spirit, and creativity of our community," said Stésha Little, a Resource Specialist and Instructor with the Durham Tech Gateway program. "He has paved the way for his peers who may not yet have achieved their academic goals but look to Auntais' example and can envision themselves reaching for the stars."
Faulkner's own path hasn't been easy. Starting from age 12, he moved around every few years. The constant uprooting interrupted his middle school and high school education. He even at one point considered earning his GED through the Job Corps.
Around 2010, Faulkner found himself back in Durham. He hadn't been to high school in two years.
Faulkner attended a Community Partnerships of Durham-sponsored job fair. It was there that he learned of the Durham Tech Gateway program, which was fairly new at the time, according to Dr. Christine Kelly-Kleese, Vice President of Student Engagement, Development, and Support.
The Gateway program gives eligible students ages 16 to 24 their chance to earn a high school diploma. Kelly-Kleese met Faulkner in the summer of 2011.
"I watched him commit to his path and, over time, amass a solid group of friends, mentors, and supporters to walk with him," she said. "He became a leader within the program."
While Faulkner was in the Gateway program, the discussion arose about whether or not to continue the program. Faulkner was integral in making sure the program didn't end by advocating its continuation with Durham Tech President Bill Ingram, according to Kelly-Kleese.
"I am among many who are so proud of him for his perseverance and so excited for him," she said. "What a gift it has been to share in his journey."
During his time at the College, Faulkner held a work-study position, participated in a minority male mentoring program, and led the Gamers of Durham student club as its president.
"I gained so much respect and responsibilities at Durham Tech," he said. "I had never had that before, and I knew that how I felt was what I was in search for. I felt I had purpose."
He said those experiences prepped him for the workforce and for being a leader.
"I was prepared to fail and get back up again because of the wonderful people of Durham Tech who stood in my corner without a doubt and made sure I had a place I could turn to when I thought all was lost," he said.
Faulkner said Little, Kelly-Kleese, Ingram, Dr. Marguerita Best, Gateway Director, Dorene MacKinnon, Gateway Lead Resource Specialist, and others, all helped him succeed and get to where he is today.
"(I hold) many special people … dear to my heart," he said.
Faulkner's path to Portland, beyond
Faulkner started at UNC Greensboro the fall after he left Durham Tech.
He studied at the university's School of Theatre and learned about the Portland Playhouse apprenticeship through a department-wide email.
Faulkner has traveled to Portland before while he was in the Gateway program. He went to speak as a student representative at a Gateway conference.
"The theatre, the people, the lifestyle in Portland was so me," he said.
He applied and was told when to expect to hear an answer. That time came and went, and Faulkner didn't hear back.
Faulkner was on the way to watch a show he wrote and directed with his family when he got the call from Corinne Gaucher, the Playhouse's Assistant Director of Education.
He was in.
"I jumped around the street and had to apologize to a couple of drivers," he said. "I was beyond excited."
Faulkner's apprenticeship will consist of training, performing, networking, gaining theater administration experience, and working with children who are interested in the art.
He said he hopes the experience will help him better understand the intricacies of professional theater while expanding his versatility.
"Whether (it's) on stage, behind a computer in someone's theater, or on camera, I want to have the skills to do anything that gets me into the door with some great lasting friendships and contacts to hold it all together," he said.
Long-term, Faulkner said he wants to be a screen actor and writer and a playwright of plays that highlight the positive aspects of being an African American.
"It's been an honor to witness his hard work and passion pay off," Little said. "I look forward to following and supporting his work as he continues to make the world better through his amazing artistic expression."
With everything Faulkner has learned through his education and expects to learn in Portland, he said his dreams don't seem like dreams anymore but rather attainable goals.
"It will be hard, but I have been working hard since 2010," he said. "Nothing is going to stop me from reaching my goal."
More about Gateway to College
The Durham Tech program is part of Achieving the Dream's Gateway to College initiative. Gateway to College recently merged with Achieving the Dream, a network of community colleges and organizations focused on issues of equity and systemic reform, and Durham Tech is a member of the initial 2004 Achieving the Dream college cohorts and holds Leader College status within the Achieving the Dream Network.
Durham Tech covers the costs of a student's college education for those like Faulkner who come to Durham Tech for the Gateway program and want to stay on as a college student.