Durham Tech announces Dr. Kara Battle as Chief Academic Officer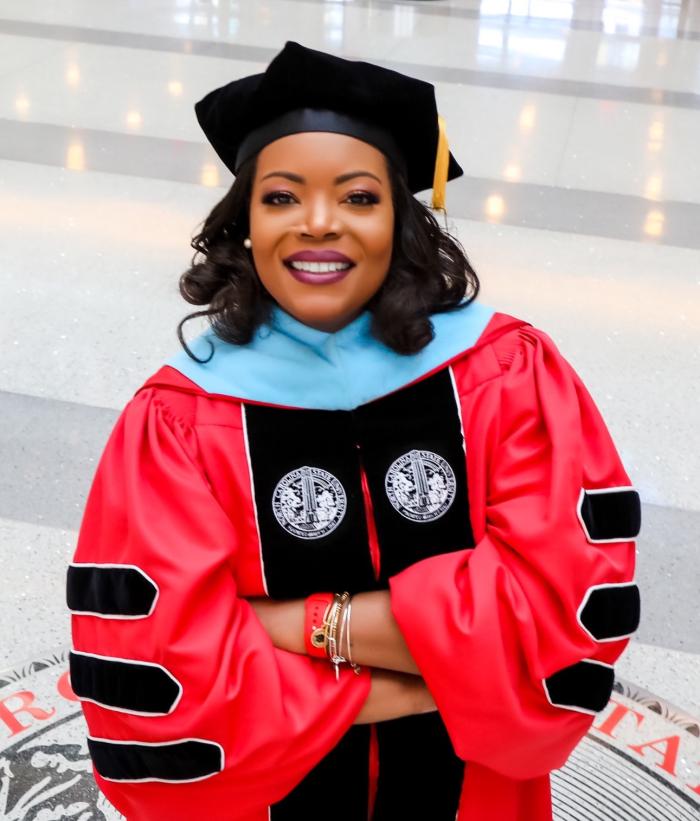 FOR IMMEDIATE RELEASE

Durham Technical Community College has announced longtime Durham Tech leader Dr. Kara Battle as the College's new Chief Academic Officer after a nationwide search and interview process.

Battle, the former Dean of Science and Math programs at Durham Tech, was instrumental in restructuring the College into Guided Career Pathways and in merging continuing education and curriculum programs in recent years. Since Spring 2021, Battle has held the Interim Chief Academic Officer role following the departure of Dr. Susan Paris.

Durham Tech is in the process of assessing current program offerings and building new programs to fit the needs of students for the region's economy – efforts that Battle helped lead. As the new head of instruction, Battle will be pivotal in effort to improve teaching and learning, and build strategic partnerships with universities and industry for future career pipelines. Through this, she will lead the College's seven Guided Career Pathways, which include short-term, long-term, and university transfer programs in the areas of Building, Engineering, and Skilled Trades; Business and Entrepreneurship; Creative and Liberal Arts; Health and Wellness; Human Services and Public Safety; Information Technology; and Science and Math.

She brings a wealth of experience to the role. Battle has 28 years of experience in higher education, including her time as dean, assistant dean, science chair, and biology instructor at Durham Tech. She also served as Director of Education at the Julius L. Chambers Biomedical and Biotechnology Research Institute at North Carolina Central University. Prior to her roles at Durham Tech and NCCU, Battle worked at Guilford Technical Community College, North Carolina A&T University, and Wytheville Community College in Virginia. She also leads Equity Coach training for the North Carolina Student Success Center, which provides statewide training to community college employees statewide.

"We wanted a leader with a demonstrated record on student success, equity, and workforce development, and we have all three in Dr. Kara Battle. Dr. Battle has the experience and vision required for this moment and she is deeply committed to the success of students, faculty, and staff," said Durham Tech President J.B. Buxton.

Dr. A.J. Jaeger, Executive Director of the Belk Center for Community College Leadership and Research, called Battle the "perfect combination" of leadership style and experience to strengthen Durham Tech's instructional leadership.

"With the appointment of Dr. Kara Battle as Vice President and Chief Academic Officer, Durham Tech positions itself to be an even stronger leader in the implementation and scaling of student success reform efforts across the College that truly align with the new strategic plan. Dr. Battle's rich experience leading faculty will be an asset to her success. Her collaborative, equity-driven, leadership style brings in perspectives, people, and energy to move ideas to action.

What is exceptional about Dr. Battle is her deep knowledge of Durham Tech and the communities it serves as well as her vast knowledge of statewide efforts and initiatives, some of which she has led. Combine this with her awareness of national conversations on effective, transformational practices in community colleges – it's the perfect combination."

Battle holds a Bachelor of Science in Biology and Master of Arts in Teaching Biology from Norfolk State University in Virginia. She also holds a Doctor of Education in Adult and Community College Leadership from North Carolina State University. In 2018, Battle was named a 2018 Achieving the Dream Fellow, and an Achieving the Dream Lead Fellow in 2019. She also served on the board of Made in Durham.