Durham Tech Celebrates First Public Art Installation and Artist Guy Solie Who Created It

Durham Technical Community College celebrated longtime Durham resident Guy Solie and his recent donation of one of his works of public art to the College on Thursday, April 20.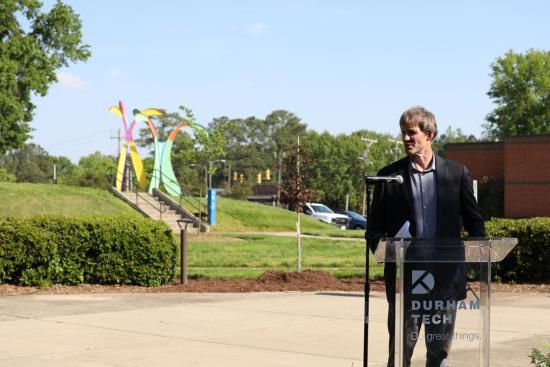 "The Dancers" is on the College's Main Campus on Lawson Street and will remain on loan to the College indefinitely.
"The bottom line is I'm just so thrilled to be a part of the Community College here," Solie said. "Years ago, I taught at a community college. I just have so much respect for the students. … [They] are here to learn, and what a joy it is for the professors here to have those kinds of students. … I'm so pleased to be a part of that." 
Durham Technical Community College President J.B. Buxton noted the College wants to create an inclusive environment where students can connect and feel like they belong. 
"Today is a celebration of a focus on institutional excellence in trying to create that kind of warm, inclusive and inviting environment," Buxton said. "And one also, in the form of outdoor public art, that creates opportunities for conversation, in coming together around ideas, in coming together around connectivity." 
Durham Technical Community College Foundation Board Vice Chair Indira Everett, director for Duke Energy's East Region, said she was delighted to be a part of celebrating Durham Tech's first public art installation.
"True to the nature of this College, many individuals have been involved in adding beauty to this campus. The word community is in our name and every fiber of our being. ... Adding art, attractive and comfortable outdoor seating, and the new trees and flowers to our campus demonstrates the intentional commitment to the ongoing work of creating a culture of care." 
The Durham Technical Community College Foundation played a vital role in partnering with Solie to place the artwork on campus. The Foundation works to build community relationships and support that are essential for the College's continued growth and its vision for creating campuses that help expand students' horizons.
Ben Lock, director of Durham Tech's welding program, was instrumental in installing the art on campus. Durham company Cricket Forge was also a key partner in the artwork's creation. 
Paula Wilder, Director English for Academic Purposes and Continuing Education for Non-Native English Speakers at the College, said having the artwork on campus has had an impact. 
"I absolutely love it and can't wait to meet the artist because this artwork has resonated with me in a deep way," Wilder said. "It makes me smile every time I walk by it and love that we have it on our campus."