Durham Tech director receives the National Association of Dental Laboratories (NADL) Educator of the Year award

Erin Popov, Dental Laboratory Technology (DLT) Program Director/Instructor at Durham Technical Community College, received the 2023 National Association of Dental Laboratories (NADL) Educator of the Year award on January 20. 
"I am humbled to have been nominated and so grateful for being selected," said Popov. "Teaching takes a lot of heart and hard work and so many other educators are as equally deserving." 
The NADL Educator of the Year award recognizes one educator annually who has made outstanding contributions to NADL and the dental laboratory profession. An industry member nominated Popov, and she was announced the winner at the awards reception held in Las Vegas, Nevada.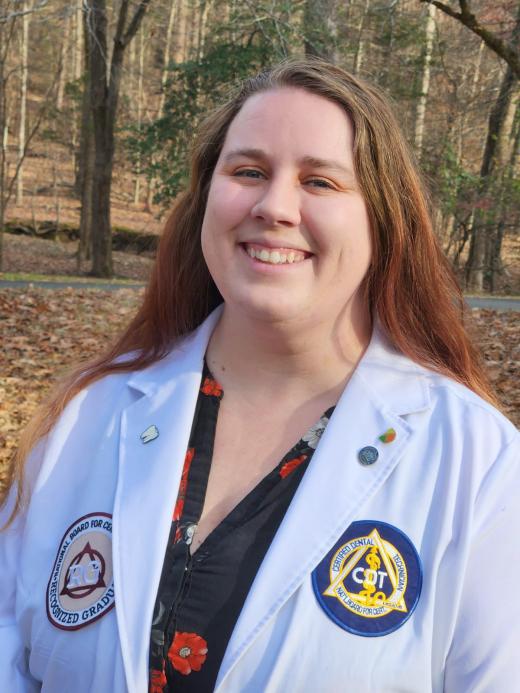 Popov's dental journey began as she pursued an education at Durham Tech. She graduated Summa Cum Laude in 2013 earning her Recognized Graduate (RG) designation and by 2016 she obtained her Certified Dental Technician (CDT) certification in the Complete Dentures specialty. 
Her career began as an in-house dental laboratory technician for a removable prosthodontic office and in 2015 she returned to Durham Tech as an instructor and clinical coordinator. 
Six years later, she serves as the first female director of the Dental Laboratory Technology program at the College.  
Melissa Ockert, Dean, Health and Wellness at Durham Tech said Popov's passion and creativity demonstrated in the classroom helps to enhance the learning and success of her students.  
"I can think of no one that is more dedicated to the Dental Laboratory Technology profession and to the success of the DLT program. Her enthusiasm and care for her students is an example for all of us. I am so excited for her and feel so fortunate that we have her here at Durham Tech," said Ockert. 
Under the leadership of Popov, she has brought innovation and excellence to the Dental Laboratory Technology program at Durham Tech. She has modernized the program, enhanced the curriculum, and acquired several grants to improve equipment in the labs. She also continues to maintain relationships with professionals in the field and develops partnership opportunities for students.  
"It's hard to believe where I started in dental lab to now has only been within 10 years. I wouldn't be here without learning from good instructors and doctors. Therefore, my aim is to continue providing quality instruction for the next generation of students. Let's continue to Do Great Things here in dental laboratory technology," said Popov. 
For more information, contact Communications and Public Relations Coordinator, Desiree Patrick at allisontowsond@durhamtech.edu