Durham Tech, Duke present acclaimed poet, rapper, Durham native "G" Yamazawa in event series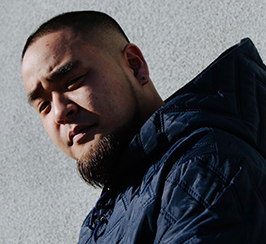 Durham Technical Community College and Duke University are bringing internationally known spoken word poet and rapper George "G" Yamazawa back to his hometown of Durham for a series of events.
Yamazawa, a former Durham Tech student, was the 2014 National Poetry Slam Champion, an Individual World Poetry Slam Finalist, and Best New Hip Hop Artist nominee by the 2016 Carolina Music Awards.
He has appeared at more than 200 colleges nationally and internationally in addition to events such as the Sundance Film Festival and Bonnaroo Music Festival. Raised by Japanese immigrants, he also has been featured at the Pentagon and for the White House Initiative on Asian Americans and Pacific Islanders and is a cultural diplomat for the U.S. Department of State.
His debut album, "Shouts to Durham," ranked at number 37 on the iTunes top 100 rap albums.
Yamazawa's continuing connection to Durham made bringing him back to his hometown all the more significant to Durham Tech and Duke.
"With the start of the Global Distinction Program, we've worked hard to raise conversations on campus about global topics and cultural awareness," said Shannon Hahn, Discipline Chair for the Foreign Languages program at Durham Tech who helped coordinate Yamazawa's visit. "G's work bringing light to Asian-American issues fits so well with the need for more awareness of a minority voice often not heard. When given the opportunity to partner with Duke's Asian American Studies Program to bring our communities together, we jumped at the chance to bring G to Durham."
The artist will discuss his music, poetry, and experiences of growing up in Durham as a Japanese-American at Duke on April 15 and at Durham Tech on April 16.
"We knew G, as a popular native son of Durham, would be the perfect voice to create synergy between our schools and the surrounding neighborhoods," said Nayoung Aimee Kwon, Duke Asian American Studies Program Director. "Collaborating with Durham Tech and North Carolina Asian Americans Together has been an incredible opportunity to create dialogue about the diverse communities who all call Durham home.
We hope this will be part of an ongoing conversation among the area campuses and the surrounding Durham communities to build long-term partnerships."
On April 16, Yamazawa will return to The Pinhook for an evening performance.
All events are open to the public and are co-sponsored by the Viva the Arts committee and the Global Distinction Program at Durham Tech; the Asian American Studies Program, Asian and Middle Eastern Studies, Theater Studies, English Department, and Asian/Pacific Studies Institute at Duke; and the North Carolina Asian Americans Together.
Event Breakdown:
• G Yamazawa: Roots to Durham event at Duke University:
• G Yamazawa Poetry Presentation and Discussion at Durham Tech:
• Performance at The Pinhook:
4/16 at 8 p.m., doors open at 7 p.m.; $10 in advance, $12 day of the show; 117 W. Main St.; thepinhook.com
FOR MORE INFORMATION
Stephanie Turner: Durham Tech Marketing and Media Relations Coordinator