Durham Tech faculty members redesign select courses through Duke University partnership
The College is part of the first cohort of the Duke Humanities Unbounded program.
This fall, two faculty members will be the first at Durham Technical Community College to teach classes that were redesigned through participation in a newer Duke University initiative.
Lisa Blair, Spanish and French Instructor, and Marina DelVecchio, English Instructor, are part of the inaugural cohort of the Duke Humanities Unbounded program, which officially began in July 2018, according to a report on Duke Today. The instructors have been upgrading select Durham Tech courses with two Duke doctoral students since May.
"This collaboration is an example of Duke and Durham Tech taking advantage of both their respective strengths and geographic proximity," said David Long, Dean of Creative and Liberal Arts at Durham Tech. "Duke has an internationally renowned Humanities faculty and cutting-edge scholarly and educational resources, including their Humanities labs. Durham Tech has a first-rate Humanities faculty that has long trained its highly diverse student population to succeed in the workforce or at four-year institutions."
Blair has been working with PhD student Patricia Bass to bring Francophone African literature and culture into online course Elementary French I, while DelVecchio has been collaborating with PhD student Maggie McDowell to expand the representation reflected in the online American Women's Studies course and in-person American Literature II course.
"Teaming up with a Ph.D. student is an advantage that comes with new perspectives and innovations that we don't often get the opportunity to work with or have access to," DelVecchio said.
Bass and McDowell will conclude their participation in December. Blair and DelVecchio will then continue to revise the courses as needed before ending their roles in the spring.
The Duke Humanities Unbounded program is supported by a $3 million grant The Andrew W. Mellon Foundation awarded Duke in May 2018, the Duke Today report said.
Selecting the Durham Tech representatives, courses
Blair and DelVecchio were chosen through an application process. Any full-time Durham Tech faculty member teaching humanities, social science, or fine arts material was eligible and able to choose the course on which they wanted to focus, Long said.
Blair had been working on making online language classes more verbally interactive and had been wanting to better integrate lessons of African cultures with French connections into basic online French course curriculums.
"It sounded like a wonderful prospect, and I was really excited to be included in this project," Blair said. "I actually see this expanding in the future to include more African countries of French expression so that our students can truly get a better idea of what and who make up the Francophone world."
DelVecchio applied with wanting to tie in more transgender/queer and disability narratives into her teaching.
"When David emailed us about this initiative, I thought it would be a fantastic experience with which to be involved," she said. "I was thrilled to find out I was accepted, and the fact that Lisa was also accepted made it even more fun since we have this big project in common and are not going through it alone.
Since this is a pilot program, everything is still quite new and having a fellow instructor to talk to and bounce around ideas is a fruitful experience."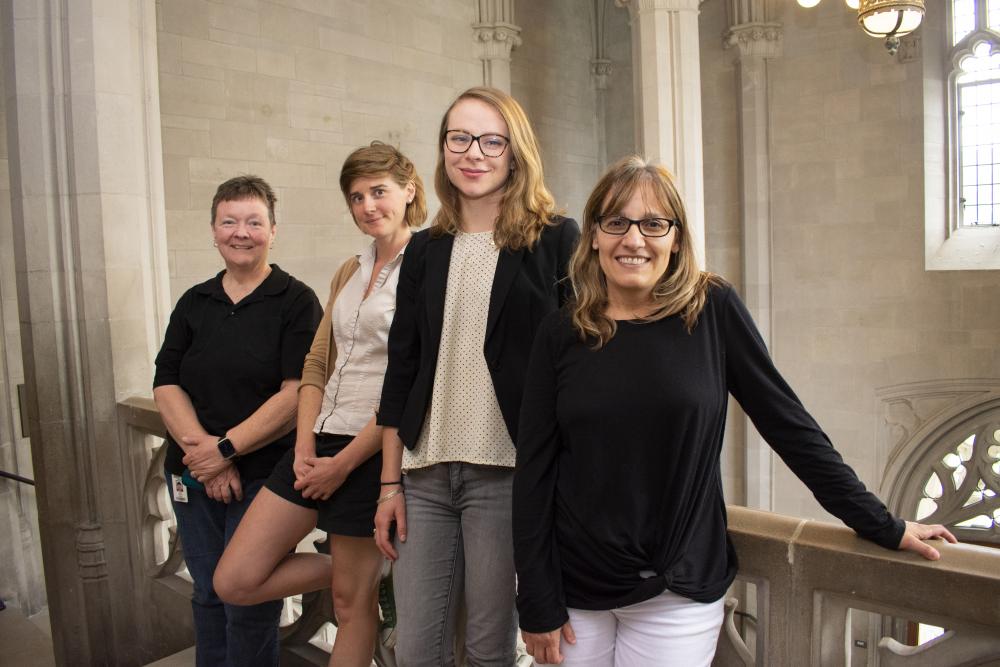 Blair and DelVecchio are featured on the Duke website as teaching fellows for the program and have access to Duke resources and faculty.
Collaborating with Duke students
Once the Durham Tech faculty members and projects were selected, Duke posted the information to solicit applicants.
"Graduate students who had both an interest and expertise related to the proposed projects were encouraged to apply," Long said.
Bass is in the Art, Art History, and Visual Studies program at Duke.
"Although she is not the exact same field of study as I am, she has wonderful experience and interests that complement my experiences and interests," Blair said. "I think it is a wonderful match and am really happy to be working with Patricia."
DelVecchio said she chose McDowell, who is studying contemporary American literature, because she felt the student's interests aligned well with her own and that McDowell would be a great asset.
"Maggie met my teaching needs to perfection," DelVecchio said. "She is very intelligent, thoughtful, and informed, and she was and is the best choice for our work and our students."
The Durham Tech instructors met their students in April and spent the summer delving into their respective projects.
This fall, Blair and Bass will be integrating their research and work into the Elementary French I course. The new material will focus on the Senegalese culture. The two also hope to set up a virtual interaction with a college in Senegal so that Durham Tech students can communicate with native French speakers.
"I'm really enjoying it," Bass said. "Lisa and I have a lot of interests in common in terms of Francophone culture."
In addition to helping reform the courses, McDowell will be teaching some of the classes.
"I feel like I've learned a lot already about teaching styles that I've never been exposed to," McDowell said. "(Marina and I) have a lot of shared interests in common, and she's helping teach me how to translate those interests into something that students will be excited about, which was a really cool thing to see taking shape."
More about Duke Humanities Unbounded
Humanities Unbounded is a five-year initiative that will conclude in 2023 and consists of three pillars, one of which is the partnership between Duke and Durham Tech. The partnership is also part of Mellon Foundation's Community College-Research University Partnership initiative to support humanities students and faculty at community colleges and four-year universities, according to the Duke website.
Durham Tech faculty interested in applying as future teaching fellows for this program can contact Long at 919-536-7200, ext. 8025, or longd@durhamtech.edu.
"Having a connection to Duke University shows how invested we are as a school and as instructors to our students, their learning, and our desire to offer them innovative and transformative lessons that adhere to their needs academically, professionally, and personally," DelVecchio said. "We have made a promise to teach them, and this opportunity gives us the means with which to make good on that promise."
Editor's Note: The second photo was contributed by Duke University and taken on Duke's campus. 
---
Contact Stephanie Turner, Marketing and Media Relations Coordinator, at turners@durhamtech.edu.