Durham Tech launches mobile health lab with $1 million grant from Blue Cross NC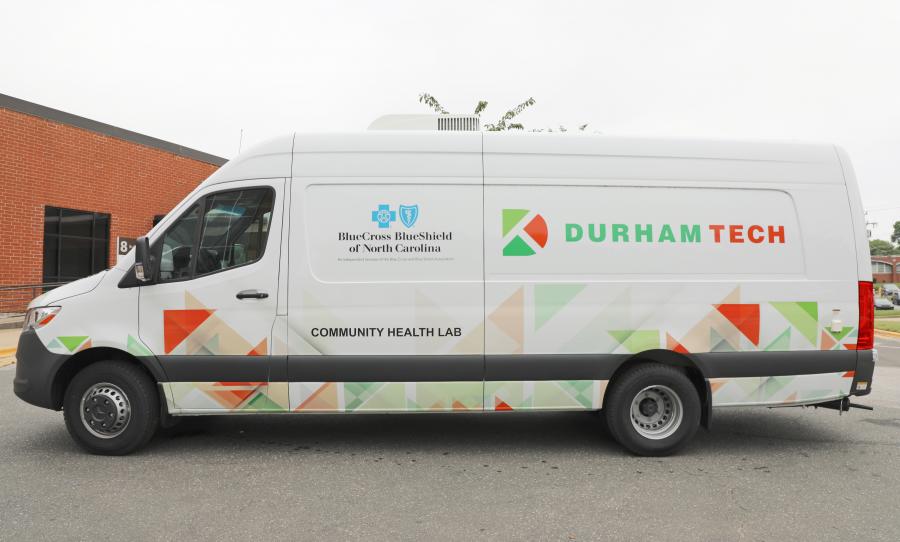 The new health lab will be used for community services and educational purposes.

Durham Technical Community College and Blue Cross and Blue Shield of North Carolina (Blue Cross NC) have launched a new mobile health lab as a part of a $1 million grant to the College, which will allow students and supervising practitioners to travel where care is most needed.

The gift is the largest in the College's history. The mobile lab will primarily engage elementary-age children in underserved neighborhoods in Durham and Orange counties where transportation is a significant barrier to accessing health services. The mobile lab will provide:
Fitting children for glasses and providing glasses free of charge
Free dental pre-screenings and education
Health fairs at public elementary schools, featuring basic vital sign, cholesterol, and glucose checks, and health and nutrition education to combat childhood obesity
"We are so excited about this new mobile lab and the opportunities it will provide our students," said Melissa Oakley Ockert, Dean of Health and Wellness. "The lab will allow our students to practice what they've learned in the classroom and show them firsthand what good their skills can do. Also, the mobile lab will allow us to engage with our community in new ways."

"We believe that every North Carolinian deserves access to health care, but factors like reliable transportation can prevent families from receiving adequate care for themselves and their children," said Cheryl Parquet, Director of Community and Diversity Engagement at Blue Cross NC. "That's why Blue Cross NC continues to invest in programs like Durham Tech's mobile health lab that meet the needs of people directly where they work, live and play."

The lab plans to serve as a space for Durham Tech Health and Wellness students and community members to take classes. Ockert said there also have been preliminary discussions on using the lab to support COVID-19 response efforts.

The unit is expected to be available for scheduling during school fairs and public events.
"We are thrilled to report that this grant is the largest gift in institutional history, which attests to the strength of our partnership," said Melissa Chappell, Executive Director of the Durham Tech Foundation. "We are grateful for the commitment of Blue Cross NC to improve the educational opportunities available to our students as they serve our community."

Durham Tech Health and Wellness students will participate in multiple health initiatives in their areas of study, including Dental Laboratory Technology, Nursing, and Opticianry – the only program of its kind in the state. In collaboration with such partners as East Durham Children's Initiative, Samaritan Health Center, Missions of Mercy, and local elementary schools, students will assist with health assessments and dental care and provide eyeglasses. The Durham Tech students will work under the guidance of Durham Tech Health and Wellness faculty.

Durham Tech and Blue Cross NC have collaborated on community projects for more than two decades. Durham Tech has trained employees for the company and has benefited from the company's volunteer service and philanthropic support.

"We are grateful for Blue Cross NC's continued partnership and support over the years," said Durham Tech President Bill Ingram. "This generous and significant investment will give our students critical hands-on experience while also expanding access to wellness for our community, proving once again that Durham Tech has the ability to provide the highest-quality instruction while serving those in need."

For More Information 
Nathan Hardin: Durham Tech Marketing and Communications Director 919.998.9616; hardinn@durhamtech.edu

About Blue Cross and Blue Shield of North Carolina
Blue Cross and Blue Shield of North Carolina (Blue Cross NC) is committed to making health care better, simpler and more affordable. We have been driving better health in North Carolina since 1933, working to tackle our communities' greatest health challenges. Blue Cross NC serves its customers and communities of more than 3.8 million members, including approximately 1.1 million on behalf of other Blue Plans. Blue Cross NC is an independent licensee of the Blue Cross and Blue Shield Association. Visit Blue Cross NC online at www.bluecrossnc.com. All other marks are the property of their respective owners.