From Durham Tech to M.I.T., Karoui's team snags first at national robotics competition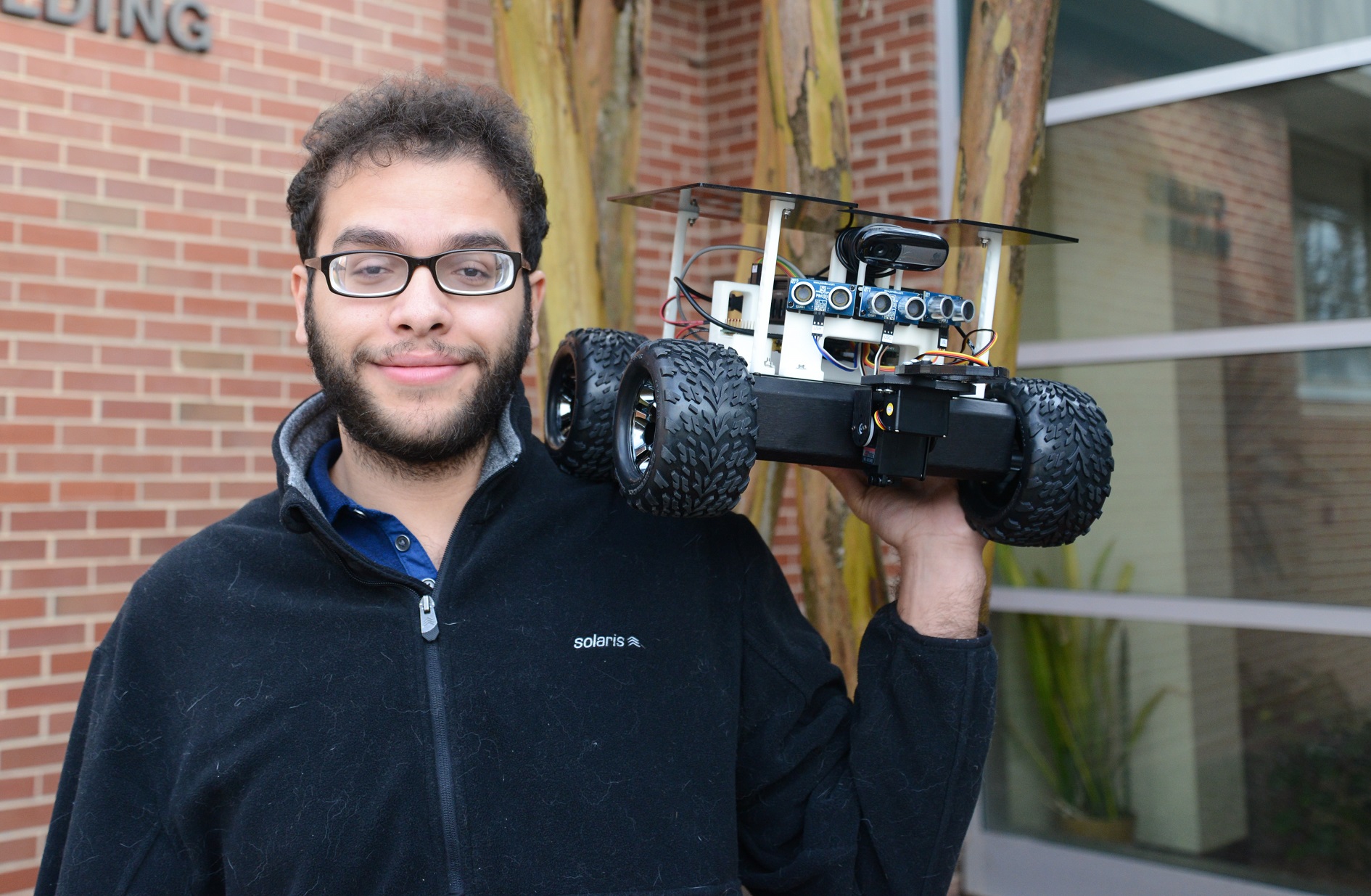 Mohamed Karoui had been awake for 48 hours.
After a full day of travel and an 18-hour robotics competition, Karoui found himself asleep on the floor of the Lesley University library in Cambridge, Massachusetts. The good news – his team won.
Earlier this year, Karoui, 25, was accepted to compete in an overnight robotics competition at the 2017 Robotics: Science and Systems Conference at Massachusetts Institute of Technology. More commonly known as "Hackathon," participants were tasked with programming and maneuvering autonomous rovers through an obstacle course while picking up as many resources, or Styrofoam cubes, as possible along the way.
"This is a two-semester competition compressed into 18 hours with nothing to start with," Karoui said. "It was really stressful. We couldn't leave the room. We saw the sun go down. The morning came, and the sun was back up."
Karoui received a paid scholarship from the University of New Mexico to attend the competition along with former Durham Tech student Madeline Yun. When they arrived at the competition, they were separated into different teams with students from other colleges around the country. The two represented Durham Technical Community College, but ended up competing against each other.
Five groups of four put their minds together to develop algorithms that would coordinate rovers in an indoor, GPS-denied environment. Teams had to write code that would make the rovers navigate through a course, dodge obstacles, collect resources and bring it back to home base.
Karoui's team operated on rotating shifts. Three people would brainstorm ideas while one person served as the programmer.
"We were very critical of the ideas we brought to the table," Karoui said. "Every time someone had an idea, we'd ask, 'Why would this idea not work?' At the beginning of the 18 hours, each of us had 20 or 40 ideas, but at the end we had one or two left that were feasible to implement."
One idea gave them an edge. They decided to ask the judges how heavy the obstacles were.
"The risk was asking the judges," Karoui said. "We could have gotten disqualified, but given the amount of time that we had, we could have spent 60 percent of our time trying to figure out how to go around these things and not win or take a risk, see if the judges would accept it and get first place."
To their surprise, the judges told them the obstacles were cardboard boxes.
"I told our team not to worry about navigating and just mow the field," Karoui said. "We didn't care about obstacle avoidance anymore because the boxes were lightweight. The other teams thought they had to go around the obstacles, but since we knew they were only cardboard, we could push them around. This made us win the competition."
Teams were given 15 minutes to get through the obstacle course. Not only did Karoui's team make it through course and back to home base, their rover picked up five resources along the way. They were the only team to grab any resources.
"I didn't think we were going to pick up anything," Karoui said. "It was a really satisfying win. We ended up staying in Boston two extra days to see the sights and celebrate."
Karoui says the takeaway from the competition was invaluable.
"The competition awards simplicity and gives you perspective on how to be successful in the real world and get results," Karoui said. "It definitely opened my eyes in terms of what's required to be a team leader. It showed me what I'm lacking and what I need to work on. There are a lot of smart people out there. Being able to travel and compete across the country and see how well others do compared to yourself and seeing how much you have to improve is invaluable."
He credits much of his success to the math department at Durham Tech.
"The math department is just impeccable," Karoui said. "All of this wouldn't have been possible without Julie Hoover, Mr. (Chris) Mansfield, Dr. (Margaret) Memory, and Ms. (Emma) Borynski."
Beyond a trophy, Karoui says this win will play a large role in his future career goals. After returning home, he applied for a programming instructor position at The Coder School in Cary to teach 9 and 10 year olds the foundations of coding.
"I know I got the job because of this competition," Karoui said. "It was all they asked about during my interview."
He's enjoying every minute of teaching.
"I have a newfound respect and understanding for teachers," Karoui said. "After working one or two weeks on a single concept and then all of a sudden you see the spark in their eyes, you're like wow, I may have just put this person a career path."
Karoui plans to graduate from Durham Tech in May 2018 with an Associate in Science and transfer to North Carolina State University in Fall 2018 to pursue a double major in computer science and applied mathematics. He also plans to get a Master of Business Administration degree and later his doctorate in hopes of becoming a professor.