Durham Tech president announces retirement after more than 35 years of service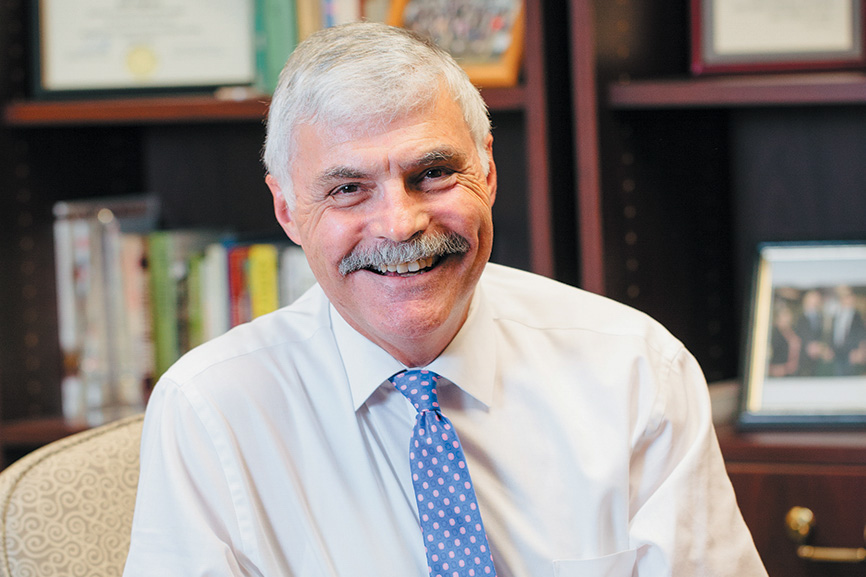 President Bill Ingram officially announced his plans to retire at the end of his contract next summer during a Durham Technical Community College Board of Trustees meeting Tuesday night. Ingram has served at the College in various capacities since 1983.
Ingram has led Durham Tech as its fourth president since January 2008, succeeding the late Dr. Phail Wynn Jr. Ingram is set to retire from Durham Tech on June 30, 2020, pending the conclusion of the presidential search process.
Under his leadership, Durham Tech has grown to include new campus locations, additional buildings on Main Campus, and new programs to offer more opportunities for students to earn livable wages and achieve upward economic mobility.
"As I reflect on the past 12 years as president, I am gratified by what we've accomplished," Ingram wrote in a letter to Board of Trustees Chair John Burness.
"While we have accomplished much, we still have much more to accomplish. To that end, I will devote these next several months to furthering the work that began in 2008."
A few months into Ingram's presidency, the College expanded its reach outside Durham County to open the Orange County Campus in Hillsborough. On Oct. 4, Ingram, Durham Tech Board of Trustees members, and community leaders broke ground on the College's first academic building since 2008 and new Main Campus academic building since 2004 – the new Applied Technologies Building.
Ingram has held several leadership roles at the College, including director of Continuing Education, director of Off-Campus Programs and the Weekend College, and dean of Technical and Vocational Programs. Before accepting the position of president, Ingram served as senior vice president and chief instructional officer for 13 years.
In a letter Burness gave to Ingram on Tuesday, Burness said Ingram has made a profound impact on the community during his time at the College.
"It is said that in life one should strive to leave our world and the communities and institutions we serve a better place," Burness wrote. "You have surely done that, and it has been a privilege to work with you to make Durham Tech and our community a better place."
Ingram's accolades include receiving the I.E. Ready Distinguished Graduate Award in 2016 from North Carolina State University and the Leo Lambert Award in 2017 from North Carolina Campus Compact, an organization of which he has also served on the executive board.
Ingram's involvement in the community includes participating on several boards including for the Greater Durham Chamber of Commerce, the Chapel Hill-Carrboro Chamber of Commerce, Discover Durham, and Made in Durham. He also is a peer evaluator and former trustee for Southern Association of Colleges and Schools Commission on Colleges and has co-authored a book on community colleges.
Ingram earned his Master of Science and Doctorate of Education from North Carolina State and his Bachelor of Arts in English from Ohio Wesleyan University.
A search committee for the College's fifth president is expected to be formed later this fall.
---
In the News:
Contact Stephanie Turner at turners@durhamtech.edu for more information.