Durham Tech produces craft projects to service community needs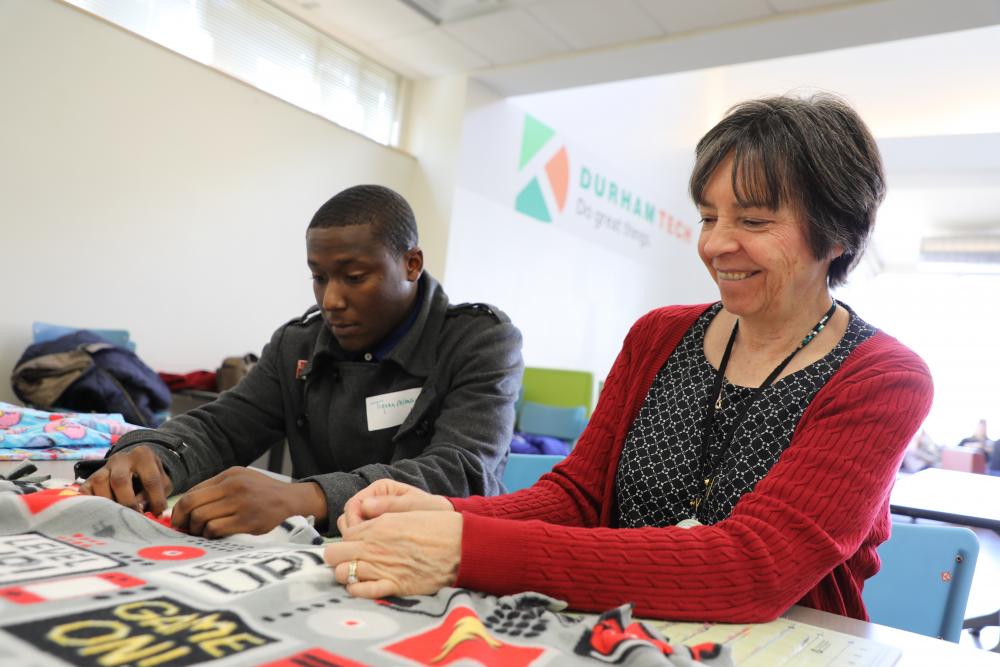 Since January, Durham Tech students and volunteers have been sewing, cutting, and tying plastic bags, fabric, and other materials to produce three different products for three different community needs.
These projects are running the gamut. Students are helping produce port pillows for chemotherapy patients and blankets for children at area hospitals and shelters and were part of creating sleeping mats for Durham's homeless population.
The port pillows and blankets are still in progress. The sleeping mats have been completed and delivered.
The projects began during the Crafternoon for a Cause event, which followed the College's 34th annual Dr. Martin Luther King Jr. event in January.
For the Crafternoon event, the Café at Durham Tech on Main Campus transformed into a crafting hub. Tables and lounge areas were overtaken with participants and supplies. Each project had its own working station.
Michelle Rivera, who graduated with her Associate in General Education degree in May, worked on a port pillow at a long table close to the main entrance.
"I'm excited to see how they look," she said. "My field is nursing, and this is the kind of area I want to work with. I thought it'd be nice to give back to (these patients). Just being able to help somebody else in need … is a good thing."
Chemotherapy patients sometimes receive their chemotherapy through ports under their skin. This port can make a car ride extremely uncomfortable for the patient, since the seatbelt rubs against it, according to Jes Dormady, Center for College and Community Service Coordinator. The pillow is designed to attach to the patient's seatbelt to alleviate the discomfort.
Toni Brown, Administrative Assistant for the Arts, Sciences, and University Transfer department, initially suggested the port pillow project.
"It is exciting and a heartwarming feeling knowing that you are doing something to help someone else, especially when they are not expecting it," Brown said.
To make the pillows, the crafter must cut fabric into the appropriate shape, sew the edges together, stuff it, sew up the pillow, and then secure a strip of Velcro onto it.
The blankets are being put together by cutting and tying fleece. They will be distributed locally through Project Linus, a nationwide nonprofit.
The sleeping mats were created by flattening and cutting up plastic bags to turn them into "plarn," or plastic yarn. The strips are then crocheted together to produce what's known as plarn mats.
The sleeping mats were presented to the Rev. Carolyn Schuldt, Executive Directo
r of Open Table Ministry, during the Retired & Senior Volunteer (RSVP) Recognition Luncheon on May 22 in the Wynn Multipurpose Room.
Schuldt told the guests that plarn mats are very beneficial to the homeless population because they dry more quickly and easily than sleeping bags, blankets, and quilts, all of which need a dryer to thoroughly dry.
"(Plarn mats), you just shake out. And the water falls out, and they're dry," she said. "It's really quite a remarkable gift that (you've) given some very, very vulnerable people. … We are so grateful for these mats."
Durham Tech employees, students, RSVP volunteers, and Forest at Duke community members contributed donations and time for these projects.
For those interested in helping with the port pillows, call Brown at 919-536-7223, ext. 8010.