Durham Tech Promise provides up to $1,000 each year in free tuition to students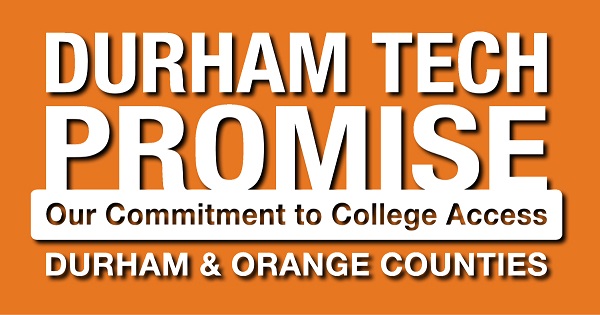 The new Durham Tech Promise program is making college more affordable – reducing tuition by as much as half for eligible students.

The program provides up to $1,000 each year for two years to eligible students. That means eligible in-state students who take a full-time 12-hour credit course load would only have to pay about half of the tuition.

The program, which is funded by Durham and Orange counties, was previously a pilot program called ConnectFunds. With the success of the pilot program, the College has widespread support for the new Promise program, which launched earlier this month.

Eligible students are recent in-state high school graduates from Durham County and recent in-state public high school graduates from Orange County who enroll in at least six credit hours at Durham Tech. Students with out-of-state status should contact the Durham Tech Financial Aid office for more eligibility information.

Eligible students must be within one year of high school graduation.

"I feel like Durham Tech and the Durham Tech Promise really helps a lot of people," said Jace Wright, who is 20 and applying for the college's practical nursing program. "Durham Tech Promise has helped me a lot. I was trying to find a way to pay for school, or I was going to have to take a break from school. I also work here as a work-study student so I would have to find a whole other job to pay for things that I needed. Durham Tech Promise came in and really helped me. It was a big blanket of relief."

Students do not have to apply for the scholarship but instead are contacted after the Durham Tech Financial Aid office has reviewed and selected them as a recipient based on their student record.

"With the Durham Tech Promise, Durham and Orange counties will sustain a 'first-dollar' approach to college student support, making it unique among promise programs," said Dr. Christine Kelly-Kleese, Vice President of Student Engagement, Development, and Support. "This scholarship also demonstrates our commitment to college access (and) will create access to upward economic mobility for our students and their families."

Having a "first-dollar" approach guarantees that the Promise funds will pay for the student's tuition and fees, according to Kelly-Kleese. Additional financial support that a student may receive from other grants or scholarships is then used to cover the student's remaining balance and additional attendance-related costs.

Last year, more than 700 high school graduates who qualified for the Durham Tech Promise enrolled at Durham Tech. Students must maintain a minimum 2.0 GPA and a 67-percent completion rate to keep the scholarship.

For more information, visit durhamtech.edu/promise.


---
In the News: