Durham Tech, UNC announce new partnership   

Durham Tech and UNC-Chapel Hill celebrated a new partnership Wednesday, Sept. 27, 2023, at the grand opening of the Innovate Carolina Junction. 
Durham Tech President J.B. Buxton announced that the College had opened an office at the Junction's 137 E. Franklin Street location in Chapel Hill to provide space for the its small-business and corporate services, along with academic programming.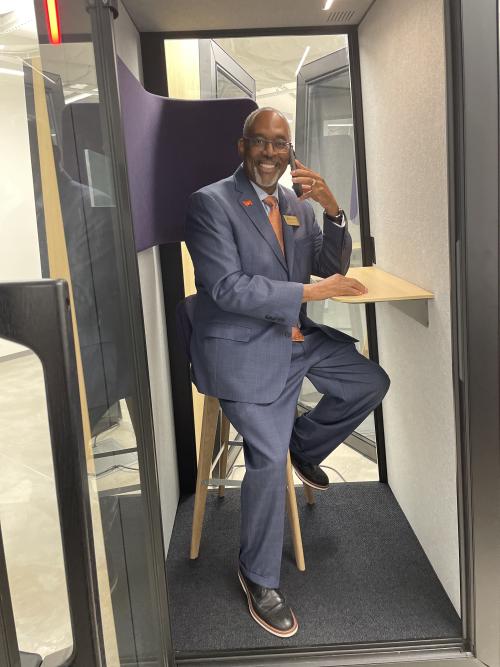 "Many people are aware that the College serves as a gateway to great universities and a pathway to prosperous careers through short-term workforce credentials and degree programs," Buxton said. "Fewer people are aware of the small-business services available and the customized training we do to support new and expanding industry – this last year we worked on 13 major projects training 1,800 individuals in these companies." 
Buxton also shared that the College and University had signed a partnership agreement that includes: 
• A formalized, ongoing commitment between Durham Tech's Clinical Trials Research Associates Program and the UNC Research Office to develop a talent pipeline for Durham Tech students to work as interns in UNC clinical research labs and then fill critical clinical research jobs at UNC Lineberger Cancer Center, the medical school, UNC Health, and units beyond Chapel Hill after graduating; and  
• The establishment of a standing UNC-Durham Tech work group reporting to the chancellor and the president to explore new opportunities to work together to meet workforce demands in areas such as clinical research, IT, autonomous and process technologies, machine learning and data analytics.   
"The nature of our economy, the makeup of industries, and the future of work are shifting. In many ways, in the Research Triangle region we are on the leading edge of these changes," Buxton said. "It is incumbent upon public institutions of higher education – working with local employers and local governments – to ensure the people of our community are supported and prepared for these changes." 
UNC-Chapel Hill Chancellor Kevin M. Guskiewicz said the partnerships with Durham Tech will help drive innovation and economic vitality.  
"We think of innovation in business development, or innovation in medicine, or innovation in our research. Yet innovation touches every part of the work we do here at UNC-Chapel Hill," he said. "Professors are innovating in the classroom, students are innovating in their thesis projects, and our researchers are innovating in the questions they are trying to answer." 
Also giving remarks during the ceremony, which drew a large crowd to celebrate the opening, were Chapel Hill Mayor Pam Hemminger, state Department of Commerce Deputy Secretary Jordan Whichard, UNC Board of Trustees member Vinay Patel and Dedric Carter, UNC-Chapel Hill's incoming vice chancellor for innovation, entrepreneurship and economic development and chief innovation officer 
Durham Tech's office and training space at the Innovate Carolina Junction was made possible with the support of the Orange County Commissioners.