Holly June, new Director of Advising, celebrates students where they are
Holly June has been on all sides of the student experience – from a student herself to a professional, to a teacher and then a teacher of teachers. She lives her mantra – to leave no road untraveled – through her work as an advisor, crafter, blogger, business owner and the new Director of Advising at Durham Tech.

June was named to the role on May 1. In three months, June led the development of a new advising online feature and spearheaded a new campus-wide event this fall that looks to engage and inform new students.

Inside her office, dotted with pink DIY wall décor, June spoke about her career with a warm smile and a huggable spirit.

Students need a welcoming space, she said, as they look to navigate their academic and career goals.

"The key is meeting each student where they are," June said. "You're introducing yourself, asking about their goals, explaining campus resources, getting them registered for classes, and creating a roadmap for their next steps."
A twist in fate
Originally from Eden, North Carolina, June described herself as an artsy and creative kid.

"I always aspired to be a teacher," she said. "When I was four years old, I would place all of my teddy bears at their desks, stand up in front of my imaginary classroom, and teach them all about the Milky Way."

She continued on the path to become a teacher throughout college. In 2005, she earned a Bachelor's Degree in Birth-Kindergarten Education from Western Carolina University. Her active role in student government led to a twist in fate.

"I was so vocal as a student that the leadership team at Western Carolina noticed me and thought I'd be a good fit for a group that was developing a new higher education program," she said. "In that role, I started doing advising and tutoring for student athletes and I would often unofficially plan out their classes. I found a lot of joy helping students discover their plans and create roadmaps for how they can turn their plans into action."

June then also decided to pursue a Master's Degree in Higher Education at Western Carolina. After graduating in 2007, she spent six years as an academic advisor at Winston Salem State University.

In 2013, while working on her doctoral degree in Educational Leadership from Trident University International, June decided to revisit her first love.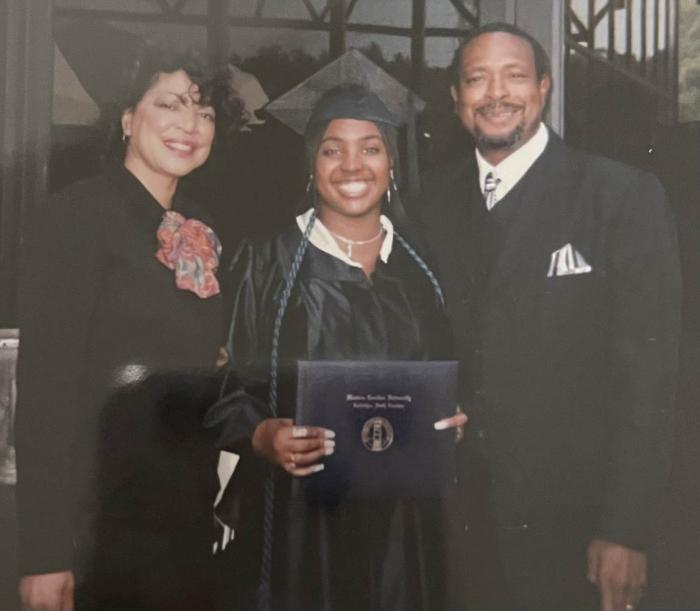 She moved to Maryland with her husband to teach kindergarten and the first grade.

"It was everything I thought it would be and more. I would start every day reminding students they would either go to a community college or a four-year university, and every day in the winter I wore a sweatshirt from an institution in North Carolina," she said. "But after two years, I realized I was more passionate about advising and teaching students that want to work with little ones. Helping the next set of leaders that work with little people was my way of merging my two passions."
'Take advising services to new heights'
June worked at Prince George's Community College in Maryland for five years before transitioning back to North Carolina in 2018. She found an academic advisor position at Durham Tech and applied immediately.

After serving as an advisor for two years, she started teaching College Transfer Success courses and Child Development II in the Early Childhood Education program. Martha Forbes Lewis was a student in June's College Transfer Success class.

"Dr. June's class was an absolute blessing to me. I was very confused about what to do to achieve my goals, but everything I learned from her, changed my school experience and my life overall," Lewis said. "She helped me explore my goals and make sense of what I needed to do to achieve them. I now have a clear picture of what classes I need and how to get where I want to go."

In Fall 2021, June led a taskforce that took a deep dive into advising as Durham Tech navigated the new Guided Career Pathways and One-College Model. Weeks later she was asked to serve as Interim Director of Advising, and now serves in that role permanently.

"Holly was a great fit to serve as Director of Advising due to the outstanding contributions and impact she has made to transform our advising office," said Abraham Dones, Chief Student Services Officer at Durham Tech. "She decided that change was needed and immediately began to collaborate and reach across the campus to enhance supports to advisors throughout the entire college. Dr. June is a natural collaborator and innovative thinker, approaching this work with that intent she will take advising services and practices to new heights. Her heart is in the right place and her passion to support and serve students will transform our college."
One of June's first initiatives was adding an online appointment scheduler to the website to increase access to advising services.

This fall, Durham Tech will also host a new customer relationship management (CRM) software, which will largely impact advising.

"This new software will improve communications with students and help them feel empowered knowing where they are in the admissions process, what documents we need from them, and when they're ready to meet with an advisor," she said. 

June said she is most excited for Great Start Day on August 12, a new student convocation day to help new students familiarize themselves with Durham Tech. This half-day event will include a campus tour, meetings with success coaches, presentations on student resources, and tutorials on Sakai – all to ensure students feel confident and ready before the first day of class.

"Students know we celebrate them when they graduate, but for some students, especially part-time students, graduation is a long-time coming so it's important that they are celebrated when they start," June said. "Great Start Day will be the start of that celebration. The faculty and staff at Durham Tech really take the time to get to know the students and learn their stories because we want them here, and we want them to know that."
Craftiness is happiness
When June is not advising, she is home crafting for her DIY blog, Posh, Glam and Pristine. She also owns Posh Party Palace, a mobile party and event hosting company that specializes in tea parties for kids.

"I always tell my students they don't have to settle for just one thing in life. No road should be left untraveled. I'm so thankful I get to follow my passion for advising, kids, and crafts."

June resides in Knightdale with her husband and children.
_____________________________________
Contact Marcy Gardner, Coordinator of Content and Social Media, at gardnerm@durhamtech.edu