How 'perfect timing,' passion for community colleges brought Lancelot Gooden to Durham Tech
As a young boy growing up in Jamaica, Lancelot Gooden fell in love with math. He excelled in the classroom, skipping the fifth grade, and thrived academically as the youngest student in the class.

Gooden discovered a passion for teaching during his formative years, which he attributes to his late mother, who passed when he was just 13 years old.

"My mother worked with me and always believed in me. She believed all students can learn and regardless of their backgrounds, leveraged resources, not available in abundance, to support those in need. In retrospect, my mother was doing the work of equity in our community," he said.
In January, Gooden took over as the new Dean of Building, Engineering, and Skilled Trades at Durham Tech. Gooden has a deep love of community colleges and says Durham Tech's focus on equity and inclusion was one thing that drew him to Durham.
'Leader that people want to follow'

In his teenage years, Gooden shifted from student to teacher. At 18, he hosted after school tutoring sessions in pre-calculus for 30 to 45 of his peers. At 19, he was offered a full-time teaching position in Advanced Level Math and Advanced Level Engineering Drawing courses.

"I enjoyed the experience as a teacher, especially the satisfaction received when my students became passionate about math, gained confidence in the subject, and achieved their goals," he said.

Outside of the classroom, Gooden was a star athlete, excelling in track and field as a long jumper, triple jumper, and member of the sprint relay team.
By 20, Gooden was offered a part academic, part track and field scholarship to Saint Augustine's College in Raleigh and has resided in the Triangle ever since. He majored in Industrial Mathematics, won multiple math awards, and was an undergraduate math tutor. He originally wanted to be an architect, Gooden said, but after his experience as a substitute teacher at North Johnson High School, his track shifted.

He applied to NCTeach at East Carolina University, a fast-track option for lateral entry teachers to clear their provisional license, and landed a full-time teaching job at Clayton Middle School in 2002.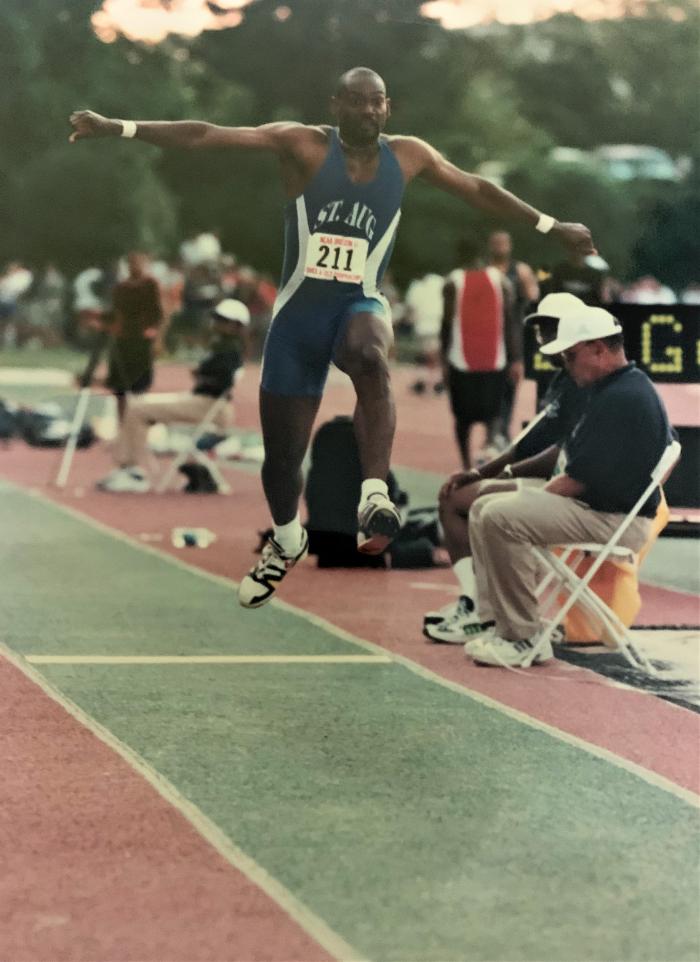 But in January 2006, Gooden said he fell in love with community colleges after taking an adjunct developmental math instructor position at Johnston County Middle College High School, which was held at Johnston Community College.

"I experienced how life-changing the community college was for many of my students, providing an avenue for post-secondary course experiences and a credential. I instantly felt drawn to the community college," he said. "Professionally, it was an opportunity for me to make a more significant impact on the community."

He began teaching full-time at Johnston Community College in Fall 2010 and later became a department chair, where he launched new programs and initiatives, including the Associate in Engineering program, Mechanical Engineering Technology program, and several STEM initiatives.

Dr. Katie Lovin, a mathematics instructor at Wake Technical Community College, worked alongside Gooden at Johnston Community College.

"I've had the pleasure of working with Lancelot as a supervisor and as a peer. He treats everyone with kindness and respect. Lancelot is attentive to the needs and desires of others, helping them to grow and achieve their specific goals," Lovin said. "He is the type of leader that people want to follow." 

Gooden made a lasting impression on his students, said former calculus student Britanya Wright.

"Everytime I worked with Mr. Gooden whether that is through being in his Calculus III class, through teaching at the 2017 STEM FIRST summer camp at Johnston Community College, or getting advised when transitioning to a four year university, I have found that he has been a wonderful light to my growth," Wright said. "He has helped me through many steps as I transitioned to NC State University. He is a highly motivated, inspirational, and supportive teacher, leader, and mentor."

Gooden said community colleges provide the optimal pathway to post-secondary degree attainment and economic mobility, especially for underserved and marginalized populations.

"No other educational sector is as nimble, nor as advanced in racial equity while meeting the needs of employers for an equitable economic recovery than community colleges," he said.
'Perfect sense'

In 2020, Gooden was ready for a more challenging leadership role so he applied for the dean position at Durham Tech. 

"Being at Durham Tech is my calling. The timing was perfect," he said. "Durham Tech's Guided Career Pathways, One College Model, and Equity Action Plan serve as a national model to respond to regional economic needs. Durham Tech's direction was a seamless on-ramp along my professional journey and the transition made perfect sense."

Kara Battle, Interim Chief Academic Officer at Durham Tech, said Dean Gooden is insightful and provides a refreshing prospective to addressing challenges.

"His commitment to the College's priorities and goals is evident in his communication, goals, and how he manages his employees and his department," she said. "I am looking forward to the growth and development at Durham Tech and look forward to seeing how Building, Engineering, and Skilled Trades will continue to blossom."

Gooden said the success stories are what he loves most about working for a community college.

"Community colleges uncover the unrealized potential of students, providing avenues for social and economic mobility," he said. "What I love most is the rewarding feeling when students, who otherwise would not have had the opportunity, achieve a credential that leads to a high-paying job or transfers to a four-year institution to pursue a bachelor's degree. Community colleges are geographically well-positioned to and structured to drive economic prosperity to the region."

Gooden is also a doctoral student in North Carolina State University's Community College Leadership program.
"I want to make a greater impact. My experience as a mid-level manager while working at Johnston Community College became cyclic, and my knowledge was limited to leaders at the college. The Ed. D. program at NCSU will expand my academic knowledge and allow opportunities to collaborate with other practitioners and scholars to identify and solve community college problems and expand my professional network and toolkit as a current leader in the community college."

- Lancelot Gooden
He chose to do his dissertation on NC State's Goodnight Scholars program to better understand the gender and racial experiences among STEM aspiring community college students. 

Keith Parker is a Goodnight Scholar and a former student of Gooden's at Johnston Community College. 

"He would always take the time to talk to students during and after class to ensure we understood the material, and he was always encouraging us to come into his office and ask him questions," Parker said. "Mr. Gooden made sure that we wouldn't forget our time at Johnston Community College because of all the effort and care he put into the program."

The Goodnight Scholars program is available to low and middle-income families from North Carolina studying in the STEM disciplines or affiliated education majors. 

"My dissertation examines the barriers students may have faced and overcome along their trajectory to complete a community college transfer pathway and pursue STEM studies as Goodnight Scholars at NC State," he said. "I would love for Durham Tech to be a leader college for my research – nurturing a diverse and rich talent of students to reap the benefits of this program and other STEM programs that offer similar experiences."

Gooden said equity is at the core of his work, not an add-on.

"I am committed to breaking down silos and deepening Durham Tech's guided pathways work by leveraging continuing education and curriculum options to achieve upward economic mobility for Black, Indigenous, Latinx, People of Color and families living in the lowest economic quartile," he said. "I look forward to growing laterally and vertically as I become more acclimated to Durham Tech's culture while moving BEST in the direction of the college."

Gooden resides in Clayton, NC with his wife and two children.
______________________________________

Contact Marcy Gardner, Content and Social Media Coordinator, at gardnerm@durhamtech.edu