Middle College High School student earns Associate in Engineering degree, High School Diploma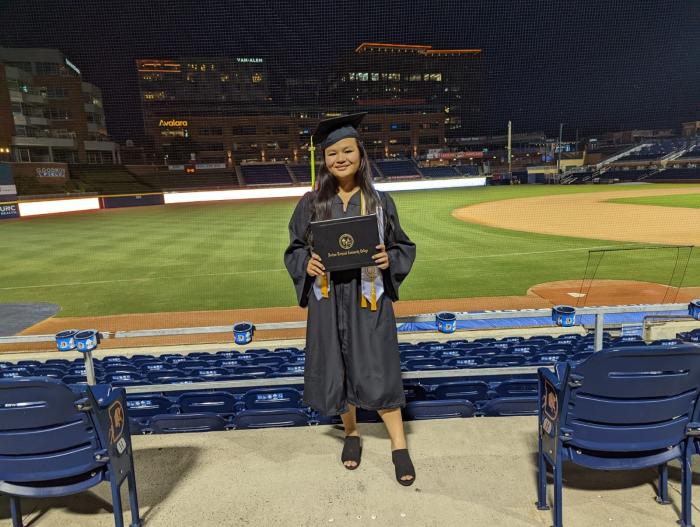 Durham Tech Middle College High School graduate Fallon Kichman-Heath has already completed two years of College after completing her Associate in Engineering while in high school. 
Kichman-Heath is the first Middle College student to earn an Associate in Engineering, which began being offered at Durham Tech in 2016. 
Born in China, Kichman-Heath was adopted at 13-months and relocated to Mebane, NC with her parents, and has been in North Carolina ever since. At just 17, Kichman-Heath now has her high school diploma and associate degree. 
Kichman-Heath's older brother introduced her to the Middle College program after he participated in the program. 
Since the sixth grade, she said she has been planning her future. She took advanced-level classes at a young age with the goal to transfer to Durham Tech with as many classes as possible so she could focus on taking college courses. 
"My family and I saw it as a great opportunity to take real college courses and earn an Associate degree while still in high school," said Kichman-Heath. "The fact that the state also pays for two years of college was a great benefit coming from a single income household."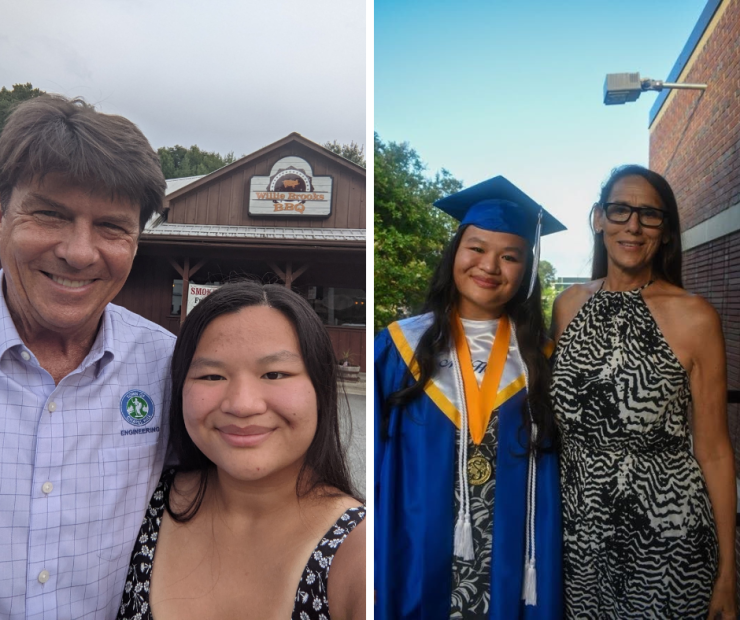 The Middle College High School at Durham Tech provides qualified high school juniors and seniors in Durham Public Schools, Chapel Hill-Carrboro City Schools, and Orange County Public Schools system to enroll in college courses for credit at no cost to the student. 
While at Durham Tech, she also joined Gamma Beta Phi Honor Society, volunteered with the Refugee Community Partnership organization, the North Carolina Therapeutic Riding Center and a local horse stable. 
"My overall experience at Durham Tech was great," said Kichman-Heath. "My entire first year at Durham Tech was online which I personally enjoyed as it allowed me to work at my own pace and have more flexibility in my schedule." 
In the Fall, Kichman-Heath will start at North Carolina State University as a junior to complete her Bachelor of Science in Computer Science. She also hopes to study abroad in a Spanish-speaking country. 
"Graduating is such a relief, and I am so glad to be starting my new chapter of my education at NCSU. I am very proud of the fact that I completed my AE and high school diploma at the same time," said Kichman-Heath. 
Muffy Vestal, chair of the engineering program, taught Kichman-Heath in one of her engineering classes and said she was a special student. 
"Fallon will become an outstanding engineer. She routinely demonstrates her communication, problem-solving, and time management skills. And she pays attention to details and knows how to work productively on a team. The profession needs young people like Fallon," said Vestal. 
For more information, contact Desiree Towson, M.S., Communications and Public Relations Coordinator, at allisontowsond@durhamtech.edu.