New Guided Career Pathways reshape Durham Tech with focused program areas, career exploration support

Durham Technical Community College is making college easier to navigate with the launch of Guided Career Pathways. 
Durham Tech students can now enter one of seven Guided Career Pathways with clear paths aligned to their career interests. Students can shift between short-term, long-term, and university transfer options within a Pathway with easier transitions. At Durham Tech, every door is the right one. 

The launch of Guided Career Pathways comes after two years of planning and restructuring at the College and is based on a national Pathways model that has shown success in increasing student persistence and completion rates. Guided Career Pathways are a part of Durham Tech's commitment to improve student success. The Pathway restructure also reflects the College's Equity Action Plan, which aims to improve the College's success rates among Black, Indigenous, and students of color. 
Guided Career Pathways provide structured choices, built-in and revamped advising support, and clear learning outcomes. Pathways are designed to assist students in making straightforward and informed decisions when selecting a credit or non-credit program and as a part of students' career goals. 
"Choosing the right career, understanding the many program options, and navigating the college experience can be overwhelming, especially for first-time college students. At Durham Tech, we are making that experience easier with Guided Career Pathways focused around career goals, clear paths, and built-in support for our students. Student success is our success," said Durham Tech President J.B. Buxton.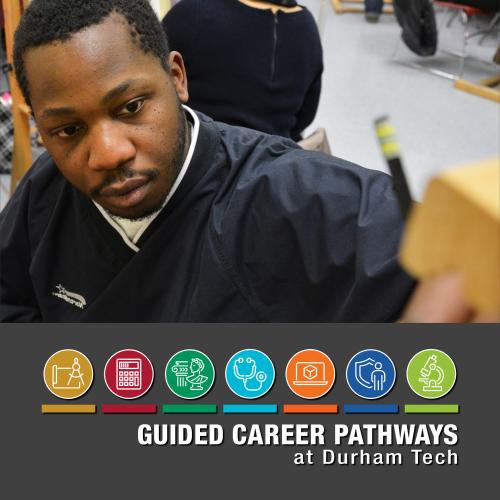 Durham Tech offers seven Guided Career Pathways: 
Last week, Durham Tech launched a redesigned online experience that provides an easier, user-friendly navigation with improved career exploration tools. 
The new website navigation helps students map their pathway from start to finish. New suggested paths also allow students to see how short-term programs may fit with a long-term or university transfer plan. 
Tom Jaynes, Executive Vice President at Durham Tech who has helped spearhead the Pathways planning and implementation, said higher education institutions typically have a Pathways implementation period of around five years in order to bring about significant cultural, structural, and programmatic change. The new restructuring and web experience represent the initial stages of the Pathway model. The College will continue to introduce new strategic changes as a part of its commitment to student success.  
"Ultimately, Pathways are designed to help Durham Tech be a 'student-ready' college where students will find the right path to a meaningful career, understand how that path relates to additional opportunities, stay on that path, and learn the skills necessary to prosper in their chosen career fields," Jaynes said. 
FOR MORE INFORMATION  
Desiree Towson, M.S.: Durham Tech Communications and Public Relations Coordinator at allisontowsond@durhamtech.edu