Stress Less: All can benefit from new Massage Therapy program at Durham Tech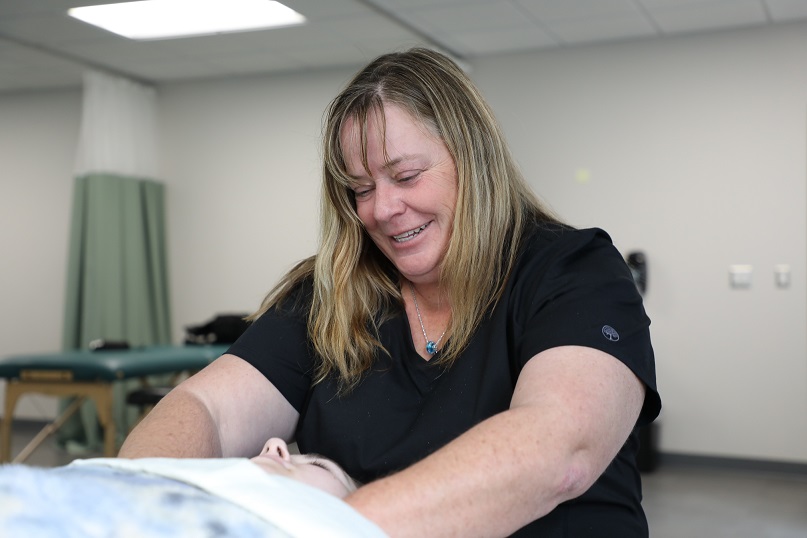 It's a dimly lit, quiet room at Durham Tech's Duke Street North Campus, where the soft sounds of tranquil tunes transform this ordinary college classroom into a relaxing oasis.

Room 102 is now home to the Massage Therapy program, which is designed to prepare students for state and national massage therapy licensing exams through classroom and hands-on training.

"Licensed massage therapists are in high demand because the value of massages is becoming more widely recognized in hotels, resorts, hospitals, spas, fitness centers, sports medical facilities, and nursing homes," said Jacequeline Mitchell, Director of Certification and Career Training at Durham Tech. "It's also a great opportunity for entrepreneurship. Students are able to become a licensed massage therapist in less than one year."

The program launched in September 2018, and the first class of 11 students will graduate in April 2019.

Gayle Jacobs, a student in the Massage Therapy program, is currently working in an administrative position at a local spa and already has a promotion lined up for later this year.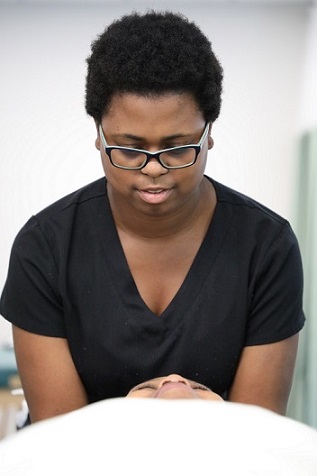 "I feel 100 percent prepared from the program, and I'm over the moon to be a massage therapist," Jacobs said. "Therapeutic touch is so healing within itself, from pain relief to depression. It feels good to know that I'm helping someone take care of themselves."

LeShonda Payton currently works at the front desk of a local Massage Envy and saw this program as a chance to move up in her career.

"This program affords me the opportunity to support myself and do something I love," Payton said. "The possibilities for work in this field are endless. It really opens a lot of doors."

Like Jacobs, Payton also has a promotion lined up to become a Massage Therapist later this year.

A unique facet to the program is that the general public can benefit from heavily discounted massages so that students have an opportunity to gain real-world experience. The clinic is open Thursdays from 9:30 a.m. - 1 p.m., and a 60-minute massage is just $10.

The second cohort of students began in February 2019, which offers night classes.

For more information about the Massage Therapy program, contact Jacequeline Mitchell at 919-536-7200 ext. 4013 or mitchellj@durhamtech.edu. If you'd like to make an appointment in the clinic, please call 919-536-7200 ext. 4420.