'There's a place for everyone': Assistant Dean Maryah Smith-Overman hammers home equitable opportunities in the skilled trades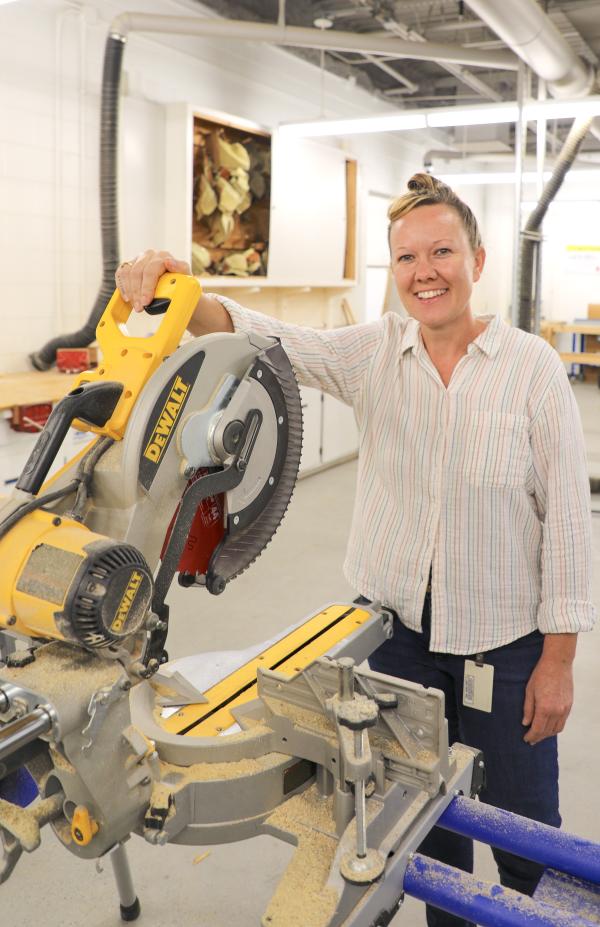 The impact of Maryah Smith-Overman can be seen in many faces and spaces throughout the Bull City. Her custom woodworks are on display in homes and businesses around Durham, but her most significant impact is felt within the evolving trades field.

She is a campus leader and the driving force behind the skilled trades at Durham Tech – tripling the number of course offerings, increasing enrollment, and introducing apprenticeships – all since her start in 2016.

Smith-Overman serves as the Director of Construction Trades and Assistant Dean of Building, Engineering, and Skilled Trades at the College.

She serves as co-Principal Investigator on the Power of Us program, which seeks to recruit, support, and retain more female students to a targeted set of Career and Technical Education programs. She is also a champion for apprenticeship programs, which led Vice President Kamala Harris to visit Durham Tech earlier this year.

Her mission is simple: To create a welcoming environment at Durham Tech where anyone that wants to learn a trade can learn a trade. She wants our diverse student population to begin seeing themselves represented in an otherwise white male dominated field.

"Youth seeing themselves, whether, women, nonbinary, people of color, is important and that's one of the things I want to see shift. I think it's really important that faculty are representative of the diversity we see in our students, and I work every day for that," she said. "It's changing bit by bit. I see the faces of students changing as we recruit in high schools and through different organizations. I see a lot of the change happening with apprenticeships. With recent recruiting, we're reaching more women and minority populations and bringing them into our programs. There's a place for everyone. People want to learn skills, they should be able to and they can."
'Community college is where it's at'
Smith-Overman's love for skilled trades started early.

She grew up in rural parts of Western New York where her parents built their own house from stones in the nearby creek beds. It took years to build but provided opportunities to help her dad with house projects like installing cabinets, building rock walls, and fencing. When she wasn't doing house projects, she was riding on a tractor through the woods with her dad and two siblings to collect firewood to heat their home.

"Being surrounded by building projects as a child is where my sense of creativity and wonder for the trades began," she said.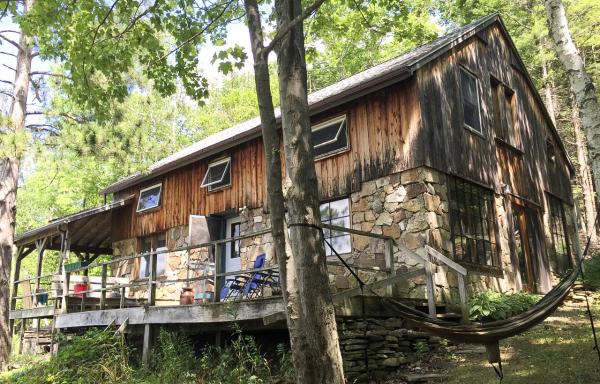 At 13, her family moved to Chapel Hill to escape the harsh winters and reconnect with family friends, but the transition wasn't easy.

"I experienced a bit of culture shock moving from the rural area I grew up in to a busy, affluent Chapel Hill. It was a tough transition, and I had a hard time being in class," she said. "I was about to drop out of high school until I found a woodworking class at Chapel Hill High."

That class not only kept Smith-Overman in school but created a career path she had never realized before.

"The ability to design and make functional objects that are fun to look at, was inspiring. It really opened everything up for me," she said. "I was learning so many new skills and how to use different machines and equipment."

It was also there she learned of Haywood Community College's Professional Crafts program in Asheville. She applied immediately after high school but was put on a four-year wait list due to the program's popularity.

In the meantime, Smith-Overman enrolled in the University of North Carolina Greensboro and received a bachelor's degree in Design – just in time for her name to be called at Haywood. Professional Crafts is a two-year program that prepares makers to be entrepreneurs – integrating business and marketing classes into their hands-on coursework.
"That's when I realized that the community college is where it's at. It was such an incredible program. They taught us everything we needed to know to turn our craft into a business and gave us opportunities to show our work in downtown Asheville," she said. "I also received a scholarship for the entire program which made it very accessible. This is why I'm at a community college now because some of these programs are just so darn good."

From there, M Woodworks was born.

Smith-Overman shared a shop with one of her former classmates and made custom furniture and cabinetry for the next five years. She also gained experience working for homebuilders and trim carpenters. In 2010, she left Asheville and toured various parts of the country to explore more of the field.
"I allowed my desire to learn more skills and teach to take me places," she said.

One of her stops included Philadelphia, where she worked alongside a well-known furniture maker, then she ventured to Maine to learn wooden boat building and teach Woodworking to the Boatbuilding apprentices. Her last stop was Durham, where she moved to permanently in 2014.
Connecting with greater Durham
Smith-Overman set up shop in downtown Durham's GoldenBelt where she continued doing custom work for local homes and businesses, and eventually started teaching out of her shop.

"I was primarily teaching friends and acquaintances, but I wanted to start working with more of Durham's population, so I reached out to Durham Tech to see if they needed any instructors in the trades," she said.

The answer was an astounding yes.

The College had a carpentry class that was full but didn't have an instructor, so it was postponed until further notice. She was asked to teach that class, and in February 2016, became an adjunct instructor.

"When I walked into the carpentry lab for the first time, I was really intrigued. It was huge and I remember thinking this place really has potential," she said.

Later that year, the Director of Construction Trades position opened. Smith-Overman applied and secured the position before the end of the year.

"The College was only offering a couple of classes in the trades at that time, and I would get phone calls all the time asking if we had plumbing or HVAC classes. I'd say no, but we can," she said. "It was all about keeping up with demand in the industry."

Durham Tech now offers plumbing and HVAC courses, among others.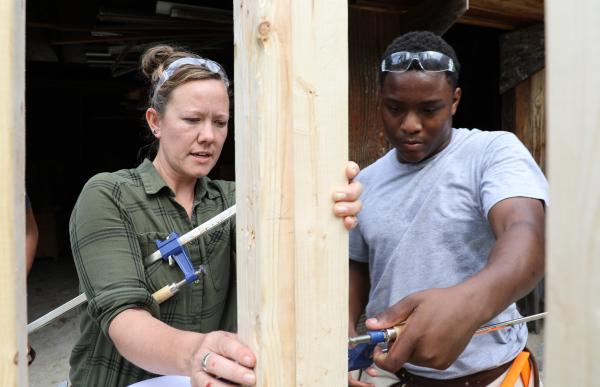 Smith-Overman also brought a lot of contacts with her to Durham Tech, including one who knew Ben Lock, a skilled welder that was moving to the area and looking for work.

"I grabbed him before he found anything else," she said. "Our primary welding instructor had just left the College and it's so hard to find teachers in the trades, so Ben came at the perfect time."
Lock is now the Director of Welding at Durham Tech.

Leveraging the expertise of faculty, like Lock, is one of Smith-Overman's top priorities.

"There's something about looking at the skills that we have here in our faculty and lifting them up. That's something I really like to do, listen to my team and ask them what they want to do," she said. "Ben had a background in the arts in addition to welding, so we created a continuing education course about sculpture welding arts, and every semester he teaches one class in the Fine Arts program. I think it's really important to support our faculty in this way."

During Summer 2021, Smith-Overman was promoted to Assistant Dean of Building, Engineering, and Skilled Trades.

"Maryah puts the students first and creates opportunities for learning and equitable job training through BEST," Lock said. "As Assistant Dean and Trades Director, Maryah is a collaborator and conduit connecting people to and within our department. She helps to creatively solve problems and is always working forward to keep things moving."
Champion of apprenticeship
Smith-Overman is also a driving force behind several external apprenticeship programs, like Durham Tech's partnership with the Raleigh-Durham Electrical Joint Apprenticeship and Training Committee, which Vice President Kamala Harris visited in March 2022.

"When doors open, we choose to collaborate. Being open to collaboration makes for so many more opportunities for people and I would say that's something I really love about Durham Tech, the ability to do that," she said.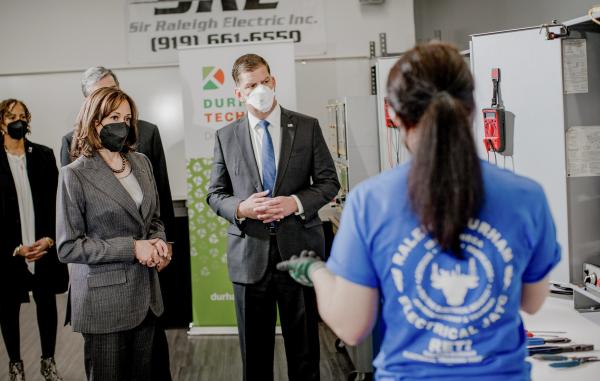 Rebecca Axford is the director of Raleigh-Durham JATC and said Smith-Overman has been a champion of apprenticeship at the community college.

"The work that we do is a winding road instead of a linear path. We all need those remarkable individuals who remind us of our purpose as we work towards our goal of improving lives. Maryah remains a treasured person to me on that path of growing apprenticeship and offering meaningful opportunities to our students," Axford said. "As Maryah participates in conversations, sits on boards, is invited to panel discussions, and in her daily vision to provide a quality experience for the students we serve, she continuously voices the benefits of apprenticeship as an educational career pathway. Our apprenticeship owes our success at the college to Maryah's advocacy, dedication, and encouragement. Her work at Durham Tech has helped change the face of apprenticeship in our community."

Apprenticeships are a game changer for students that need to gain real-world experience in their craft, and they are increasing in number as jobs in the skilled trades hit an all-time high. Smith-Overman said the shortage is workers is due to so many people retiring, which leaves room for new faces.

"What would we do without electricity? People in the trades keep it all running, it's such critical skills to have," she said. "We're always going to need people in the trades. Find a mentor in the field and remind yourself that you are capable. There will always be jobs in this area."
___________________________________
Contact Marcy Gardner, Content and Social Media Coordinator, at gardnerm@durhamtech.edu