Three former students inspire at Convocation 

In August, Durham Tech celebrated Convocation to kick off the new school year, find out what's in store for the College and reunite with colleagues. This year at Durham Tech, Convocation also provided faculty and staff the opportunity to hear firsthand the difference their work has made in the lives of students, with three alumni sharing their experiences.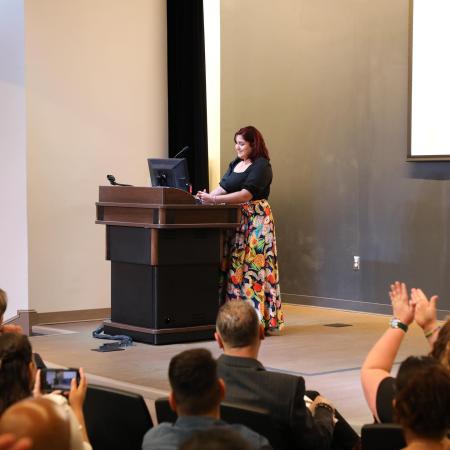 Yetshaira Vazquez Hernandez said that before coming to Durham Tech, she was at a company in a position she didn't enjoy that was also taking a physical toll. 
She recalled coming home from one of her 12-hour shifts where she was on her feet all day, making them ache constantly. 
When she came home tired that night, her little boy told her he would go to work for her the next day so her feet would not have to hurt.  
"That's when I knew something needed to change," she said.  
She started at Durham Tech wanting to be a nurse but wound up studying bio-ag. 
"Through my classes at Durham Tech and connections I've made there, I found my hidden potential," she said. "I was seen by my professors before I saw myself." 
The guidance and support faculty and staff provided helped her build her confidence as a student and worker, Vazquez Hernandez said.  
"You understood that I was more than just a student," she told faculty and staff members. "I am a wife, mother, employee, sister, daughter and friend. The College's mission is to ensure all students obtain skills and knowledge needed for success in college, work and life," she said. 
Vazquez Hernandez recently accepted a position with Upstream Biotechnology.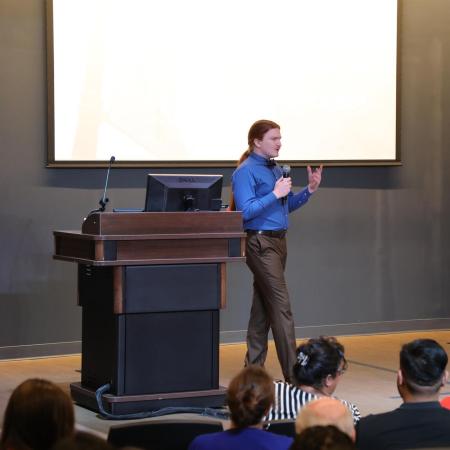 Rufus King, the Academic Excellence Award winner for 2023, said that what made Durham Tech special for him was the sense of community. The two-year transfer student, who is now attending UNC-Chapel Hill, said his experiences outside Durham Tech taught him the value of connection, teamwork and responsibility. 
"When I got to Durham Tech, all those things were present and reinforced, really quite impressively," King said. 
King asked faculty and staff to ponder some questions about the impact of their work. Among them: 
• What is your happiest memory at Durham Tech? 
• What was your first year like at the College? 
• Why are you still here? 
• What do you want most for your students? 
• What is the one thing you want students to remember about you? 
Professors have genuine connections with students, and students at Durham Tech are not just a number or a score for their instructors, he said.  
"That led me to great success here," King said.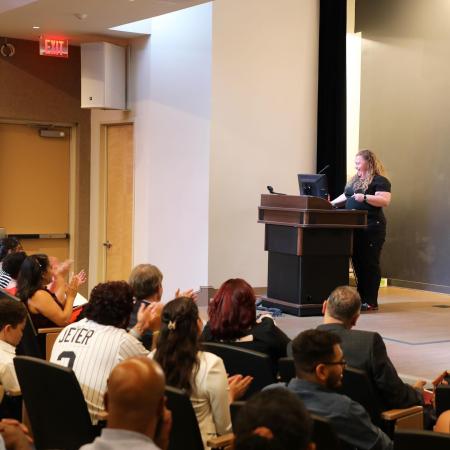 Emily Lenhart recently graduated from the Esthetics Program at Durham Tech. She previously worked full time and attended school for 10 years, her curiosity driving her to switch majors multiple times over the decade. She said that resulted in her being highly educated and underemployed.  
She had an interest in running her own business after working behind the scenes for several years.  
"I decided I wanted to change my life," she said. 
Her father's skin cancer diagnosis helped her find her purpose. Her father is doing well now, but she realized: "My calling was to help people take care of their skin."  
She started the program in 2022, she said, and is excited about her future and grateful for her experience at Durham Tech as she launches her own business. 
"The best part of being at Durham Tech was finally finding where I belong."