Unsolved death leads Durham Tech alumna down path to criminal justice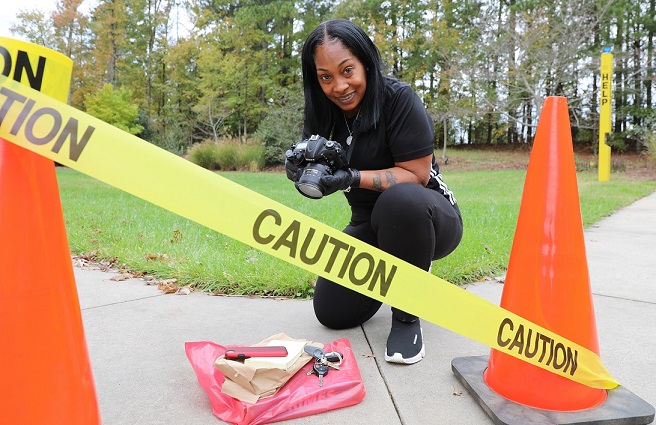 Toni Rigsbee's uncle was just 20 years old when he was murdered.
His killer was never found.
"Our family never got resolution and the case went cold," said Rigsbee, 42. "I always knew I wanted to become an investigator so I could help families of victims get closure and justice."
Rigsbee's pathway to criminal justice made a sharp right turn during high school when she found out she was pregnant and ultimately decided to drop out.
"I worked at grocery stores and retail shops to support my daughter, but I knew I had to be an example for her and go back to school," Rigsbee said. "I kept telling myself, 'I've got to do this. I've got to do this.' "
In 2006, she enrolled in the GED program at Durham Tech and hit the ground running.
"It all started with Phil Gowins and everyone in the high school department," Rigsbee said. "I was afraid to take the GED test, but he encouraged me and I passed everything on the first try. I thought, 'Wow, I really did it. What else can I do? What's next?' "
She immediately signed up for the Criminal Justice Technology program and graduated with an associate degree in 2011. All the while, working as an ultrasound technician at Duke Hospital. From there, she transferred to North Carolina Central University where she earned a bachelors in Criminal Justice with a minor in homeland security and law enforcement.
In December 2018, Rigsbee completed her master's degree in Public Administration, also from North Carolina Central University.
"If it wasn't for people at Durham Tech like Phil Gowins and Christine Kelly-Kleese motivating me to keep going, then I don't know where I would be today," Rigsbee said. "Having that motivation from instructors made all the difference. I knew they believed in me and I wanted to be an example for those that came behind me."
Christine Kelly-Kleese, vice president of Student Engagement, Development and Support at Durham Tech remembers Rigsbee fondly.
"Toni came to us with a spark in her eyes, a genuine interest in learning, and the intention to build relationships," Kelly-Kleese said. "She drew on all three of those traits, guiding her to accomplish great things here at Durham Tech."
While earning her master's degree, Rigsbee gained work experience in the District Attorney's Office in Durham and now has two job offers on the table in the criminal justice field. "I owe it all to Durham Tech," Rigsbee said. "I'm really grateful."
Rigsbee's journey came full circle a few years ago when Gowins invited her back to campus to speak to Adult High School students. She's now a guest speaker every year.
"I'm willing to devote my time to help other students. I tell them, 'You have to believe in yourself, set out to achieve your goals, and deliver,'" Rigsbee said.
Rigsbee has also encouraged her family to jumpstart their careers at Durham Tech. Her son, William Lewis Smallwood, is currently enrolled in the Information Technology program.
"My mom worked so hard to get her degrees and she's inspired me to do the same thing," Smallwood said.
After graduation, Smallwood wants to earn his bachelor's degree from North Carolina A&T before joining the Air Force. Rigsbee's daughter completed the Clinical Trials program and her cousin is currently enrolled in Medical Assisting.
"My sons tell me every day, 'Mom, I'm proud of you. Because of you I want to go to college and further my career,'" Rigsbee said. "To be an example for them means the world to me."