Academic Excellence Award
Durham Tech faculty and staff select one Academic Excellence Award winner each academic year during the spring semester.
Academic Excellence Award nominees must be actively pursuing an associate degree or diploma. Nominees also must have a cumulative grade point average of 4.0, have completed credits greater than or equal to 30, and be enrolled in the spring semester. A committee of three individuals reviews all applications and recommends a final nominee to Durham Tech President JB Buxton for selection.
2022 Academic Excellence Award Winner: Cassady Orsini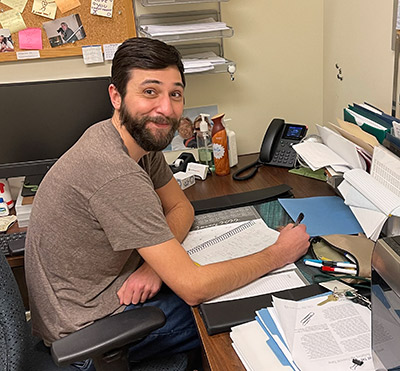 Cassady Orsini has been named the recipient of the Durham Tech 2022 Academic Excellence Award, which recognizes outstanding academic achievements at the community college level. One student from each of the 58 North Carolina community colleges is awarded the honor.  
Cassady will be graduating with an Associate of Applied Science degree and his ultimate career goal is to own a bookkeeping business for small business owners. While a student, Cassady also worked as a tutor in the Center for Academic Excellence.  
"The professors at Durham Tech have gone above and beyond in my educational journey, they truly care about their students, and I know we will stay in touch as my career begins in the accounting field. I am grateful for this institution to be part of my success story. I have made connections here that I hold dear and I know will continue to guide me throughout whatever the future may hold," he said. "The little time I was able to be a peer-to-peer tutor at the CAE also taught me so much about learning styles and really helped cement core topics of study as I was helping other students through their understanding." 
---
Related Links