Past Academic Excellence Award Winners
View the current award winner.
2021: Haley Attix
Haley Attix has been named the recipient of the Durham Tech 2021 Academic Excellence Award, which recognizes outstanding academic achievements at the community college level. One student from each of the 58 North Carolina community colleges is awarded the honor.

Haley will be transferring to NC State University this fall for Zoology, and will later pursue her PhD. Her ultimate career goal is to work with wildlife, whether in the field rehabilitating injured and orphaned possums, in the lab researching a nonlethal way to keep critters out of the house, at a museum teaching kids about the benefits of spiders, or anything in between. 
"Going to Durham Tech was the best decision I ever made, and I am truly grateful for my experience here. There have been so many people who have helped me achieve my goals, instructors and faculty alike, who have supported me, showed compassion and concern for my well-being, and urged me to bigger and better things. Although my educational journey is far from over, I will never forget Durham Tech and the people who make it so special."
2020: Max Carpenter
Maxfield "Max" Carpenter has been named the recipient of the Durham Tech 2020 Academic Excellence Award, which recognizes outstanding academic achievements at the community college level. One student from each of the 58 North Carolina community colleges is awarded the honor. Max is earning his Associate in Information Technology and Clouds Systems Administration. His ultimate career goal is to oversee an I.T. department for a medium to large size company in the Triangle.

"My time at Durham Tech has been one of the most impactful learning experiences of my life. I cannot wait to see what the future holds and will never forget how Durham Tech made it possible."
2019: Joseph Turner
Joseph Turner has been named the recipient of the Durham Tech 2019 Academic Excellence Award, which recognizes outstanding academic achievements at the community college level. One student from each of the 58 North Carolina community colleges is awarded the honor.
Joseph, a Marine Corps veteran, graduated with an Associate in Engineering degree. He wants to become a biomedical engineer, ideally working with prosthetics, because it's a high-impact job where he can really make a difference. He will be transferring to North Carolina State University this fall.
"It feels pretty good to be recognized for something like this, and it is quite an honor. My whole experience at Durham Tech has been awesome, and I'm just really happy to be a part of it."
2018: Daniel Koris
Daniel Koris has been named the recipient of the Durham Tech 2018 Academic Excellence Award, which recognizes outstanding academic achievements at the community college level. One student from each of the 58 North Carolina community colleges is awarded the honor.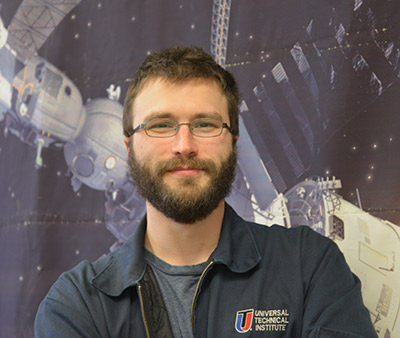 Daniel is originally from Greensboro, NC and moved to Durham in 2016 to attend Durham Tech. In addition to earning an Associate in Science degree, Daniel is actively involved in three NASA sponsored projects on campus: the High Altitude Student Platform, the High Altitude Ballooning team, and the Swarmathon team. "Durham Tech really helped me hone my career focus and introduce me to passions I didn't know I had," Koris said. "I feel very lucky to have come here and gotten involved in these projects."
Daniel aspires to have a career with a robotics or aerospace focus and will be interning at the Satellite Servicing Projects Division at NASA's Goddard Space Flight Center in Maryland this summer. Upon his return, Daniel will transfer to either Colorado University at Boulder or Carnegie Mellon University to earn a Bachelors in Computer Science, with a concentration in engineering.
Daniel says he was excited to find out he won the Academic Excellence Award. "I felt like everything I had been working for up until this point was coming to fruition and made it all worth it," Koris said.
 
2017: Yosimar Vargas
Yosimar Vargas has been named a recipient of the Durham Tech 2017 Academic Excellence Award.

The award recognizes outstanding academic achievements at the community college level. One student from each of the 58 North Carolina community colleges is awarded the honor.

Yosimar is a Colombian native from Tulua and moved to Durham as a refugee five years ago. As a young child, Yosimar's mother left the family. He was raised by his father and paternal grandmother. Struggling financially, Yosimar worked in elementary school selling bleach to the community alongside his elder brother. He spent his mornings working and then attended school in the afternoon, sometimes without having food to eat.

He fled to Costa Rica to live with his aunt and grandmother in hopes of receiving asylum there. Unfortunately, he was not granted asylum, but decided to pursue his dreams of earning a college degree. He started taking classes in Costa Rica, but without paper documentation he was not guaranteed a degree.

Then in 2012, his fortunes changed. The United States granted him and his brother refugee status. He arrived in the United States as a 21-year-old full of ambition. That drive has not relented since his arrival in Durham. He started working at The Refectory Café as a dishwasher due to language barriers. He also started taking ESL classes at Durham Tech and has excelled since arriving on campus. His great accomplishments include becoming proficient in English at an academic level. He has a 4.0 GPA, and is pursuing an Associate in Arts degree in the Business Administration program.
Yosimar's peers look to him for advice and assistance in and out of class because of his outstanding work ethic and strong academic abilities. He also works full time during the day as the catering manager at the Refectory Café and attends classes in the evenings. He never stops applying himself and continues to look for ways to improve both his academic and professional skills. Yosimar models persistence, determination, and strong academic skills. Academic Excellence Award recipients each receive a plaque and medallion in honor of their accomplishments.
2016: Yiu San Tung
Yiu San Tung has been named recipient of Durham Tech's 2016 Academic Excellence Award. One student from each of the 58 community colleges is selected; each will receive a plaque and a medallion in honor of their academic accomplishments. Three different instructors recommended Yiu San for this award, a testimony to his work at the college, which one educator described as "illustrating his commitment to his work and willingness to go above and beyond minimum requirements to succeed."

Six years ago, when the Tung family arrived in the United States, none of them could read or write English. The family settled in Goldsboro, and his parents worked in a Chinese restaurant. Yiu San joined them there when he turned 16, but dreamed fervently of attending college one day to pursue his goal of becoming a doctor.

His high school counselor told him about the Carolina Student Transfer Excellence Program (C-STEP) at Durham Tech, and he immediately began to explore the possibilities. Though he still struggled with English, Yiu San worked very hard on his reading, writing, and comprehension skills. One instructor says, "He refused to let the language barrier stop him. He often stopped in to have me explain concepts he didn't understand, and attended tutorial sessions regularly. He has a work ethic that is rarely seen in today's students."
In turn, Yiu San has nothing but positive comments regarding his instructors, saying "In class, I get extensive support from teachers and meet peers who have the same academic endeavors. In study groups, we intensively analyze literature, practice mathematical concepts of chemistry, and learn various psychology theories."
His interest in medicine has been heightened while at the college, and he has earned top grades in his pre-med courses. Because his family still faces economic challenges, he knows he must prepare himself to work while attending medical school. Therefore, Yiu San is completing all of the requirements necessary to enter the nursing program at UNC- Chapel Hill, saying, "My experiences in classes like anatomy and physiology have provided me knowledge to understand the human body. By studying microbiology and learning the transmission and prevention of viruses and diseases, I find myself seeking further knowledge in medicine to sustain my passion to care for people."
Another instructor writes, "Yiu San is thoughtful and kind to his classmates and his teachers, and is generous with his time around campus and the community. There is not a more motivated, smarter, more hard-working student on campus than Yiu San."
2015: Shantel Richardson
Shantel Richardson has been named recipient of Durham Tech's 2015 Academic Excellence Award. She is one of 58 students, one from each community college in North Carolina, to be recognized this year for outstanding academic performance.

Shantel has completed 43 credit hours toward her Associate in Science degree at Durham Tech. She has maintained a perfect 4.0 grade point average in difficult subjects while working two part-time jobs and making time to participate in Amigos Unidos, Durham Tech's Spanish club.

After graduating high school, Shantel spent a gap year working retail and volunteering at a local nursing home. After saving money for school, she enrolled at Durham Tech. Shantel chose Durham Tech for a high-quality, low-cost education. She also planned to gain work experience and make new friends.

Balancing part-time jobs, maintaining a 4.0 GPA as a full-time student, and participating in clubs was challenging, but it enriched her school experiences. Shantel's professors became her mentors, and Amigos Unidos became a part of her life. The instructors at Durham Tech pushed her to succeed. As a result, Shantel emerged a stronger and better prepared student.
After completing an Associate in Science degree, Shantel looks forward to a career in biology.
2014: Alexandra Cox
Alexandra (Ali) Cox has been selected as Durham Technical Community College's Academic Excellence Award recipient for 2014. Cox is planning to graduate in May with an Associate in Arts degree and is on track to graduate Summa Cum Laude with honors. An active student at Durham Tech, Cox has been the student representative on Durham Tech's Viva/Vive the Arts committee, as well as a guiding force for The Final Draft literary journal and Phi Theta Kappa.

Cox was nominated for the award by five different faculty members, a testament to the impact she has made in her various courses. According to one of her instructors, "Ali is every instructor's dream. She is smart, attentive, and active in extra/co-curricular activities on campus. She is intellectually mature beyond her years, emotionally courageous, and academically confident. These qualities could manifest with arrogance in some students, but Ali's humility is what defines her. She seems to have a profound respect for education and learning, but is also grounded in the reality that knowledge is useless without the ability to apply it to making the world a better place. I am confident that Ali will ensure her generation's world will continue advocating for equality."

Another instructor was impressed with Cox's ability to bring creativity to scientific research: "In my meetings with Ali to discuss her project, it was clear that she was very intelligent. But what impressed me the most was Ali's ability to integrate scientific information with creativity, something that is not easy to do. Ali's honors project included not only research on her topic, but also a level of creativity, which made it fun to read and discuss with her."

After graduation, Cox plans to transfer to a four-year university in the fall to study anthropology.
2013: Erin Marie Souther
Erin Marie Souther has been selected as Durham Technical Community College's Academic Excellence Award recipient for 2013. Souther is planning to graduate in May with an Associate in Applied Science degree in Dental Laboratory Technology. She was the unanimous choice for the award, with her nomination letter submitted by all four faculty members in the Dental Laboratory Technology program, each of whom is a Certified Dental Technician (CDT). These faculty members are Alberto Camacho; Ricky Glasgow; Michael Patrick; and Greg Walton, program director.

Souther currently has a perfect 4.0 grade point average at Durham Technical Community College. She represents Tau Eta Sigma, the dental laboratory fraternity, in the Student Senate and has organized numerous activities for the group, creating a much-needed sense of community and spirit that has revitalized the organization. The fraternity bestowed the 2012 Outstanding Student Leadership Award upon her in appreciation for her hard work and dedication. Souther also received the 2012 Campus Fund Drive Scholarship from Durham Tech and the 2012 William Rogers Award from the NC Dental Laboratory Association (NCDLA). She volunteers regularly with Missions of Mercy, a partnership between the NCDLA and the NC Dental Society, providing free dental services for people in need. In her free time, Souther is an avid softball player and participates in corecreational leagues in Durham.
A native of Wilkesboro, NC, Souther earned a Bachelor of Fine Arts degree in Studio Art, graduating cum laude from Appalachian State University (ASU) in Boone prior to attending Durham Tech. While at ASU, she participated in many art exhibitions, including curated group, invitational, individual, and juried displays. Souther believes her artistic skills, eye for detail, and desire to work with her hands led her to choose the Dental Laboratory Technology field of study. "With my background in sculpting and experience in working with human anatomy, I feel confident that this is a field in which I can excel," Souther says. "I also get a lot of satisfaction from creating something that improves the quality of life for my patients."
She states that her plan after graduation is to work in a dental laboratory for several years until she has the skills to open her own lab, saying, "Ultimately, I would like to own a dental lab AND an art studio. I think I can do it!"
Those who know her have little doubt that she will accomplish both goals.