PunchAlert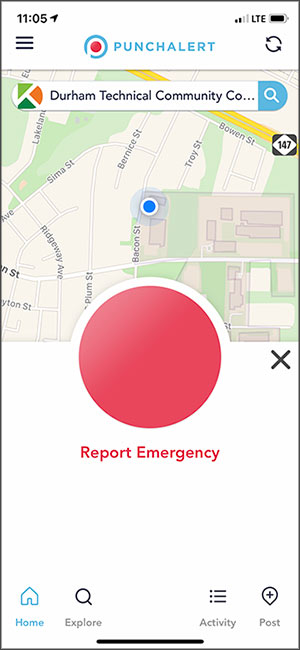 Durham Tech has implemented a new emergency notification system called PunchAlert.
Durham Tech will notify students and employees through text, email, and push notifications on the PunchAlert app when an emergency occurs or a college-wide message is sent. Messaging would be sent when the College's operations are impacted by events such as inclement weather. Simply delete the notification after it's be read.
The PunchAlert app also can be used to quickly report an emergency to the nearest responders using PunchAlert's red panic button. If the user is on any Durham Tech campus, it will automatically contact Durham Tech Campus Police and Public Safety so the emergency can be reported. Off campus locations will contact the 911 call center in that area. Users will be prompted to select the emergency type and can text/chat with responders or select the phone icon to communicate via phone call. Users will also be prompted to send their status letting responders know that they are "OK," "Not OK," or "Off Property."
If the panic button is accidentally pushed, press the X to cancel. Users have 30 seconds to cancel or report. It will automatically report at the end of 30 seconds. 
The PunchAlert app may be downloaded to an unlimited number of mobile devices. There is no charge to download or use the app. 
If the app is not installed, students and employees will still receive text and email notifications. Text notifications will be sent to the cell phone the College has on file, and email notifications will be sent to Durham Tech email accounts.
In order to receive notifications to mobile devices and to get started with the app, make sure the cell phone number that Durham Tech has on file is up-to-date and is the one that notices should be sent to. Visit Self-Service and select the bottom "User Settings" icon, then the "User Profile" link. Check to make sure "Cell Phone" is chosen as the phone type. If "home" phone is displaying instead of "cell" phone, notifications will not be sent. Confirm that the cell phone number is the same number for the device the app is installed on.
To access PunchAlert, create an account and sign into the app after it is downloaded. Visit the PunchAlert registration page to register.
For questions, contact ITS Help Desk at 919-536-7261 or helpdesk@durhamtech.edu.
Read more information about Durham Tech emergency procedures.