'It can change their legacy:' Work-Based Education connects Durham Tech students to employers, Micara Lewis-Sessoms focuses growth on apprenticeships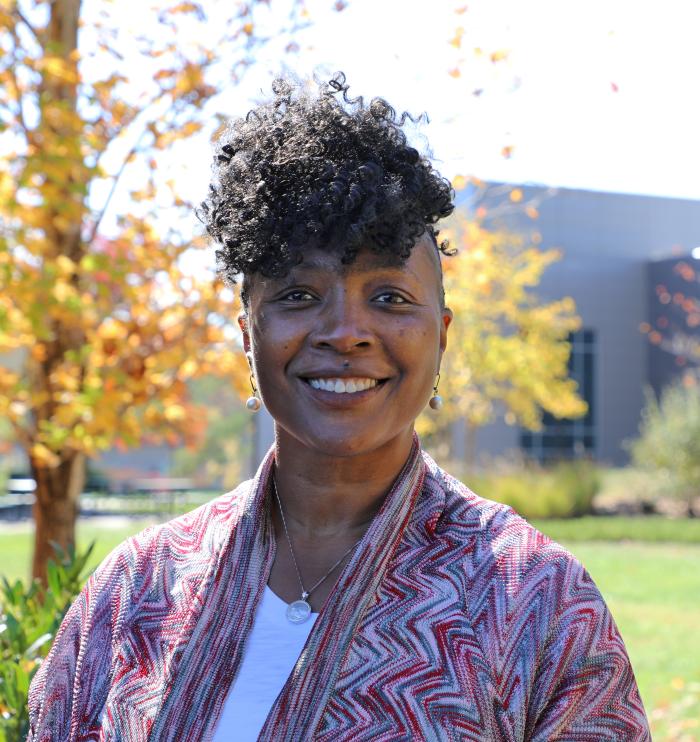 Dr. Micara Lewis-Sessoms has led efforts in Work-Based Education at Durham Tech since 2007.

The idea behind Work-Based Education was to connect students with employers while enrolled at the College so they could gain invaluable work experience before graduating and ensure their chosen career path was a good fit for them.

"I want to have the impact of a connector of students to employers. That connection can change the trajectory of their whole lives. It can change their legacy," she said. "I always tell students, 'you're about to embark on a 160-hour interview.'"

Today, Lewis-Sessoms serves as Director of Work-Based Education and Apprenticeship, allowing students to engage with employers through registered apprenticeships, internships, job shadowing, and on-the-job training.
A Natural Born Leader
Lewis-Sessoms is a native of Goldsboro, NC where she was the oldest grandchild, participated in oratorical contests, and always wanted to be a teacher.

"A love for learning was instilled in me very early on. I loved going to school and learning something new," she said. "When my sister was born, I was eight years old so I immediately took on a leadership role with her and taking care of her and later my other sister and younger brother."

After high school, she followed in her mother's footsteps and attended North Carolina Central University for Elementary Education. She graduated in 1996.

Her first job out of college was teaching the 6th grade in Broward County, Florida where she had family, and wanted to spread her wings. After getting homesick, however, she moved back to North Carolina at the end of the school year.

She lived in Durham and started teaching 5th grade at E.K. Powe Elementary while simultaneously earning her Master's in Counseling Education. Her goal at that time was to become a guidance counselor, but a colleague stepped in with a request that would change the trajectory of her career.

In 1999, one of her colleagues became director of a new School-Age Education Program at Durham Tech, which was developed as a result of the No Child Left Behind Act. The program helped instructional assistants within Durham Public Schools obtain newly required credentials to work in the classroom.

Lewis-Sessoms was asked to be an adjunct instructor for the program and later that year, began her tenure at Durham Tech – teaching night classes at the Northern Durham Center.
From Co-Op to WBL
The School-Age Education Program had a slow start. For the first 18 months, she only taught one student, but it eventually grew to a full classroom.

"I fell in love with working at the community college," she said. "I loved the desire of the students to learn. They are here because they choose to be, which encourages me, even today to bring my best self to this job."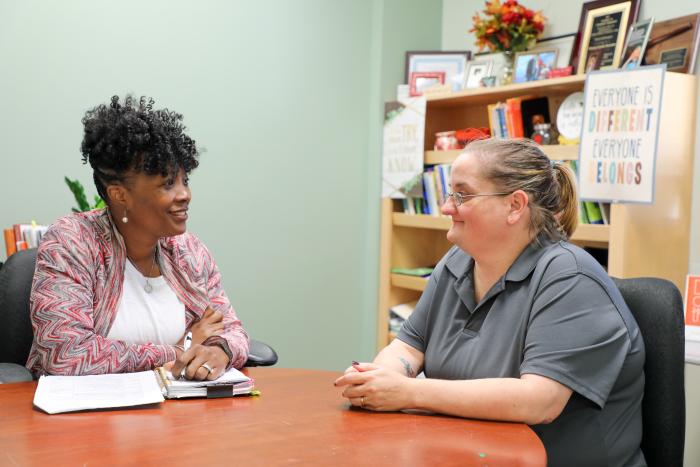 A unique aspect of the program was that it included a Co-Op Education course, which allowed students to gain 160 hours of work experience in the field.

In 2007, Durham Public Schools decided to bring all training for instructional assistants in-house so the program at Durham Tech tracked out, but one element that withstood the transition was the Co-Op Education course.

The College kept this model in its Career and Technical programs and changed the name to Work-Based Learning. Lewis-Sessoms was asked to lead its efforts. At the time, she was the Chair of the Business and Education program and then Assistant Dean of Business and Entrepreneurship.

"I was so excited about the new position and the opportunity to enhance the students' learning experience," she said. "With my role as a program director and instructor, my experience teaching Co-Op was a natural fit. This also gave me the opportunity to work with several Career and Technical Education programs. Teaching is a gift that will remain with me."

Lewis-Sessoms hit the ground running and helped established numerous partnerships between Durham Tech and local employers, including Duke Health.

In 2015, Lindsey Bradsher was enrolled in the Medical Office Administration program at Durham Tech when she started a Work-Based Learning experience at Duke HomeCare & Hospice. After graduating, she was hired full-time within the organization and now coordinates Work-Based Learning experiences for current Durham Tech students.

"It was extremely helpful in getting the experience I needed to secure a job. Organizations like Duke prefer to hire from within and making positive impressions on staff who saw my work really gave me a leg up in proving that I was a good candidate," Bradsher said. "I love hosting current students and showing them the range of what we do as administrative assistants, including communicating, reporting, supporting field staff, and managing patient data."

Today, Work-Based Learning courses are offered in 17 programs at Durham Tech.

In addition to short-term Work-Based Learning internships, the College also offers apprenticeships, which are state or federally funded, long-term experiences. Students are paid with the opportunity for wage progression and hold positions between one and three years.

"Apprenticeship is an organic resource to train and develop the essential talent pipeline," Lewis-Sessoms. "With the jobs that are here and coming in the future, registered apprenticeships are a way to provide the education and on-the-job training needed to grow our region's, state and nation's workforce."

There are currently 12 apprenticeship opportunities at Durham Tech, ranging from Automotive Technology to Electrical Engineering to Advanced Manufacturing. New apprenticeships in development include Health and Wellness and Biotechnology.
'I grew up at Durham Tech'
In 2020, Lewis-Sessoms earned a Doctorate in Community College Leadership from North Carolina State University.

"I wanted to maximize any opportunity I had to be a leader in this space," she said.

Building on her experience with WBL, Lewis-Sessoms is now enrolled in a post-doc program through the ECMC Foundation and NC State where she is researching the impact of work-based education in short-term and continuing education programs.

"I'd like to have an impact that speaks to change. Not just change in students' lives, but changing the culture of the College so that we see it necessary for students to engage with employers."

Lewis-Sessoms has been making an impact at Durham Tech for 23 years now.

"I feel like Durham and Durham Tech raised me. I grew up at Durham Tech, it's been such an instrumental part of my life. I love working with people who are open minded and great collaborators," she said.

Lewis-Sessoms resides in Franklin County with her husband, Sean, and son, SJ.
________________________________
Contact Marcy Gardner, Content and Social Media Coordinator at gardnerm@durhamtech.edu