Excellence in Community Engagement Award
The Excellence in Community Engagement award recognizes employees who demonstrate exemplary leadership and dedication to serving Durham Tech and the broader community while performing their duties in alignment with the College's mission, vision, core values, and strategic goals and priorities. 
The award recipients will be employees who are extraordinarily dedicated to improving our communities through service contributions. The awards may be in recognition of individual service or for the promotion of service at the College.
2022 Excellence in Community Engagement Award
Excellence in Community Engagement (Full Time)
Maggie West, Coordinator of Student Wellness and Basic Needs, is the recipient of the 2022 Excellence in Community Engagement Award. West played a pivotal role in assisting students during the COVID-19 pandemic, specifically with technology needs. She helped secure grant funding to purchase Chromebooks for students that lacked access to technology and collaborated with the Library to secure additional funds for Chromebooks to lend to students. She also created the Student Parent Support Network, which connect student parents with invaluable resources at the College and provides weekly pickups of kids' items like diapers, wipes, and baby food. West's focus on the Durham Tech Core Value of being student-centered shines in everything she does.  
Excellence in Community Engagement (Part Time)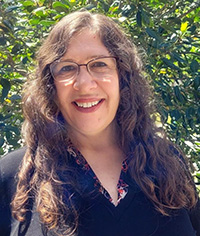 Laura Price has been named the recipient of the part-time Excellence in Community Engagement Award. She has been an adjunct Spanish Translation and Interpretation instructor at Durham Tech since 2019. She connects her students to volunteer opportunities in the community and truly models service. Laura strives for excellence and is unafraid when constructively expressing ideas on how to improve the Translation and Interpretation Department. Her life-long passion for learning is contagious and she promotes a culture of equity and service.
2021 Excellence in Community Engagement Award
Dorene MacKinnon, Resource Specialist in the College and Career Readiness department, was selected as the recipient of the 2021 Excellence in Community Engagement Award.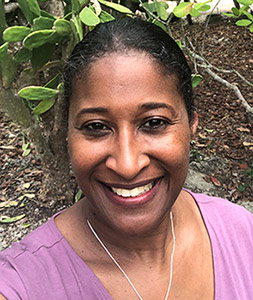 In her role as the club advisor for Spectrum Club, Dorene has encouraged civic engagement, volunteerism, leadership, outreach, and community service. The students involved in Spectrum Club and Dorene have volunteered with Fed Up, a bi-weekly fresh produce and personal protective equipment distribution; created a voting video to encourage the LGBTQ+ community vote in November 2020; and virtually connects with other local community colleges and agencies to remain engaged/educated, and encourage leadership and voice through scholarship, art, writing, etc. Dorene passionately advocates for various policy changes that promote inclusion for Durham Tech students.
With Families Moving Forward (FMF), Dorene has worked closely to build a solid partnership between our Gateway to College program. Dorene has worked with the Workforce Development Associate to create programing for the FMF residents. Dorene will be a panelist for the upcoming FMF's Teen program encouraging youth, ages 16 to 24 toward career and academic success.
2020 Excellence in Community Engagement Award
Jennifer (Jen) Macy, instructor in First Year Experience and College success, is the 2020 winner of the Excellence in Community Engagement Award. Jen extends her community engagement activities beyond her direct service. She facilitates her students' engagement with the Durham community and is a resource for other faculty who want to support their students in this way.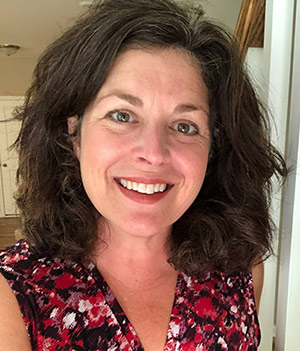 Jen encouraged her College Success students to attend the First-Year Serve event where first-semester students can bond with Durham Tech students, faculty, and staff while serving the Durham Community. As part of the event, Jen accompanied students to the Food Bank of Central and Eastern NC where they sorted thousands of pounds of potatoes.
Jen has also made community service part of her College Success curriculum. In offering a service learning option for a major assignment, Jen gave her students the opportunity to earn a Service Learning Transcript Distinction. She invited her students to join her in community service events organized by Durham Tech's Center for College and Community Service including Briggs Avenue Community Garden and Welcome Baby. It requires a higher level of commitment to the ideals of community service and engagement to say, "I'll be there with you. Let's serve our community together."
Beyond implementing service learning curriculum in her own classes, Jen served as the leader of a Faculty Interest Group on Service-Learning and developed resources that she shared with other instructors. Her colleagues now have additional tools to help their students engage with the Durham community.
2019 Excellence in Community Engagement Award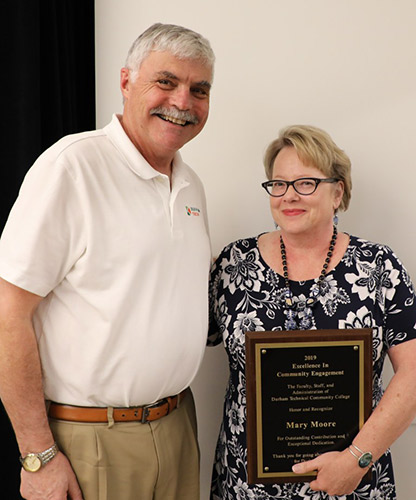 Mary Moore, Education Navigator in Orange County, is the 2019 winner of the Excellence in Community Engagement Award. Mary earned this award because of her excellent leadership and generous spirit in serving the Durham Tech community.
Mary was primarily acknowledged for two projects she undertook in addition to her normal job responsibilities. One was leading the campus-wide, month-long Show Your Love food drive for the Campus Harvest Food Pantry in February. She was prompted to sponsor this project due to her knowledge of student food insecurity across campus and how the 2019 government shutdown may have affected these students.
Her role in this endeavor included promoting it through distributing posters, which she helped generate, and sending emails and recruiting two campuses to participate as pick-up and drop-off sites for the first time. More than 1,500 pounds of food ended up being donated.
Mary also organizes, promotes, and runs the annual Plant and Book Swap and Sale during Employee Appreciation Day activities. The sale benefits student scholarship funds sponsored by the Community Circle and the MLK Scholarship funds. On a daily basis, this award winner connects students with important community resources.
 
2018 Excellence in Community Engagement Award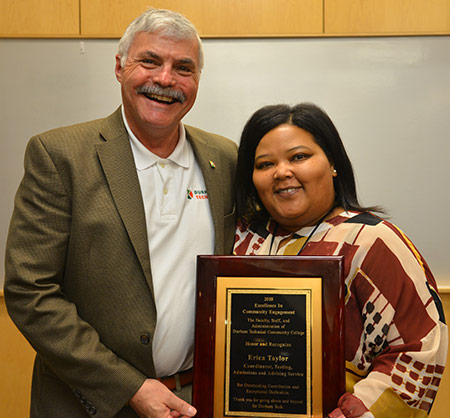 Erica Taylor, Coordinator of Testing Admissions and Advising Services, is the 2018 Community Engagement Award recipient. Erica was primarily recognized for her work at R.N. Harris Integrated Arts & Core Knowledge Magnet School.

This Durham Tech employee has helped the school's children and teachers in multiple ways. Erica helped to raise more than $1,000 to send 25 fifth-grade students to Nashville for the 2017 America's Best Urban Schools Symposium; the elementary school was one of 27 winners of the 2017 America's Best Urban Schools Award. Erica also raised more than $700 from Penny Wars to purchase a much needed recess cart with supplies for teachers.

Erica has volunteered regularly for the elementary school's programs including the Black History Month program, Read Across America, and Math Night; served as the 2017-18 PTA President; reads to children and lets them read to her; and helps students with their schoolwork.
Erica believes in inclusion and diversity and decided to learn Spanish so that she can speak to the Latino students at R.N. Harris and their parents.
At Durham Tech, Erica reliably helps her colleagues with creative tasks and never turns down any of their requests for help.
2017 Excellence in Community Engagement Award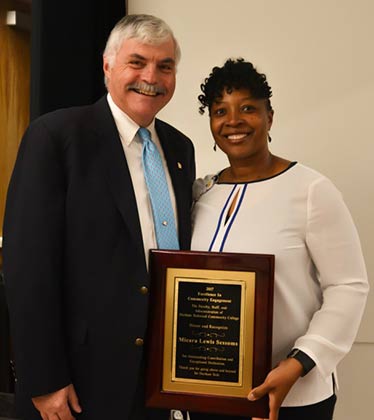 Micara Lewis Sessoms, Associate Dean of Business Technologies and Education Programs and Coordinator of Work-Based Learning, is the 2017 Community Engagement Award recipient.

Micara provided direct service through her sorority, Delta Sigma Theta, for the last 22 years as a mentor and tutor in the community. Most recently, she's participated in Delta Sigma Theta's literacy activities, including annual participation in National Literacy Action Week by reading to RN Harris Elementary students.

In addition to direct service, Micara has also supported the community through indirect service work as a leader of the FOCUS organization (which stands for Family, Opportunity, Community, Unity and Sharing). This organization seeks to provide assistance to disadvantaged youth, homeless individuals, and the elderly. She's served on several committees for the non-profit and even served as president. She's connected Durham Tech students to the organization's scholarship opportunities and promoted Durham Tech to those seeking to improve their lives.

Micara provided two reasons to explain her motivation to volunteer. First, she noted that "Community engagement provides me with a perspective on life that I would not otherwise gain on my own." She also shared a quote from Marian Wright Elderman, founder and president of the Children's Defense Fund (CDF), to explain her desire to volunteer: "'Service is the rent we pay for being. It is the very purpose of life, and not something you do in your spare time.' I consider providing service my purpose for living. Each morning I awake with the purpose to serve."
2016 Excellence in Community Engagement Award
John Lance Lee, Spanish Instructor in the Arts, Sciences, and University Transfer department, is the 2016 Community Engagement Award recipient.

John has supported service at Durham Tech by actively participating in Semester of Service events: volunteering at Habitat for Humanity builds, Briggs Avenue Community Garden workdays, and MLK Days of service. Additionally, he serves as Amigos Unidos (Spanish Club) club sponsor, encouraging students to participate regularly in service. He must be persuasive, because Amigos Unidos received one of the club service awards for most hours served. In the classroom, John has incorporated elements of service-learning to encourage students to seek greater contact with the Hispanic community by volunteering and writing reflections on the volunteer experiences.

In his personal time, John has provided significant assistance to our Hispanic community, serving on the Durham YMCA's Latino Advisory Committee and volunteering as an interpreter and bilingual volunteer for various area non-profits and schools. He's also served internationally, building safer cooking stoves in Nicaragua and helping to beautify a school in Costa Rica. All of this service comes back to the classroom when he shares insights from his experiences with his students. Most significantly, in his personal time he serves as a Big Brother for Big Brothers/Big Sisters of the Triangle, meeting weekly with his "Little" for over a year to go to local museums, play videogames, work on homework, and just have fun while being a positive influence.
John has gained perspective and a larger sense of belonging to a community. In his words, "I have met others and engaged with them on a deeper level than I would have without my service experiences. Spending a day working on a Habitat house is much different than saying 'hi' when you pass someone in the hallway." He's motivated to volunteer not only through this desire to connect with others, but also to help students feel like they are a part of the campus so they are more likely to complete what they start and gain career skills for today and tomorrow. He states "I like to believe, even if I am being overly idealistic, that my consistent small contributions can make ripples that may affect someone in unforeseen, positive ways."
2015 Excellence in Community Engagement Award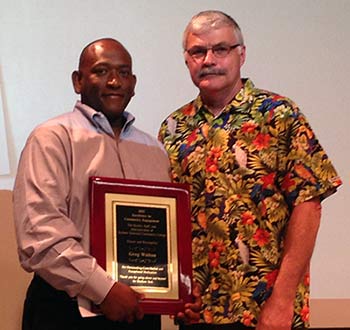 Greg Walton, Program Director and Instructor for Dental Laboratory Technology, is this year's award recipient.

For the past six years, Greg has been a regular volunteer with North Carolina Missions of Mercy, which is a portable free dental clinic that is an outreach program of the North Carolina Dental Society that travels across the state to provide free dental work to underprivileged adults. North Carolina Missions of Mercy began in 2003 and has held more than 100 two-day clinics across the state from the mountains to the sea. North Carolina Mission of Mercy two-day clinics have treated over 53,000 patients and have provided more than $24 million in gratuitous dental care. In North Carolina, the problem of access to dental care has reached nearly epidemic proportions. More than one million adults and children have no source for regular dental care. Many have never seen a dentist and many suffer the complications of advanced dental disease. NC Missions of Mercy provides cleanings, extractions, restorations (fillings), and partial dentures.
Every year, Greg not only participates in several of these clinics, he also gets his students involved in order to "show them what kind of difference in another's life each one of them could make" and to help them build their professional skills. His students assist in making partials and dentures for people who otherwise would not be able to afford a dentist visit or treatments. In fact, one of his students has volunteered over 1,500 hours over the past two academic years.

Greg says of his service: "It is an absolute unbelievable experience. My service has informed my role and work as a Durham Tech employee as it has opened my eyes to how easy it is to reach out to underprivileged adults and lend a helping hand in a time of need."
2014 Excellence in Community Engagement Award
The annual Excellence in Community Engagement Award is bestowed upon the employee demonstrating exemplary leadership and dedication to serving the community. Qualifying activities can include participating in, developing, or promoting volunteerism, service leadership, campus outreach, community service, civic participation, and service-learning. This year's recipient has modeled excellence in community engagement by utilizing service to simultaneously benefit her students and the community. Sara Juarez, Director/Instructor, Translation/Interpretation Programs in the Center for the Global Learner was the recipient of this year's award.

This semester alone, 55 of Sara's students served an average of 10 hours in the community, providing approximately 600 hours of valuable interpretation and translation services in our area. Students served Durham Parks and Recreation, Durham Public Schools, El Centro Hispano, and at community events such as health fairs and tax preparation days. These students aren't just volunteering — they're practicing course learning objectives and connecting these experiences to what they're learning in the classroom through service-learning. This hands-on learning allows students to more fully understand their work and its impact than if they only studied it in a classroom setting.

Facilitating connections with the community and having students practice what they're learning requires a lot of supervision and contact — a nearly endless loop of communication and support. But Sara feels the effort is worth it because, she says, "we need to establish and foster mutually beneficial relationships with community partners" so that students can gain skills and work experience while helping our community. As she stated, "I emphasize to students the importance of serving the community while gaining experience as paraprofessional interpreters and translators."
Sara also leads by example, having volunteered at Urban Ministries Open Door Clinic, Durham Nativity School, and La Feria de Salud this year. In fact, she feels that her volunteer work helps her stay current in her field and allows her to better understand the community's need for translating and interpreting services and how her program area can adapt to that need. And by volunteering herself, she hopes to show students that "we will always be students of the craft."