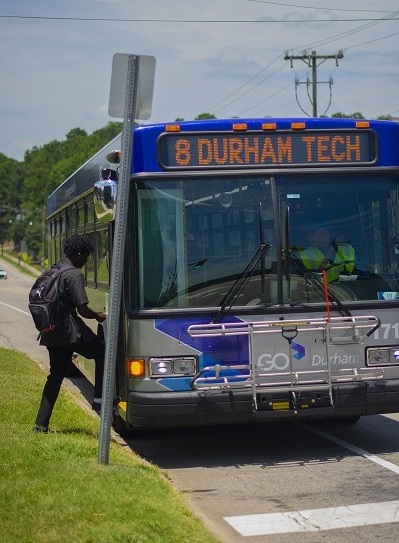 GoTriangle Routes will remain Fare Free until June 2024.
GoTriangle is a regional public transportation provider, offering a wide variety of transit services to North Carolina's greater Triangle area and outlying counties.
Visit GoTriangle.org to learn about the available routes to and from our campuses. 
Main Campus is served by the GoDurham Route 8. View the schedule and a route map, or download the TransLoc Rider app for real-time route information.
See where the bus is now by viewing real-time information. Choose GoDurham, route 8, for Main Campus.
Make sure you take advantage of the GoPass, a free student bus pass that allows eligible Durham Tech students to ride city and regional buses to and from the College via the Triangle Transit.
Information is also available about parking at Durham Tech's Main Campus. Parking is included as part of each student's fee payment.