The Transfer Center
Admissions Counselor Visits
Get your questions answered by an admissions counselor. Collins Building foyer, 11 a.m.–1 p.m.
Campbell University
Thursday, January 31

East Carolina University (ECU)
Thursday, February 21

Fayetteville State University
Monday, January 28
Tuesday, March 12

NC Wesleyan
Tuesday, January 22
Tuesday, February 19
Tuesday, March 26
Tuesday, April 23

NCCU School of Nursing
Tuesday, January 29
Wednesday, February 6
Tuesday, February 26
Thursday, April 11
Monday, April 29

Queens College
Wednesday, February 20

UNC Wilmington
Thursday, February 7
Monday, February 18
Thursday, April 4
Tuesday, April 16

Transfer Planning for New University Transfer Students
Wednesday or Thursday, January 23 or 24, 12-1 in the Transfer Center, Phillips 3-126
For new Associate of Arts, Science, Engineering, or Fine Arts students, get advice on picking a college, positioning yourself for competitive admissions, and guaranteed admissions pathways.
 
Transfer Application Workshops
Tuesday or Wednesday, January 22 or 23, 3:30-4:30 p.m. in the Transfer Center, Phillips 3-126
Ready to apply to a four-year university? Gain tips on applying to four-year universities, completing the new Transfer Common App, and writing strong application and scholarship essays.
 
Goodnight Scholars Information Session
Wednesday, January 30, 1-2 p.m. in the Transfer Center, Phillips 3-126
For STEM majors applying to NC State, learn more about this full scholarship to NC State.
 
Paying for the Bachelor's Degree
Tuesday, January 29, 3:30-4:30 p.m. in the Transfer Center, Phillips 3-126
Come find out how financial aid works at the four-year university.
 
UNC C-STEP Program Information Sessions
Tuesday, February 26, at 3:30 p.m.;  Wednesday, February 27, at noon; Thursday, February 28 at 5 p.m.;  or Monday, March 4, at 3:30 p.m.  .
Learn more about this guaranteed admissions pathway to UNC Chapel Hill.
Transfer Times e-newletter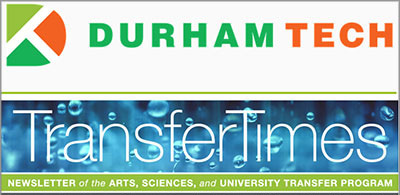 Our new digital newsletter brings monthly news and announcements about the Arts, Sciences, and University Transfer department directly to you. Find out which university is coming to campus, info about the next career fair, or reminders about upcoming admission deadlines at your favorite university. Transfer Times is packed with content that matters to you – without the wait. Subscribe now!