The Transfer Center
Admissions Information Session
Join us for an NC State Information session in the Transfer Center (Phillips 3-126) on Tuesday, September 24, from 2:30-3:30 pm. An NC State representative will discuss their programs and admissions process.
 
Admissions Counselor Visits
Get your questions answered by an admissions counselor. Collins Building foyer, 11 a.m.–1 p.m.
NC State University
Wednesday, August 28
NC Wesleyan
Tuesday, August 20
Tuesday, September 10
Tuesday, November 5
Transfer Times e-newletter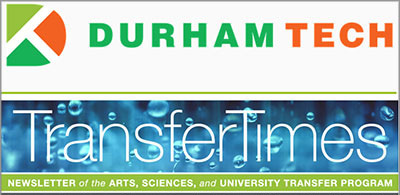 Our new digital newsletter brings monthly news and announcements about the Arts, Sciences, and University Transfer department directly to you. Find out which university is coming to campus, info about the next career fair, or reminders about upcoming admission deadlines at your favorite university. Transfer Times is packed with content that matters to you – without the wait. Subscribe now!