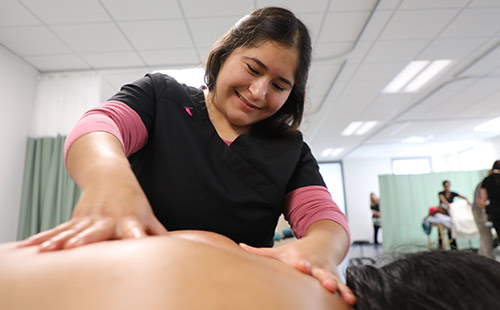 Book a Full Body Relaxation massage at the Durham Tech Massage Therapy Clinic! The clinic is open to the public and is staffed by Durham Tech Massage Therapy students. Students complete 100 percent of the work.
The purpose of the clinic is to give students hands-on training and practice in the style of Swedish massage. They are at various levels of completion in the program and may not be able to accommodate all requests for therapeutic massage. Please adjust your expectations to receiving a Swedish-style relaxation massage. This will enhance your experience and feedback that helps our students develop their skills. Thank you for your understanding and support.
Hours
Appointments are required. We only schedule 30 days in advance.
Daytime clinic: Mondays, January 22,2024 - April 1, 2024, 9 a.m.-4 p.m.
Evening clinic: Tuesdays, January 16,2024 - April 30, 2024, 5:45 - 9 p.m. 
Appointments can be made by calling 919-536-7222, ext. 4313 or by scheduling your appointment online. Payment is restricted to debit or credit cards. No refunds. Gift certificates are available! The clinic is located at the Duke Street North campus.
Services
60-minute massage therapy session: $15
90-minute massage therapy session: $20
Arrive 10-15 minutes early to your appointment time to complete the health intake paperwork and pay for your session. 
No-Show and Late Policy: For clients running late, we offer a 10-minute grace period unless you call to hold your appointment. 10 minutes after your appointment is set to begin, your appointment may be given to clients waiting on standby. 15 minutes after your appointment is set to begin, your appointment will be canceled and considered a missed appointment without notice. If you miss two appointments without notice, you may not book with our clinic until the next clinic cycle.
Please email massage@durhamtech.edu if you have questions.
---
Related Links: