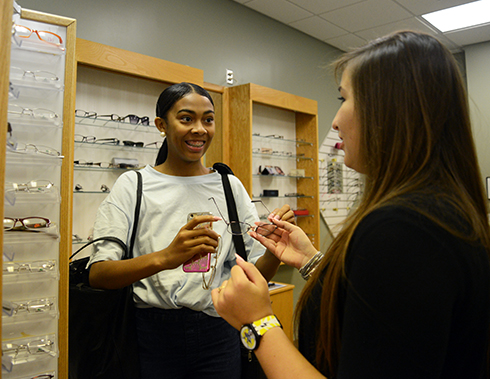 The Optical Shop provides Durham Tech employees, students, and their immediate family members with prescription and non-prescription eyewear, contact lenses, and accessory products at a deeply discounted rate. A  prescription is needed to purchase prescription products. Eye exam services are not available. 
The Optical Shop is staffed by Durham Tech's Opticianry Degree students. Under the supervision of licensed program faculty, student opticians interpret prescription and eyewear needs to assist in the selection of the best possible frame and lens combination that meet all eyewear needs. Students also fit, measure, manufacture, dispense, and educate use and care of new eyewear. 
The Optical Shop has a wide selection of frame and lens options available, including non-glare coating, blue-light filters, digital progressives, Transitions, and polarized sunglass lenses. 
The Optical Shop does not accept insurance directly but provides receipts necessary to self-file insurance claims. Please contact your provider directly to determine potential reimbursement amounts. Feel free to bring a copy of your reimbursement policies for better understanding.
Payment is processed through the business office as cash, credit, check, or approved Flexible Spending Account card. At this time, financial aid funds cannot be directly applied for payment. A valid employee or student ID must be presented at time of payment.
Visit us! The Optical Shop is open year-round on Wednesdays between 9 a.m. - 3 p.m. in the Nathaniel White Building (Building 1), room 1-143 on main campus.
Appointments are encouraged but walk-ins are welcome.
Email opticalshop@durhamtech.edu to make an appointment or have a question.
List of Services
•    Purchase prescription eyewear 
•    Purchase prescription contact lenses
•    Purchase non-prescription eyewear 
•    Eyewear consultation 
•    Adjustments, cleanings, and minor repairs 
---
Related Links