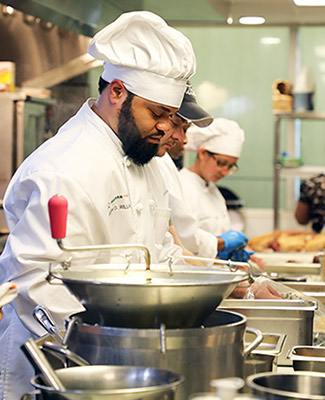 Apprenticeship Skills Achievement Program (ASAP) is for anyone looking to jumpstart a new career or transition into a different in-demand field. Apprenticeship gives students hands-on job experience that fosters skill building, increases job access, and encourages connection with employers.
Students are employed full-time by the employer while taking applicable courses at Durham Tech.
Apprenticeships are offered in the seven Durham Tech pathways:
Building, Engineering, and Skilled Trades
Business and Entrepreneurship
Creative and Liberal Arts
Health and Wellness
Human Services and Public Safety
Information Technology
Science and Math
Visit Apprenticeship NC to view the list of opportunities in your county.
Apprenticeship opens more doors to your new career
Financial Advantage
Free college tuition and fees
Earned salary as a full-time employee, including time while at school
Competitive salary and opportunities for progressive pay raises
Academic Progression
Attend classes and receive related instruction that aligns with the skills needed for your chosen career path and the apprenticeship
Earn a degree, diploma, or certificate and other credentials that are nationally recognized 
Student Support
Academic advisement
Professional development
Employer engagement
Student services such as tutoring, loaner laptops, optical shop, and support for students with children 
Enhanced Skills
Individual hands-on training and mentoring by experienced professionals
Relationships with leaders in the industry
Employability skills such as teamwork, collaboration, and responsibility
Requirements
An apprentice must:
be at must be between 16 and 24 years of age unless applicable law requires a higher age;
commit to minimum of one year of on-the-job learning (or 2,000 hours); and
have a high school graduate or high school equivalency certificate or currently be enrolled in an academic program that will lead to a high school diploma or equivalency.
 
Completion
Upon completion of an ASAP program, students receive a nationally recognized certificate for participation from ApprenticeshipNC along with the other credentials they earn at Durham Tech.
Pre-Apprenticeships
Pre-apprenticeships are designed to prepare students for apprenticeship programs where students will transition into full-time employment while attending school. Pre-apprenticeships can be paid or unpaid, and may last from a few weeks to a few months.
Requirements are developed by the company hosting the pre-apprenticeship. Students who are registered as pre-apprentices (or as apprentices) before they graduate from high school are eligible for the community college tuition waiver for the duration of the time in the apprenticeship.
Pre-apprentices must be between 16 and 24 years of age.  Upon completion of the program, students receive a nationally recognized certificate for participation from ApprenticeshipNC.
Want to learn more? Complete an interest form.
---
Benefits for Employers
Durham Tech apprenticeship connects employers with qualified job-seeking students. Once hired, students gain practical, hands-on experience through their training, and employers gain a dedicated employee. Durham Tech's apprenticeship programs are registered with ApprenticeshipNC. Learn more about how to develop a registered apprenticeship for your business.
Benefits
Customized training that ensures employees develop the right skills
Lower turnover
Increased productivity
Reduced search and recruitment costs
Increased employee engagement
Apprenticeship programs are adaptable and flexible, and they can be integrated into existing training and human resources development strategies.
 
Who can be an apprentice?
Apprenticeship is for anyone looking to jumpstart a new career or begin their career in an in-demand field.
An apprentice must be at least 16 years old. For more information and rules regarding youth employment, visit the N.C. Department of Labor website or call NCDOL at 1-800-625-2267.
Employers interested in developing a youth apprenticeship program should download the North Carolina Youth Apprenticeship Guide. It contains information on philosophy and best practices for starting and operating a youth apprenticeship program.
 
Basic requirements of an apprenticeship program
Employ apprentices full time.
Pair apprentices with experienced mentors.
Train apprentices in all phases of the occupation.
Coordinate on-the-job learning and related instruction to maximize effectiveness of training. Employers can partner with community colleges, universities, vocational or technical schools, industry associations and labor organizations for related instruction. Some employers choose to offer it in-house.
Have a desire to develop a skilled workforce!
 
Ready to Learn More?
Need more information? Begin the conversation by completing an interest form.