Meet the EAP Faculty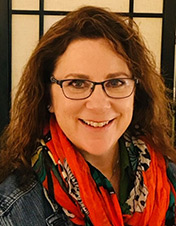 Paula Wilder, Director/Instructor of English for Academic Purposes (EAP) and Continuing Education for Non-Native English Speakers. She received her MA in TESOL from Greensboro College and her BA in English from Guilford College. Paula has been responsible for the creation and implementation of EAP curriculum programs at two community colleges in NC. She has also taught at Harvard University's Institute of English Language, Greensboro College, and NC State University. In 2022, she was selected by the U.S. Department of State as an English Language Specialist to work with Sri Lankan university lecturers in Colombo and Jaffna. 
In 2020, Paula received the Greensboro College Alumni Excellence Award in recognition of her contributions and outstanding service and achievement in her profession. She has presented her research in a variety of venues, including TESOL, International, NC Community College System Office Conference, SETESOL, Carolina TESOL, TALGs, NCADE, NCEI. Her most recent publication, "Target Language Learning for Women: Key to Empowerment, Stability, and Growth" was published in Journal of Academic Perspectives sponsored by Oxford Women's Symposium. She has also conducted workshops related to integrated student-centered discussion-based language classes at UNC-Charlotte, TESOL, International Pre-conference Institutes, Universidad Internacional in Cuernavaca, Mexico, AMBOW, International's Teacher Workshop in Kunshan, China, Baku, Azerbaijan, and Buenos Aires, Argentina. In her free time, Paula enjoys hiking, kayaking, yoga and gardening. She is an avid reader and enjoys all genres.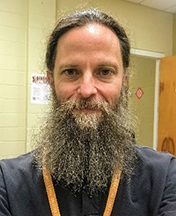 Adam Burns started his career in China, teaching conversational English in Beijing and Shanghai. After several years overseas, he returned to the U.S. and earned his master's degree in TESOL at Central Connecticut State University, where he subsequently served as an ESL composition instructor and co-director of the Writing Center. He also worked as a writing tutor at a community college and a composition instructor at another small college while living in Connecticut. He left the harsh New England winters behind in 2015, settled in the Triangle in 2016, and joined the faculty at Durham Tech soon thereafter. He had a brief career as a professional musician in his twenties and, when not in the classroom, can often be found playing the saxophone.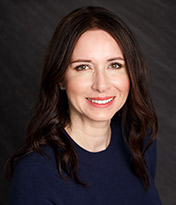 Olga Cupp holds a Master of Arts in Sociology and a Master of Arts in European Studies. In addition, she has a Teaching English to Speakers of Other Languages (CELTA) certificate. She has been a longtime member of the American Association of University Women (AAUW) non-profit organization supporting specific causes, for example, helping women return to college after an interruption or hardship. She was chosen to be an AAUW Named Gift honoree for a California branch, where she had served as the newsletter editor for five years. In 2016, she relocated to North Carolina after living in Southern California for 16 years. After working a few years in the corporate sector, she decided that her passion lies in community college teaching.  She believes that teaching is helping others succeed.  Her future plans include earning a doctorate degree in cognitive science focusing on adult second language acquisition.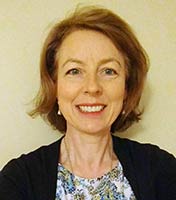 Sarah Donovan has been teaching in the EAP department at Durham Tech since January 2015. She is an educator and instructional designer committed to building opportunities for English language learners (ELLs) in the US. A graduate of the history department at the University of North Carolina at Chapel Hill, she earned her M.S.Ed. in Learning Design and Technology at Purdue University and is TESOL certified by North Carolina State University.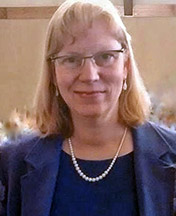 Brenda Ellison has taught in community colleges and colleges in three states. She holds an interdisciplinary masters in English and education and a bachelor's degree in public speaking and drama education. She has written professionally and taught writing as well as theater.  In 2016, she began teaching in the English Department at Durham Tech. She is thankful to have been able to travel to four continents and teach public speaking or English on all of them.  Because she loves cultures and teaching internationals, she earned her TESOL certification at NC State University and then moved to the EAP program at Durham Tech beginning in 2019. In her free time, she enjoys being with her family, traveling, dancing, and reading. One of her greatest joys is to see her students make great progress and gain confidence!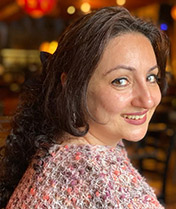 Anita Ghajar-Selim joined the EAP program in 2022. Anita has a BA in French language and an MA in Teaching English as a Second and Foreign Language (TESL/TEFL) and holds a certificate from The American Council on the Teaching of Foreign Languages (ACTFL®). During her 29 years of teaching, she has taught English, primarily, Persian, and French. She has taught in Iran, the United Arab Emirates, Qatar, the United States (NC State University), and most recently at the Durham Tech Community College. She has worked as a teacher, teacher trainer, ESL material writer, editor, court interpreter, volunteer refugee translator, and Head of the Online Writing Lab (QUOWL) and Writing Center at Qatar University (developing apps and online materials). She was also an International English Language Testing System (IELTS) certified examiner with the British Council Doha and a GRE writing instructor at North Carolina State University. She speaks Persian, English, French, and Arabic and is in the process of learning Spanish and Azeri Turkish. Anita loves teaching students valuable techniques she has picked up as a life-long learner. She loves spending time with her family and pet dog, reading, creating and writing recipes, and dancing.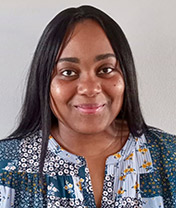 Mayonne Granzo has been teaching English for over 9 years and has been with Durham Tech since 2022. In addition, Mayonne has been a Virtual English Language Fellow for over a year and has worked with educators from North Africa, Southeast Asia and East Africa. Mayonne was also the co-contributor and course instructor on a grant funded English for Families course, specifically geared to parents and children in Orlando, FL for whom English is a second language where she taught reading strategies to equip and encourage parents to help their children read at home as a way to develop their English language skills.  She has a M.Ed. in Curriculum and Instruction, specializing in ESOL, a Master of Arts in Intercultural Studies, and a CELTA Certificate. When she is not teaching, Mayonne enjoys walking outdoors and has a fondness for walking in the mountains of Northern Italy and spending time with her family.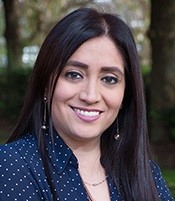 Julissa Hurtado has been teaching English to second language learners for more than 13 years. She earned her BA in Elementary Education from Universidad Nacional Mayor de San Marcos in Lima, Peru and taught English as a foreign language in that city for four years. In 2010, she moved to Florida where she started teaching English literacy to Guatemalan immigrants at El Sol Resource Center. Then in 2014, Julissa earned her TEFL certification at the University of Central Florida in Orlando and worked at Seminole State College teaching English as a Second Language to adult learners. During her time at Seminole State College, Julissa was also part of the administrative staff where she earned experience in student recruitment and admissions, counseling, and acquired the necessary skills to support fellow instructors with media and technology-based instruction. In 2017, she earned her MA in TESOL from the University of Central Florida and taught EAP at Valencia College for two years. She has recently relocated to North Carolina and has been teaching at Durham Tech since spring 2020. Julissa loves dancing, singing, and traveling, and her passion is helping her students achieve their dreams.
 
Dr. Farwa Hussain Shah has been with the EAP program at Durham Tech since June 2018. She has a Doctorate in TESOL Curriculum from the University of Exeter UK. She also has a Master's degree in TEFL with Applied Linguistics and a Master's degree in English Literature. She has extensive experience of teaching ESL, EAP, linguistics and English literature at various institutions in Pakistan, the Middle East and Europe. In addition, she has worked in the areas of teacher mentoring, employability skills and soft skills training. Furthermore, she has published journal articles, and contributed in edited books. She has also presented papers in national & international seminars and conferences. Her research interests include teacher implementation of curriculum, teacher and learner agency, learner motivation and anxiety. She loves travelling and meeting people from diverse backgrounds.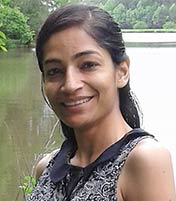 Dr. Yashpreet Kaur has been teaching in the EAP program since January 2017. She earned a Ph.D. in English from Kurukshetra University, India. During her Ph.D., she was awarded a Fulbright fellowship and served at the University of Pennsylvania as a Fulbright Foreign Language Teaching Assistant. She has taught English literature, linguistics, and language courses in various universities and colleges including Kurukshetra University and North Carolina State University. Currently, in addition to teaching English at Durham Tech, she also volunteers to teach Punjabi and Hindi to the foreign researchers and youngsters who wish to learn the language and culture of her homeland. Born and raised in a family of teachers and professors, teaching fuels her. She is passionate about building and nurturing relationships with students and peers and feels gratified by her students' progress. Furthermore, Yashpreet has published journal articles, contributed in edited books, and presented papers in international and national seminars. In her free time, she enjoys creative writing, listening and singing classical Indian music, and making memories with her family. Her future plan is to write and publish a fiction novel on an individual's intricate quest for happiness.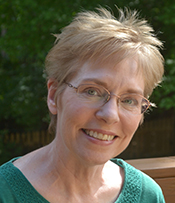 Joy Lalush joined the staff at Durham Tech in the summer of 2018. After earning a BS in Computer Science from the University of Tennessee at Martin and an MS in Computer Science from the University of Missouri-Rolla, she spent ten years as a programmer with IBM in Research Triangle Park, NC. Joy later found a passion for teaching English as a second language while volunteering and substituting in grade schools. Since earning TESOL certification at North Carolina State University, she has immersed herself in teaching English, from private tutoring to teaching classes at NC State and Durham Tech. Joy finds teaching ESL deeply rewarding; she loves meeting and learning from her students from all over the world!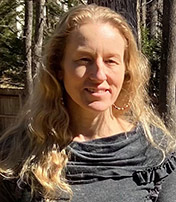 Dr. Marta McCabe has served as an EAP Instructor at Durham Technical Community College since 2015. In addition, she is a founder and a president at the Czech and Slovak School of North Carolina. Marta also works as a research scientist at the School of Education at Charles University in Prague, Czech Republic. Her research examines the intersections of education, language, and migration and focuses specifically on the linguistic, social and cultural adaptation of second-generation immigrants from Eastern Europe. She has published on the topic of heritage language education in the International Journal of the Sociology of Language and in a Handbook on Heritage Language Education.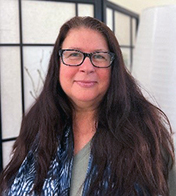 Dr. April Najjaj has been a history instructor at the college level for 17 years. She has a Bachelor's and a Master's degree, specializing in Chinese history from the University of Arkansas, and a Ph.D. in Middle East and Islamic History from Boston University.  She completed a Community Spanish Facilitator certificate from Durham Tech and has a Paralegal certificate from Duke University and a certificate in TESOL from NC State University. She has lived in Raleigh, Durham, Chapel Hill, and Greensboro and worked in Texas for six years. April has returned to North Carolina to work on a Master's degree in Spanish and TESOL at NC State University.  April loves to travel internationally and has worked in Costa Rica, China, Germany, and Kuwait.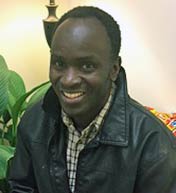 Polycarp Omollo has been with Durham Tech since May 2016. He had had the honor of facilitating all levels of learning, from kindergarten to college; public schools, online, abroad to prison in a variety of subjects, ranging from Reading, English, Math and Music to coaching sports. He earned his Bachelor of Education degree at Kenyatta University in Kenya, a Master of Education at Meredith College in Raleigh, NC, and Juris Doctor of Law at North Carolina Central University, Durham, NC. Polycarp's teaching philosophy embraces high expectations for all, establishing clear, achievable goals, and rules for behavior, along with effective instruction and classroom management. He believes that all students can improve and learn. Polycarp also serves the public as a firefighter/EMT/CNA, as well as an attorney and Red Cross and mental health specialist. Polycarp and his wife have five children, have a bunch of domesticated animals, and are currently constructing their self-sustaining dream home.
 
Dr. Vicki Sapp joined Durham Tech in Summer 2018 after teaching for three decades in Texas. She was thrilled to move back to her home town, Durham, to continue her career at Durham Tech. Vicki earned her BA degree in French and her MA in Comparative Literature at the University of North Carolina-Chapel Hill. She completed her Ph.D. in English at Rice University, where she taught all levels and subjects in the Rice University Intensive English Program. Vicki taught a range of English courses at the University of Texas-Arlington; her specializations there included literature surveys (American, British, World), History and Structure of English, and Creative Writing. She spent the past two decades of her career as Professor of English at Tarrant County College (TCC) in Fort Worth, Texas; here she concentrated on Freshman Composition with special focus on the dialectics of print and digital literacies and also World Literature. She was an active participant in TCC's international initiatives, and spent three summers in Austria, teaching Business English and Diversity at a Vienna technical college and then taking part in the Salzburg Global Seminar both as Faculty Fellow and then as World Literature Faculty for a TCC Maymester study-abroad in Salzburg. Vicki loves nothing more than teaching and seeing the world through her international students, and she hopes she educates them as much as they do her. She has one son, Erol, who has traveled the world and learned five languages, and is currently pursuing a Ph.D. in Ethnomusicology at the University of Chicago.
 
Siddhi Shonibare` has been with EAP since 2017. Siddhi became interested in teaching English while studying in Kenya. From Kenya, she traveled to South Africa to serve as a senior lecturer and student advisor at The University of the Western Cape, teaching business English and cross-cultural communication to business leaders.  She is a graduate of American University and the University of Pittsburgh.  In her free time, Siddhi enjoys learning documentary filmmaking and photography.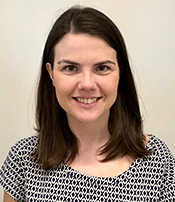 Shanna Stinehour has experience instructing English language learners of all ages and levels. She graduated from North Carolina State University in 2006 with a B.A. in Sociology. After graduation, she worked with at risk high school students as an AmeriCorps member. She received her TESOL Certification from Duke University in 2009 and her M.Ed. in Teaching English as a Second Language from Meredith College in 2012. Her experience includes teaching students and faculty at Korean Bible University in Seoul, South Korea, presenting at national and local conferences, and leading professional development workshops for visiting international teachers. In addition to teaching at Durham Tech, she is currently employed at Durham Public Schools.