Durham Tech celebrates the achievements of our employees. We know that you are Doing great things! 
Have you participated in anything that you think is noteworthy recently? Some examples, including but not limited to, are publications, conference presentation, professional development activities, professional development facilitation, certification/credentials, and awards. Let's share with the Durham Tech Community!
Congratulations to our four employees who completed the Management Accelerator Learning Journey, part of the McKinsey Connected Leadership Academy
Al Leaston - Assistant Dean, Information Technology and Business and Entrepreneurship
Precious Vines Harris - Director/Instructor, Paralegal Technology Program
Jacequeline Mitchell - Director, Massage Therapy Program
Marye Vance - Coordinator/Instructor, Teaching-Learning Center; Codirector Teaching and Learning Central Hub
"Connected Leaders Academy provides organizations the opportunity to improve their talent pipeline and unlock their organization's full potential" — Mckinsey & Company
 

"Through the management accelerator program, I discovered the power of transformative leadership, unlocking my potential to drive positive change. This program ignited my passion for effective management, forever shaping my journey toward becoming an impactful and purpose-driven leader. " —  Al Leaston 
 
 "I am extremely grateful for taking part in the Black Management Accelerator Leadership Academy with McKinsey and Company. I learned so much from the leadership modules, collaboration, networking, and peer group project. I highly recommend this experience, and thank Durham Tech for the opportunity to participate."  —  Precious Vines Harris

 "The McKinsey and Company Black Management Leadership Program allowed me the vulnerability to express, with other Black leaders, the challenges of being the only minority female in a meeting, how to utilize my voice when those challenges occur to be my authentic self, and how to stay within a leadership mindset. The program's modules also offered self-awareness activities to use as a guide when making decisions. Although many of the learning exercises and modules were not new thinking, it allowed a deeper understanding to enhance existing core knowledge and skills.  This was a learning experience that I encourage others to participate in as it will support growth as a strategic partner within your organization."  — Jacequeline Mitchell
"McKinsey's Black Manager's Academy provided clear competencies to measure participation through each module. The modules were designed to strengthen and challenge my skill set to manage and lead a team. The resources and breakout sessions such as leadership boards, were helpful by allowing the opportunity to reflect on materials reviewed during each session. I found the design of the breakout sessions helpful in networking with other people in various roles and organizations. Having completed McKinsey's BMA, there is continued support through business platforms and opportunities to participate and engage in webinars related to leadership."  — Marye Vance
Congratulations to the Faculty of the English for Academic Purposes Program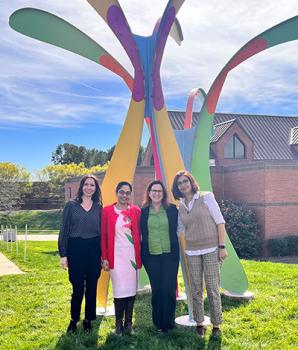 The English for Academic Purposes program in the Center for the Global Learner has achieved a 10-year accreditation status from the Commission on English Language Program Accreditation (CEA). In reviewing a program or institution, the Commission seeks to determine that it provides the student services and programs described in its materials; is student-centered; provides a program that supports its mission; and has the resources, fiscal and human, to assure that students are well served through meeting the 44 CEA Standards for English Language Programs and Institutions. The Commission has determined that the Durham Technical Community College English for Academic Purposes Program meets these requirements and commends the program for its achievement. 
Congratulations Lori Heiger, for being elected as the Central Regional Representative for the North Carolina College Advising Association. Elected to serve in Spring 2023 - Spring 2025
How has the activity benefited you and Durham Tech?
"I will be able to learn more about advising around the state of NC and I will be able to share it with Advisors, both academic and program."
Lori currently serves as an Academic Advisor at Durham Technical Community College and is actively involved with several statewide organizations, she has previously served the North Carolina Community College Sociology/Psychology Association.as their Vice President (2012-2014) and Secretary (2008-2012) and the North Carolina Sociology Association as their Secretary (2006-2008) and Executive Council member (2004-2006). 
Congratulations Dr. Sadik Kara, for serving as a National Science Foundation (NSF) evaluator for five Biomedical and electronics instrumentation research projects submitted to the National Science Foundation (NSF) by some Universities such as Stanford and Harvard University. He was assigned as Lead for one project, and reviewer for others by NSF twice in 2023. May 8-9, 2023, and June 1-2, 2023.
Dr. Kara, is an Instructor Building, Engineering, and Skilled Trades programs / Biomedical Equipment and Electronics Eng. Technology programs. He has supervised 25 masters and 16 Ph.D. Engineering thesis, also, I completed 15 Biomedical Engineering projects.
How has the activity benefited you and Durham Tech?
Evaluators often interact with researchers, professionals, and experts from various fields. This can lead to valuable networking opportunities that could potentially foster collaborations, joint research projects, and partnerships for the university. Engaging in the evaluation process exposed me to a diverse group of researchers and professionals. This can lead to valuable collaborations, joint research efforts, and opportunities for co-authorship. Evaluators review projects from various disciplines, broadening their understanding of different scientific areas and promoting interdisciplinary thinking. Participation in the evaluation process hones critical thinking, analytical, and communication skills. These skills are transferable and beneficial in both academic and non-academic settings.
Congratulations Darryl Bing, on being a recipient of 2023-24 Yarborough Research Grant from NC Academy of Science, Spring 2023. The Yarborough Grant is a competitive award that goes to institutions and students for the continuation of natural science research. Our grant is for the continuation of research on how microbial fuel cell technology may be used to repurpose wastewater as a potential source of renewable fuel.
Darryl is a Chemistry Instructor here at Durham Tech. He a native New Yorker who has lived in North Carolina for 22 years and a full-time Durham Tech employee since the Fall of 2021. In addition to engaging students in research, he is also the organic chemistry instructor for the Department of Physical Science.
Congratulations Shelley Rusincovitch

Durham Tech adjunct instructor Shelley Rusincovitch was named to the shortlist for the AIMed Champion Non-clinician of the Year 2023 award  AIMED GLOBAL SUMMIT 2023 , in  June 2023. This award recognizes an exceptional non-clinician, a person who is increasing the impact of AI systems to help solve clinical and operational challenges.
Shelley Rusincovitch, is an informaticist and technical leader who specializes in healthcare applications of artificial intelligence and machine learning, data modeling, and data science experiential learning. She has more than 20 years of experience in clinical research including clinical trials, registries, and health system data warehousing. Ms. Rusincovitch serves as the managing director of Duke AI Health, a multidisciplinary, campus-spanning initiative housed within the Duke University School of Medicine.
Congratulations Brittney VornDick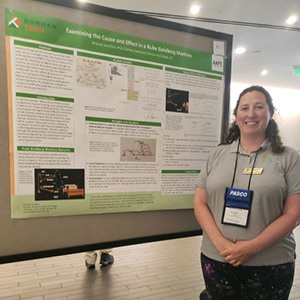 Congratulations Brittney VornDick, for presenting her conference paper at the American Association of Physics Teachers (AAPT) national meeting in Sacramento. She also presented a poster at the meeting. She is also part of a New Faculty Development Series for TYC Physics instructors, only 20 were selected across the country in July 14-17.
How has the activity benefited you and Durham Tech?
I learned about new teaching methodologies to bring back to the classroom.
Brittney is the full-time physics instructor here at Durham Tech. She is currently president in the North Carolina section of AAPT, and she has also served as secretary of the Engineering Pathways Committee. This past school year she has gotten involved with the Two-Year College (TYC) Physics Guidelines committee and the TYC Faculty Development Series part of AAPT.
Congratulations Dr. Micara Lewis-Sessoms
Dr. Lewis- Sessoms has co-published an article in the Community College Journal of Research and Practice. This work outlines a blueprint for researchers and practitioners on strategies to conduct case studies around equity at community colleges. 

Title: Equity Case Studies on Rural Community Colleges: A Blueprint for Campus Change; Authors: Jorge Burmicky, Roshaunda L. Breeden, Micara Lewis-Sessoms, Pamela L. Eddy & Sarah L. Rodriguez July 25, 2023
How has the activity benefited you and Durham Tech?
At Durham Tech, equity is what we do and who we are. As an Equity Champion, it was essential for me to become immersed in equity research and development for the betterment of our students' experience. Participating in this research project afforded me the opportunity to connect with research leaders in diversity, equity and inclusion. I was able to advance my knowledge on the role equity plays in closing the achievement gap for community college students. Additionally, I am able to share Durham Tech's equity best practices with colleges across the nation. Coupled with the historical work of the college in equity, I will continue to stamp Durham Tech as an institution operating with and growing an equity-mindset and culture.
Micara serves as Durham Technical Community College's (Durham Tech) Director of Work-Based Education and Apprenticeship. In this collaborative role, she serves as a leader in connecting the value of WBL to labor market outcomes. Previously, she served as Durham Tech's Director, School-Age Education program, and Assistant Dean, Business and Entrepreneurship programs. She collaborates with community college leadership, students and employers to create equitable learning outcomes between Career and Technical Education (CTE) programs and industry.
Congratulations Dr. Chris A. O'Riordan-Adjah
Dr. Chris A. O'Riordan-Adjah has published a paper and presented it at the American Society of Engineering Educators (ASEE) 2023 Annual Conference & Exposition. 

The paper entitled Promoting Building and Technical Skilled Trades and not Leaving Engineering out of the Equation, discusses the building and skilled trades programs offered here at Durham, what it takes to get into these programs, the benefits and why students should consider these options.
How has the activity benefited you and Durham Tech?
Since this is a national conference, this opportunity brings awareness to Durham Tech and its programs. Since there was emphasis on student-centeredness, it meets our strategic plan core value of providing training opportunities within a supportive environment that supports students through goal achievement. 
Chris serves as the Dean, Building and Skilled Trades here at Durham Tech. He understands how the college can serve students holistically by focusing on retention and student success initiatives, like improved advising, success coaching, and connections to employers. He is also an advocate of the Building and Construction Trades which provides a great opportunity for hands-on student enthusiasts.
Congratulations Marina DelVecchio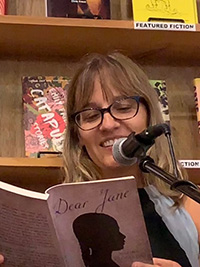 Marina is a co-author in on the published article "Risk Factors of Food Insecurity Among Students at Diverse Post-Secondary Education Institutions: A Cross-Sectional Examination."  In the Journal of American College Health, 2023. Authors: Drake, Connor; Tyler Johnson; Ruth Gilliam Phillips; Thomas Szigethy; Marina DelVecchio, PhD; Kate Zhang; Ralph Snyderman.
How has the activity benefited you and Durham Tech?
"It benefits me by adding to my scholarly research and publications, and it benefits Durham Tech because our students were surveyed for the paper/research"
Marina is an Instructor of English and Honors program Director in the Creative and Liberal Arts (CALA) department here at Durham Tech. Marina DelVecchio is an author of numerous online and print publications. Marina DelVecchio is an award-winning author, her debut novel, Dear Jane, was a finalist for the 2020 International Book Awards and the 2020 Next Generation Indie Book Awards. It also won first place for the 2019 Wishing Shelf Book Award and named in Kirkus' list for Best Indie Books of 2019. Her essays appear in Ms. Magazine, the Huffington Post, Her Circle Ezine, The New Agenda, and BlogHer.
Congratulations Marye Vance on being inducted into the National Society Leadership Success.
She was nominated for induction due to high grade point average in doctoral studies at Capella University. The induction process included several levels of leadership development through an orientation, webinars, and leadership meetings. Two badges were issued for the two levels completed in the leadership academy, Orientation and Leadership Training Certificate, and Foundations of Leadership Certificate. Having completed the first two leadership levels, induction into NSLS was the accomplished goal. This induction leads to two accelerated levels in Advanced Leadership Certification and Executive Leadership Certification, scheduled to complete after induction in October 2023. The activity took place over the year, 2022 – 2023.
How has this activity benefited you and Durham Tech?
The activity provided professional growth in the area of leadership development skills which aligns to the work performed at Durham Tech.
Marye, currently serves as Teaching-Learning Center Coordinator/Instructor /Codirector Teaching and Learning Central Hub here at Durham Tech in the Organizational Development and Learning Department. She strives to serve others through a reflective lens for deeper understanding and meaning to help encourage and motivate them to their next level as a professional.