State Authorization, Complaints, and Professional Licensure
State Authorization
U.S. Department of Education regulation 600.9(c) requires that if an institution is offering distance education in a state where it is not physically located, the institution must meet individual state requirements for offering distance education to students within that state.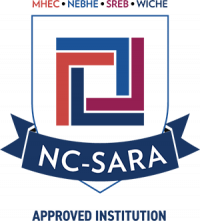 Durham Technical Community College has been approved to participate in the National Council for State Authorization Reciprocity Agreements (NC-SARA). As a result, Durham Tech is authorized to offer online courses to students in states and territories that participate in NC-SARA, which includes all states except California and also includes Puerto Rico and the U.S. Virgin Islands.
Complaint Process
U.S. Department of Education regulations require Durham Tech to provide students with contact information for filing complaints at various levels.
Durham Tech faculty and staff attempt, in good faith, to resolve complaints and problems as they arise. However, if a matter remains unresolved, the purpose of the Complaint procedure is to provide a process for resolving student complaints. This procedure applies to all student complaints, including but not limited to academic issues, student services or administrative concerns, or matters involving any form of discrimination or harassment. To file a complaint, submit a General Complaints form online.
If you have questions about Durham Tech's complaint process, please contact:
Abe Dones
Vice President, Chief Student Services Officer
Wynn (Building 10), room 10-307D
1637 E. Lawson Street, Durham, NC 27703
919-536-7200, ext. 1805
donesa@durhamtech.edu
General Complaints form
Student Grievance Procedure
Students also may file a complaint at the state level or with Durham Tech's accrediting agency. Information about these complaint options is listed below. In most cases, the student is required to exhaust all complaint avenues by using the college's internal procedure before a complaint can be filed at the state or accrediting agency level. As such, students are advised to first attempt to resolve complaints with Durham Tech using the College General Complaints form.
NC Office of Post-Secondary Education Complaint Process
Students located in North Carolina may file a complaint with the North Carolina Post-Secondary Education Complaints unit. First review the NC Post-Secondary Student Complaint Policy (PDF). Then print and complete the NC Post-Secondary Education Student Complaint Form and submit the complaint to:
North Carolina Post-Secondary Education Complaints
c/o Student Complaints
223 S. West Street, Suite 1800
Raleigh NC 27603
Telephone: 919-962-4558
Email: studentcomplaint@northcarolina.edu
Website: https://www.northcarolina.edu/post-secondary-education-complaints/
State Authorization Reciprocity Agreement-North Carolina (SARA-NC) Complaint Process
Students located outside North Carolina may file a complaint with SARA-NC. Students should follow the SARA-NC Complaint process and use the SARA-NC Complaint Form.
SARA-NC Contact Information:
Terrence R. Scarborough, M.P.A. - Director of SARA North Carolina
SARA North Carolina
North Carolina State Education Assistance Authority
P.O. Box 41349
Raleigh, NC 27629
Telephone: 929-248-4667
Email: complaint@saranc.org
Website: www.saranc.org
Additional resources for students located outside North Carolina:
SACSCOC Student Complaint Process
Durham Technical Community College is accredited by the Southern Association of Colleges and Schools Commission on Colleges (SACSCOC). For information on filing a complaint with this body, students should consult the SACSCOC Complaint Procedures (PDF). Complaints may be filed with the Commission only if there is evidence that appears to support significant non-compliance with a SACSCOC requirement or standard by Durham Tech. The contact information for SACSCOC is:
Southern Association of Colleges and Schools Commission on Colleges
1866 Southern Lane
Decatur, Georgia 30033-4097
Telephone: 404-679-4500
Website: http://www.sacscoc.org
Professional Licensure and Certification
Certain areas of study at Durham Tech prepare students to sit for licensure or certification examinations that are required to work in North Carolina. If you plan to work outside of North Carolina, below is information to help you determine if Durham Tech's curriculum will meet educational requirements for state licensure or certification in other states.
Click on the title of any program listed below to access general licensure disclosures.
Note: 
The documents linked below provide information on whether a program's curriculum...

meets state educational requirements for licensure or certification,
does not meet state educational requirements for licensure or certification, or
a determination has not made.

Each document also includes the name of a contact person for the program along with email address and phone number. The mailing address for each contact person is c/o Durham Technical Community College, 1637 E. Lawson St., Durham NC 27703.
Additional information can be found here: Professional Licensing Board Contacts by State (pdf)
Business and Entrepreneurship

| | |
| --- | --- |
| | |
Human Services and Public Safety