Program
Overview
Anesthesia Technology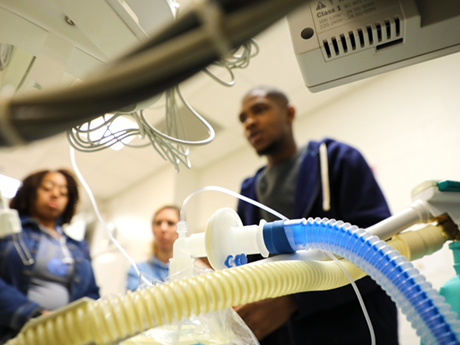 *This program is financial aid eligible.
The Anesthesia Technology program prepares students to work as a vital member of the Anesthesia Care Team. The anesthesia technologist provides safe care at the direction of the anesthesia provider in the care of patients undergoing anesthesia.
Students will become proficient in fundamentals and advanced skills in the acquisition, preparation, and application of various types of equipment required for the delivery of anesthesia care. Graduates are eligible to complete the Certified Anesthesia Technologists credentialing process through the American Society of Anesthesia Technologists and Technicians (ASATT). Employment opportunities are available in hospitals, surgical centers, imaging, emergency departments, dental suites, and ambulatory care centers.
Next Application Deadline is Jun 01
Current and Upcoming
Course Offerings
| Course Number | Title | Credit Hours |
| --- | --- | --- |
| ACA-122 | College Transfer Success | 1 |
| ATC-110 | Introduction to Anesthesia Technology | 3 |
| ATC-112 | Anesthesia Pharmacology | 3 |
| ATC-125 | Special Practice Lab | 1 |
| ATC-150 | Anesthesia Technology Clinical Practice, I | 3 |
| ATC-215 | Anesthesia Airway Equipment | 5 |
| BIO-168 | Anatomy and Physiology I | 4 |
| BIO-169 | Anatomy and Physiology II | 4 |
| BIO-275 | Microbiology | 4 |
| ENG-111 | Writing and Inquiry | 3 |
| ENG-112 | Writing and Research in the Disciplines | 3 |
| MED-120 | Survey of Medical Terminology | 2 |
| PSY-150 | General Psychology | 3 |