Study/Travel Abroad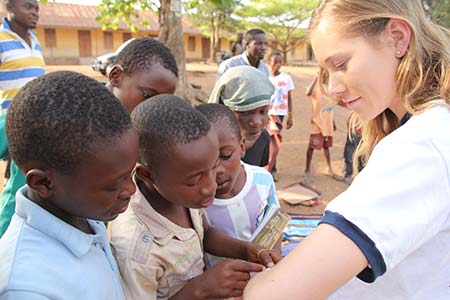 Studying abroad is not a luxury. It helps prepare individuals to compete in the global job market; if you plan to become a service provider, you are likely to work with people from all over the world. Major corporations and organizations are becoming increasingly globalized. Individuals who want to be competitive in the current global job market need the skills learned from experiencing a world different from their own.
Study abroad is essential to an individual's education because it builds awareness of a career's global aspect and develops self-reliance, independent thinking, and job skills. When hiring, employers strongly desire problem solving and analytical skills, cross-cultural competency, and the ability to work well with individuals from different cultures.
Students who want to transfer to a four-year university after completing their programs at Durham Technical Community College can earn transferable credits and strengthen their university applications by participating in a study abroad program.
Study/Travel Abroad Options
Durham Tech can help interested students research possible study/travel abroad programs based on their programs of study, their interests, and their goals. Visit or email the Center for the Global Learner to schedule a meeting  to start thinking about your study abroad/travel options and to be referred to resources. Students can also begin looking at possible study/travel programs before the meeting.
Durham Tech usually organizes one or more study/travel abroad group programs each year.
Summer 2023 Opportunities
France
The French Embassy in the United States offers community college students the opportunity to study abroad in France during two-week summer programs. Discover below the exciting programs for 2023 (each program has a different location, dates, and area of study)! Scholarship opportunities are available!
To apply, students will need to complete the online application form and be nominated by a staff member of their community college. The deadline to apply is January 31, 2023.
For more information, visit the French Embassy website and check out the flyer and FAQ.  You can also sign up for the upcoming webinar to learn more about the program, and ask any questions you might have. The webinars will be recorded and shared with all registered participants.
Still haven't found the answer to your question? Email: communitycollegefrance@frenchculture.org
South Africa
Central Piedmont Community College in Charlotte is offering a summer 2023 study abroad program to South Africa that is open to all NC community college students.
See the links below for more information about the program. The deadline to apply is January 31!
View more on the Central Piedmont Africa Study Abroad website
If you have any questions about these opportunities or want more information about travel/study abroad programs, please contact studyabroad@durhamtech.edu