Past Study Abroad Experiences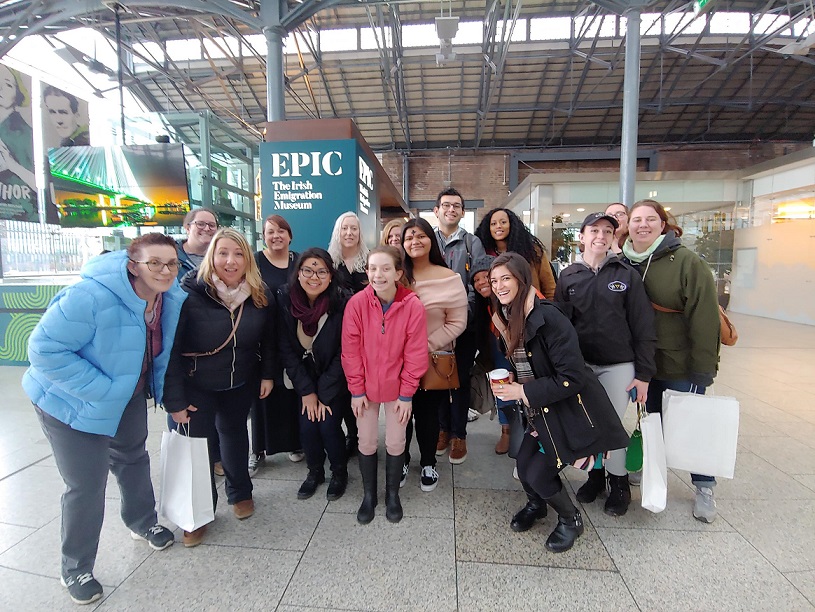 In spring 2019, fourteen Durham Tech students and three faculty members crossed the pond last month for a study and travel abroad program to Dublin, Ireland. The group learned about the Irish health care system and visited a number of important cultural and sightseeing stops.

During the weeklong travel program, the students and faculty spoke with health care professionals and visited various cultural and health-related sites. They also toured the city and Dublin castle and visited EPIC The Irish Emigration Museum and Trinity College. In their free time on the last day of the program, several in the group journeyed to different areas of the country to explore castles, picturesque cliffs, and famous historical sites.

The group reunited the last week of March in the Teaching-Learning Center on Main Campus to participate in a panel discussion, where they recounted the program's highlights and answered questions from the audience.

Heather Flores, a Durham Tech student and a veteran, said the schooling process for nurses in Ireland was something she learned about while abroad. Flores is studying to become a licensed practical nurse.

"It's very strict," she said. "You start clinicals the first day you are there."

Students studying nursing in Ireland are required to wear the same uniform color and badges that reflect their current level of schooling, according to Vickie Hickman, a Practical Nursing Instructor and one of the two program leaders.

"From the very beginning, doctors knew they were students, and respiratory therapists knew," Hickman said. "(Students) had their own patient load, and … everyone knew, just by looking at your badge, what you were allowed to do and not allowed to do. So you weren't pushed beyond that level. As someone who teaches clinicals, it is a whole different world."

Before the Durham Tech travel program, there was a nurses' strike in Dublin. However, just because the nurses participated in the strike didn't mean they stopped working, the group said. The nurses would just strike on their days off or their lunch breaks.

"The patients were more important," Flores said. "The strike was important, too, but they waited until the patients were taken care of."

Erin Popov, Clinical Coordinator and Instructor for Dental Laboratory Technology, said she paid particular attention to the difference between the Irish and the American dental care systems.

"You don't wander around here and see denture clinics. (Over there), a dental tech who owns his own business … doesn't necessarily have to have a dentist present," she said. "He had the ability to work on dentures by himself. Back here, there's denturism, and there are only (a few) states in the U.S. that even allow that. And some of them even still have to have a dentist present."

While some of the Durham Tech students are striving for a career in health care, others are pursuing different career paths. Hickman said the trip was full of educational experiences for the entire group.

"I think whether it was necessarily related to the health course or the fact that they just want to go to Ireland (at) a reasonable price, I think everyone got something out of it, one way or another," she said.

Before the students left, they researched about the country's health care system and the culture overall during the required pre-departure class meetings. The students had to then prepare a short presentation on a topic of interest.

"I knew the culture with the pubs. I knew it was going to be a city," said Brittney Love, another student. "What I didn't expect was how diverse it was there. They are very diverse as far as their food and culture go. They are very welcoming to people of different countries."

Meeting the Irish people was one of the highlights for Hickman.

"(They were) friendly and helpful," she said. "There were multiple times when I was on a street, and they could see on my face that I had no idea where I was going. And they would just stop and say, 'Hi, where are you trying to get to?'"

Another aspect that shocked Flores and Hickman were how many bakeries they were.

"The pastries were phenomenal," Hickman said. "I can't imagine France being any better than what we had there."

Flores also commented on how the donuts were decorated, having themes such as Cookie Monster and Power Rangers.

One audience member asked if was difficult to go on this program during the middle of the semester. While some students agreed the timing was tricky, they all concurred it was worth the experience.

Student Ann Atienza, for example, told the crowd that, on top of returning on a Friday night and returning to school the following Monday, she had to work that Saturday. Still, she said she wouldn't take the travel abroad experience back for the world.

"As busy as I was, I regret nothing," she said. "I'm really thankful for this experience and this opportunity. I learned a lot from it."
 
Durham Tech student interns in Thailand for public health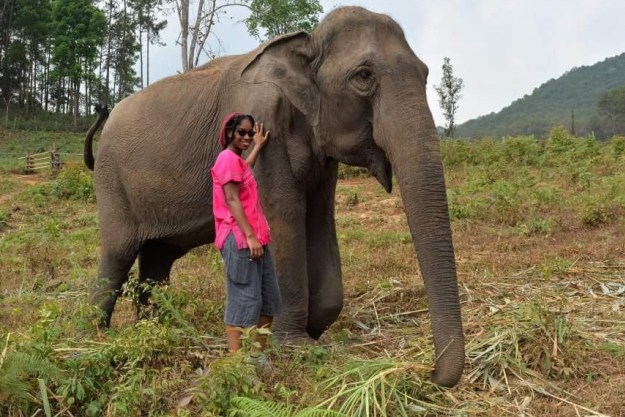 In December 2017, Jonitka Hall completed all credits for her Associate in Science degree at Durham Tech, but knew she could not start her bachelors program at the University of North Carolina at Greensboro until August 2018.

Heidi White, Director of International Student Services and Study Abroad at Durham Tech, connected Hall with World Endeavors, an organization that offers international internships and affordable study abroad opportunities. She also worked with Kara Battle, Associate Dean of Arts and Sciences at Durham Tech, and learned she could enroll in a Work-Based Learning course to earn credit for the internship.

Hall aspires to be an epidemiologist, a public health professional that studies the origin of disease. During the internship, she worked at two public health centers through the Thai Government, conducted community visits, went to patient's homes with doctors, went into schools to teach heath education, and completed clinic hours observing doctors and nurses. 

"I really enjoyed getting to see a different health care system," Hall said. "The liability insurance in Thailand isn't as strict as it is in America so I was able to do more hands-on work and see patient's records more than I would have in the US."

"I was a college dropout," Hall said. "I went to school and didn't finish and when I decided to go back, Durham Tech was my safety net and saving grace. They helped get me back on track and on the path to my career. This experience will be my best résumé builder and has helped me become a more well-rounded person."

Read more about Jonitka Hall's experience in The Insider.
2018: Nicaragua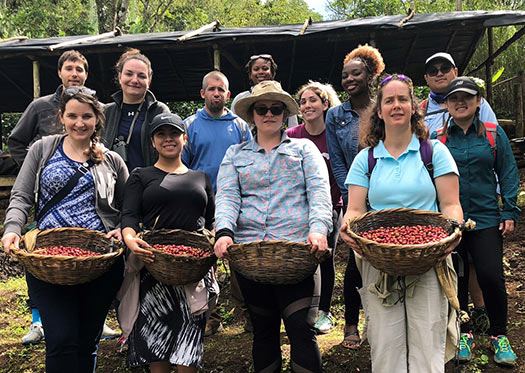 The Comparative Health and Cultural Travel Program in Nicaragua explored the similarities and differences between health care in Nicaragua and health care in the United States. 

In partnership with Sister Communities of San Ramon, a nonprofit ecotourism organization in Durham, students were led through the country with an itinerary that ranged from working on a coffee farm and making corn tortillas to visiting a live volcano and children's hospitals.

"The most impactful part of our travels was having the opportunity to live with a Nicaraguan host family," said Stephanie Dawson, faculty sponsor and Durham Tech instructor. "Students spent four days and nights living with their new families, sharing living areas, eating meals with them, and learning about the warmth and generosity of their culture."

Along with leisure activities like hiking, shopping, sunset boat tours, pottery lessons, and yoga classes overlooking the mountains, students visited organic coffee farm retreat. They had the rare opportunity to pick coffee beans that are later roasted at Counter Culture in Durham. The beans are sold by Sister Communities of San Ramon to support sustainable farm workers and directly benefit residents of Nicaragua.

Students explored Nicaraguan health care by visiting Los Pipitos Center for Children with Disabilities, La Casa Materna, a short-term residence for high-risk pregnant women, and Santa Fe Clinic, a public health center, before going to Casa del Niño to make natural medicinal products from local plants.

Several students expressed this exploration validated their career goals. "It made me realize that I'm in the right field because it's my passion to help people," Angel Askew, 27, said. "Just seeing the children made me want to help people even more."
 
2017 United Kingdom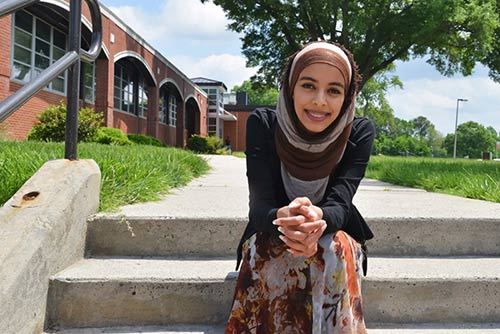 When Eptisam Ahmed received a call from the Council on International Educational Exchange (CIEE) on February 28, she thought they just wanted additional information regarding a contest she had recently entered.

CIEE is the country's largest nonprofit study abroad and intercultural exchange organization. To her surprise, the representative was calling to congratulate her for winning $5,000 in the Best Summer Ever sweepstakes, a scholarship that will be applied to her study abroad trip to London.

"I was like no way! Out of all these people that entered, me?" Ahmed said. "All I did was enter my email and phone number, I can't believe I won. It's amazing."

Originally from Yemen, Ahmed is a first year student and president of the Durham Tech International Club. She will leave the U.S. on May 21 to attend the CIEE Institute for eight weeks with more than 40 other students from around the country. She chose London after hearing rave reviews from other travelers and her desire to experience its diversity.

Read full articles about her experience in the The Insider or watch a video about Epti's experience in the London Open Campus Program.

2017: Ghana
Known as one of the first independent and democratic sub-Saharan nations, Ghana's rich and complicated history has seen warring empires and played a central role in the slave trade. With over 100 ethnic groups, Ghana is a tapestry of cultures expressed through various languages and the arts.
While in Ghana, they visited the capital, Accra, learned about the history of the slave trade, visited an elementary school and brought school supplies donated by the Durham Tech community and visited a technical school like Durham Tech and many different locations to meet many local artisans to see how different crafts in Ghana are made.
"My favorite part of the trip was the Independence Day parade, which they celebrate on the sixth of March," said student Sam Payton. "We learned about colonial influence in the country, and it was intriguing to see what elements of it still carried on to today. Almost every rest stop and vendor was selling tea and biscuits, the same ones they have been eating and drinking in England for decades."
One highlight of the experience was a naming ceremony in which each participant was given a traditional name by a rural village chief or elder..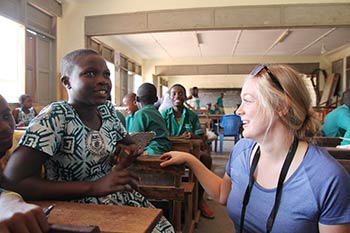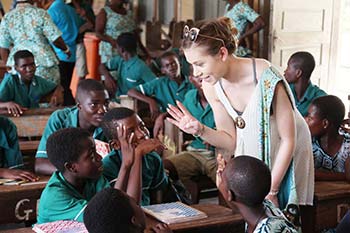 2015: Jamaica
After months of meetings with the Durham Tech Study Abroad director, Durham Tech student Lisa Fowler traveled to Kingston, Jamaica, in the summer of 2015 to volunteer at a school for the deaf through the World Endeavors intern abroad program. In conjunction with her service program, Lisa also enrolled in the Humanities 180 course so she could research Jamaica prior to her time abroad and record her thoughts while on the international program. Lisa's participation in the program was fully funded through the Benjamin A. Gilman International Scholarship program. Lisa said the international program "was a chance to get out of my comfort zone and research deaf cultures in another country."
2015: Cuba
View the Facebook gallery of the group's travel in October 2015.
 
Students began in Miami, learning about the Cuban culture there before heading to Havana. They met with local artists and leaders of the Santeria religion, learned about agriculture in the Viñales Valley, and visited a rural neighborhood health clinic. They also visited the Nino & Nina educational project, meeting the local children, and visited the Cuban National Circus school.
2012 and 2014: Dominican Republic
Students explored Caribbean society and culture in the International Cultural Exploration course (HUM 180). The group learned about the history, culture, and literature of the Dominican Republic and traveled to see famous cultural sites.
2009: Quito, Ecuador
The group traveled to Ecuador; participants stayed with host families in Quito, Ecuador's capital, and had the opportunity to study Spanish and explore the area's wonders. Excursions included tours of attractions within the city of Quito, a visit to the active Pichincha Volcano, and shopping at the famous Otavalo Indian Market. During the second week, participants became involved in community service by volunteering at either a local social organization or a public hospital.
2008: Argentina and Uruguay
This trip included guided tours of the Buenos Aires and surrounding areas as well as spending free time taking in the sights or just sipping coffee at a local café. They cross the border into Uruguay to spend the day in Colonia, an historic port city originally settled by the Portuguese. They walked along its cobble-stoned streets and visited its many shops and museums.
This study abroad trip also included learning or improving Spanish skills in daily language classes while earning credit for SPA 161—Cultural Immersion. All language abilities are welcome on any study abroad trip.
2007: Peru
The group spent two weeks in Cuzco, where they lived with families and took language classes on weekday mornings. On the weekends, the group traveled to legendary sites such as the Inca ruins of Machu Picchu, Lake Titicaca with its floating islands inhabited by the Uros, and the Nazca lines, which are ancient carvings in the desert.
2006: Cuernavaca, Mexico
Cuernavaca is located approximately an hour outside of Mexico City. The group stayed with local families instead of a hotel. They took Spanish classes in the mornings at the Cemanahuac Educational Community. Most afternoons and over the weekend, they toured surrounding sites. They visited Buena Vista, a rural mountain village. They saw an historic cathedral, the Jardin Borda, with its elaborate mural. They visited the pyramids at Teotihuacan, an ancient Aztec city. They dined at Hacienda Vista Hermosa, Hernan Cortes' summer palace. One afternoon the group enjoyed a cooking class in traditional Mexican cuisine. Some other outings included Xochicalco, an ancient city with an underground observatory, the homes of artists Diego Rivera and Frida Kahlo, and Xochimilco, where the group lunched while floating along the canals. The zocalo, or plaza, was a popular place to relax. For more action, some took dance lessons. Participants in the college-sponsored study trip to Cuernavaca, Mexico, returned with sharper Spanish language skills, knowledge of a fascinating culture, and memories of a great trip.
2005: Santiago, Chile
One of the highlights was the visit to Nobel Prize-winning poet Pablo Neruda's home. Many of the rooms resembled the cabins in old ships, with beautiful woods and nautical adornments. In Neruda's library, the group saw his Nobel Prize for literature and a model for the writer's retreat that he and his wife planned with the prize money. Group members were touched when a Mapuche Indian advocate, via an interpreter, told about the native Chileans and their struggles to gain respect in the community. One of the highlights of the trip was the first night in the port city of Valparaiso. They found Valparaiso to be a lot like San Francisco, with steep, winding streets that led into hills that were dotted with brightly painted homes. Participants taking the Spanish course met most mornings for conversation class. Others took a culture class, learning about the country's geography and history. Another highlight of the trip was visiting a public school for the arts, where they watched a traditional dance performance.