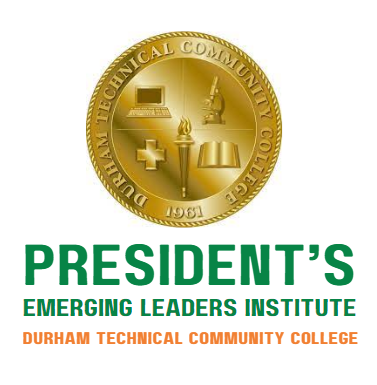 Durham Tech is committed to developing employees by providing opportunities for growth and advancement within the college. The President's Emerging Leaders Institute will provide a cohort of 12 Durham Tech employees with the opportunity to participate in an advanced one-year leadership program that includes a personalized leadership plan and capstone project. 
Structure
The monthly institute lasts eight months and the sessions begin Fall 2023 (August – March). Emerging leaders will meet one time each month at an off-site location in the College service area. Professional learning will include but is not limited to the following topics: Higher Education Landscape, Leadership at Durham Tech, Leadership Principles Applied, Understanding Community College Finance, Government Relations, Institutional Advancement, and Change Leadership. Sessions will be led by community leaders, industry partners, government partners, nationally and locally recognized community college subject matter experts, and President Buxton. Graduates will participate in a celebration banquet to include guests and institute partners.
Selection Process
Cohort selection is determined by the President and executive team. The inaugural cohort application will be available Spring 2023 and emerging leaders will be notified Summer 2023.