Biotechnology BioManufacturing (Non-credit)
Short Term
The Biotechnology BioManufacturing program provides practical, hands-on learning and familiarity with cutting edge techniques, technologies, and equipment. Students learn the basic skills required to become trained process technicians for biotechnology, pharmaceutical, and chemical companies. Through classroom instruction and laboratory work, students are prepared to enter the workforce and learn company operations and tasks.

Durham County has over 20 major biomanufacturing and pharmaceutical company and 35 biosciences related industries.
The BioManufacturing program includes the following courses (see course descriptions and class schedule listed below):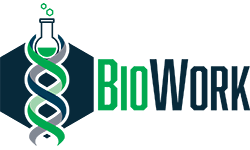 Prerequisites

BioWork 3.0: Must be 18 years of age or older; and show proof of a high school diploma or high school equivalency OR provide a copy of a transcript of any completed Associate's degree or higher.

GMP and SOP: no prerequisite

BioCertification Boot Camp: Prerequisite: BioWork certificate

Email prerequisites documents to biotechce@durhamtech.edu

Textbooks

The BioWork 3.0 textbook is included in the course fee and must be picked up on campus the Saturday after the first day of class. Students will receive an email after registering to coordinate a pickup day and time.

Registration

Students must submit proof of prerequisites prior to registration (see above).

Complete the BioWork online educational session and complete the form at the end to inform the program director. Select Durham Tech as your preferred college.
 
Complete a Continuing Education Registration form. 

If paying online: email the registration form to biotechce@durhamtech.edu. They will contact you with online payment instructions.

Payments made by check or money order: Mailed the registration form to:

Durham Technical Community College
1637 Lawson Street
Durham, NC 27701
ATTN: Business Office

Financial Assistance

Residents of North Carolina can apply for the STWD Grant.

Additional Assistance

Accessibility Services: Students with disabilities are encouraged to learn more about available services. Accommodation plans can take 2 weeks to review so please contact Accessibility Services immediately following course registration.
 
Computer and Internet Assistance: View information about discounted computers and internet or how to request a loaner laptop. 
BULLS Scholarship
The Durham Tech Biotechnology Biomanufacturing Program has partnered with Made in Durham to create the Building Up Local Life Sciences (BULLS) program in order to offer training and certifications to young adults interested in pursuing a career in Durham's growing Life Sciences industry.
Covers $10,000 over an 18-week period (tuition, course fees, BioWork certification exam costs, and living expenses). This is not a loan, it is a scholarship paying bi-monthly stipends
Guarantees job interviews for all BULLS graduates
Provides seamless BioWork credit transfer to associate and bachelor's degree options in Biomanufacturing
Eligibility

The BULLS Program is an equity-centered initiative that seeks to recruit underrepresented students. To qualify for the program, applicants must:

Be 18-25 years old
Have a high school diploma or high school equivalency
Must reside in Durham county
Upon employment, be able to pass a drug screen and criminal background check

Requirements

Submit an application by the due date. 
Commit to the program full-time
Successfully complete the Biotechnology Biomanufacturing (non-credit) program
Earn an industry recognized BioWork certificate

Information Sessions

The information session is designed for participants to learn more about the BULLS Academy as well as ask any questions they may have. There will be representation from Durham Tech and Made in Durham program coordinators. The link lets you join the Zoom session.

Apply

Apply Now The application deadline is 5 pm, February 1, 2023.
---
Students from Durham Tech and Wake Tech can take advantage of shared resources and opportunities offered by a new collaboration called RTP Bio.
The certificate from Durham Tech is a full package. It not only gives you job specific knowledge but also guides and supports you landing an interview.

— Ritu Mathur; Read NC BioWorks feature about Ritu
BTC-3200H Biowork 3.0
Students who complete this 148 hour BioWork Certificate course will gain the basic skills and general knowledge needed for entry-level process technicians in Bioprocessing, Pharmaceutical, and Chemical Manufacturing. Students will also participate in the Human Resource Development aspect of the course. The course includes eight (8) units related to Pharmaceutical Quality & cGMP; Working Safely; Measuring Process Parameters; Chemical Processes in Biomanufacturing; Equipment and Utilities; Unit Operations and Process Control; Facilities and the Manufacturing Environment; and Biomanufacturing Production. Prerequisites: 1) Must be 18 years of age or older AND 2) Show proof of a high school diploma or high school equivalency OR provide a copy of a transcript of any completed Associates degree or higher (unofficial transcripts OK). Students must submit proof of prerequisites prior to registration. Please email biotechce@durhamtech.edu for questions regarding the program or registration process.
Section
Number
Dates
Location
Building
Room
Time
Format
83401

3/29 - 6/10

3/29 - 6/7

3/30 - 6/8

Main Campus

-

102

-

-

W 6:00 PM - 10:00 PM

M,T,TH 6:00 PM - 7:00 PM

Hybrid
84710

6/14 - 8/23

6/14 - 8/25

6/15 - 8/24

Main Campus

-

-

102

M,T,W 6:00 PM - 7:00 PM

-

TH 6:00 PM - 10:00 PM

Hybrid
BTC-3600B GMP and SOP
This 24-hour GMP and SOP course provides a broad overview of good manufacturing practices (GMP) and standard operating procedures (SOP). This course covers six modules: orientation/refresher, deliberate documentation, conducting investigations, QC laboratory operations, SOP in a regulated environment, and effective SOP writing.
ISC-3500C BioCertification Review
All students who successfully complete the BioWork Certificate Course are eligible to take the North Carolina Biotech Process Technician certification exam, a growing requirement for industries (cost is $75 and it is administered separately by Scantron Process Technician Examination; visit their website for additional information). This course is a 20-hour extensive review to help prepare for this exam. Prerequisite: Show proof of your BioWork Certificate prior to registration. Email biotechce@durhamtech.edu to learn how to submit prerequisites documentation and how to register for the course.
Section
Number
Dates
Location
Building
Room
Time
Format
83382

5/8 - 5/19

5/8 - 5/19

5/8 - 5/19

5/8 - 5/19

5/8 - 5/19

Internet

-

M 6:00 PM - 8:00 PM

T 6:00 PM - 8:00 PM

W 6:00 PM - 8:00 PM

TH 6:00 PM - 8:00 PM

F 6:00 PM - 8:00 PM

Online
84712

6/5 - 6/16

6/5 - 6/16

6/5 - 6/16

6/5 - 6/16

6/5 - 6/16

Main Campus

112

M 9:00 AM - 11:00 AM

T 9:00 AM - 11:00 AM

W 9:00 AM - 11:00 AM

TH 9:00 AM - 11:00 AM

F 9:00 AM - 11:00 AM

Classroom
84713

6/19 - 6/30

6/19 - 6/30

6/19 - 6/30

6/19 - 6/30

6/19 - 6/30

Internet

-

M 6:00 PM - 8:00 PM

T 6:00 PM - 8:00 PM

W 6:00 PM - 8:00 PM

TH 6:00 PM - 8:00 PM

F 6:00 PM - 8:00 PM

Online
Suggested Paths
Short Term
(12 months or less)
Long Term
(More than 12 months)